New 2019 laws restore voting rights in 11 states
This is the first in a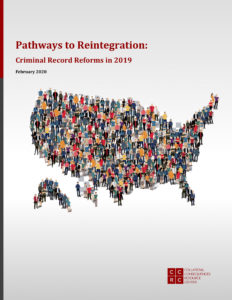 series of comments describing some of the 153 laws passed in 2019 restoring rights or delivering record relief in various ways.  The full report on 2019 laws is available here.

Restoration of Civil Rights
Voting 
In 2019, eleven states took steps to restore the right to vote and to expand awareness of voting eligibility.  Our experience is that many people convicted of a felony believe they are disqualified from voting when they are not:  almost every state restores voting rights automatically to most convicted individuals at some point, if they are even disenfranchised to begin with.
The most significant new re-enfranchisement laws were enacted in Colorado, Nevada and New Jersey, where convicted individuals are now eligible to vote except when actually incarcerated.  Colorado restored the vote to persons on parole supervision, while Nevada revised its complex system for restoring civil rights so that all people with felony convictions may now vote except while in prison.  In one of the final legislative acts of 2019, New Jersey's governor signed a law limiting disenfranchisement to a period of actual incarceration, even in cases where a court has ordered loss of the vote for election law violations, immediately restoring the vote to 80,000 people.  These three states joined the two states (New York and Louisiana) that in 2018 took steps to limit disenfranchisement to a period of incarceration:  New York's governor issued the first of a series of executive orders under his pardon power restoring the vote to individuals on parole, and Louisiana passed a law allowing people to register if they have been out of prison for at least five years.
Now, only three of the 19 states that disenfranchise only those sentenced to prison still extend ineligibility through completion of parole:  California, Connecticut, and Idaho.  Bills under consideration in 2019 in both California and Connecticut would allow people to vote once they leave prison, though in California this will require a constitutional amendment.
Kentucky saw perhaps the most dramatic extension of the franchise in 2019, when its incoming governor Andy Beshear issued an executive order restoring the vote and eligibility for office to an estimated 140,000 individuals convicted of non-violent felonies who had completed their sentences.  Before the order, individuals were required to petition the governor individually to obtain restoration of their voting rights.  (Governor Beshear's father had issued a similar order in 2015 at the end of his own term as governor, but it was revoked by his successor.)  Iowa is now the only state that does not restore the vote automatically to most convicted individuals at some point.
Other states took less dramatic but nonetheless significant steps in 2019 to expand the franchise.  Arizona repealed its law making automatic restoration of the vote to those with no more than one felony conviction depend on payment of fines and fees (those who owe restitution must still apply to the court, like recidivists, to regain their voting rights).  (See below for Arizona's revision of its firearms restoration laws.)  Arkansas corrected an unintended gap in its election law that made it hard for juveniles prosecuted as adults to regain the right to vote.  Oklahoma revised its laws to clarify that voting rights are lost upon conviction of a felony and are restored upon completion of sentence.
Four states (Colorado, Illinois, New Hampshire, and Washington) enacted laws directing corrections officials to inform people leaving custody of their eligibility to register, addressing the pervasive public misunderstanding that the right to vote is permanently lost by conviction.  Illinois' two new laws on this subject also facilitate voting by mail for eligible persons detained in county jails, and provide for peer-led programs to teach civics to prisoners who are soon to be released.  
Florida is the only state that took steps during the year to restrict rather than enlarge the franchise, in the wake of that state's restoration of the franchise in 2018, by ballot initiative, to more than a million state residents who had completed their court-imposed sentences.  That ballot initiative automatically restored the right to vote for people convicted of felonies, other than murder or sexual offenses, upon "completion of all terms of sentence including parole or probation."  In 2019, the Florida legislature passed a law interpreting "completion of sentence" to include payment of fines, fees, and court costs.  The 2019 legislation defines "completion of all terms of sentence" to include all legal financial obligations (LFOs).  The Florida Supreme Court recently agreed in an advisory opinion that Amendment 4's reference to "completion of all terms of sentence" does include all legal financial obligation imposed in conjunction with a sentence.
Nonetheless, individuals and supporters of Amendment 4 have brought several federal court challenges to the legislation as violating the U.S. constitution, arguing that by disqualifying persons with outstanding LFOs, even if a person has no ability to pay and even if the court has converted an LFO to a civil lien, the law violates the Equal Protection and Due Process guarantees of the Fourteenth Amendment.  They also argue that the law burdens the fundamental right to vote, is an unconstitutional poll tax, infringes on free speech and association, and was enacted with a racially discriminatory purpose.  In October, a federal judge issued a preliminary injunction, holding that Florida cannot deny the plaintiffs their "right to vote so long as the state's only reason for denying the vote is failure to pay an amount the plaintiff is genuinely unable to pay."  However, that ruling only applies to 17 plaintiffs in the case, and the judge deferred addressing a number of other issues until after trial later this year, giving the legislature an opportunity to address inability to pay.  The coalition behind Amendment 4 is also raising money to help people pay off their debts.  One of the knotty problems associated with efforts to re-enfranchise Florida residents is the uneven state of court records in the state, such that inconsistent and missing records can make it difficult for individuals to show that they have in fact fully satisfied financial penalties associated with criminal cases.
In the broader national picture, at the conclusion of 2019 almost half the states allow people with a felony conviction to vote if they are living in the free community.  A total of 18 states and the District of Columbia now allow people to vote unless in prison, Louisiana allows voting five years after release, and Maine and Vermont do not disenfranchise anyone based on conviction.  Of the remaining states, a majority restore the vote automatically upon completion of sentence, which may or may not also require payment of court debt.  However, a significant minority of states require at least some individuals (recidivists, persons convicted of specific offenses, or those who owe court debt) to file individual petitions with the governor or a court to regain the right to vote.
The coming year should see additional developments in Florida regarding restoration for those with unpaid fines, fees, or restitution.  This is turn could have ramifications for the half dozen additional states that impose similar financial barriers to the franchise.
          2.  Jury eligibility and public office
Three other measures to restore civil rights for jury service and public office are worth mentioning.  California passed a statute restoring eligibility for trial jury service upon completion of sentence (previously a pardon was necessary).  Maryland also lowered its conviction-related bar to jury eligibility.  Previously, people were ineligible to serve on a jury if they had received a sentence of more than six months of imprisonment, and were not pardoned, or had a pending charge for an offense punishable by more than six months imprisonment; under the new law, these six-month periods are extended to one year.
Finally, New Hampshire revised its law disqualifying people with a conviction from holding public office, making the restriction applicable only during actual incarceration, so that it is now coincident with the period of felony disenfranchisement (this limit on disenfranchisement to only during actual incarceration has been in place in the Granite State since 1965).
        3.  Firearms restoration
Arizona revised its law on firearms restoration to authorize the sentencing court to restore rights to most people with felony offenses two years after completion of sentence.  (Note that the automatic restoration of civil rights for offenses does not include restoration of firearms rights.)  People convicted of "serious" offenses must wait 10 years, and those convicted of "dangerous" offenses are ineligible for restoration. SB 2080.