CCRC reports on criminal record reforms in 2019
We are pleased to publish our annual report on criminal record reforms enacted during the past calendar year.  This is the fourth in a series of reports since 2016 on new laws aimed at avoiding or mitigating the collateral consequences of arrest and conviction.  This year we have included for the first time a Report Card grading the progress of the most (and least) productive state legislatures in 2019.  The press release accompanying the report is reprinted below:
Report finds record-breaking number of criminal record reforms enacted in 2019
February 17, 2020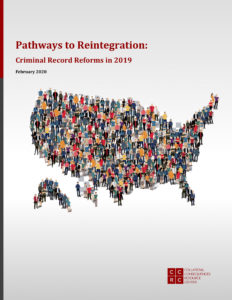 Washington, D.C. — The Collateral Consequences Resource Center (CCRC) has released a new report documenting the astonishing number of laws passed in 2019 aimed at promoting reintegration for individuals with a criminal record.  Last year, 43 states, the District of Columbia, and the federal government enacted an extraordinary 153 laws to provide criminal record relief or to alleviate the collateral consequences of arrest and conviction, consequences that may otherwise last a lifetime and frequently have little or no public safety rationale. 
The year 2019 was the most productive legislative year since a wave of "fair chance" reforms began in 2013, a period CCRC has documented in a series of legislative reports (2013-2016, 2017, and 2018). 
CCRC's 2019 report, titled "Pathways to Reintegration: Criminal Record Reforms in 2019," is available here.
"This report is our first to include a Report Card on how state legislatures performed during the year in advancing the goals of reintegration," said CCRC Executive Director Margaret Love. "We wanted to recognize New Jersey as Reintegration Champion for having the most consequential legislative record in 2019, including three important new laws authorizing 'clean slate' record relief, restoring voting rights, and curbing driver's license suspensions."
"In New Jersey, we are blessed to have a broad coalition of elected officials, nonprofits, and activists who are committed to meaningful criminal justice reform," said James McGreevey, Executive Director of New Jersey Reentry Corporation and former New Jersey governor. "This recognition from the Collateral Consequences Resource Center is a testament to the leadership of Governor Murphy, Senate President Sweeney, and Speaker Coughlin, and to what is possible when officials from both branches of government unite behind a cause."
Colorado is the runner-up Reintegration Champion for enacting ten laws reforming criminal record relief, diversion, employment, immigration consequences, and voting rights.  Honorable mention for enacting several important record reforms goes to Illinois, Mississippi, Nevada, New Mexico, North Dakota, and West Virginia. Alaska, Georgia, and Michigan are singled out for their unproductive legislative records in the past few years.
Lawmakers in 2019 took significant steps to restore voting and other civil rights, authorize expungement and other forms of record relief, expand diversion programs, limit the use of criminal records in occupational licensing, employment, and housing, alleviate immigration consequences, and curb driver's license suspensions:
•
On
voting
,
11
states took steps to restore the right to vote
to previously disenfranchised individuals
and to expand awareness of voting eligibility.
•
On
record relief
, 31 states and D.C. enacted 67 bills creating, expanding, or streamlining expungement, sealing or vacatur.  Twenty-seven states and D.C. made certain classes of convictions newly eligible relief, five states enacting their first general authority for expunging or sealing convictions. Three states authorized automated relief for a range of conviction and non-conviction records
, and
six
others
focused automat
ed
relief on specific offenses or dispositions.  Seven jurisdictions authorized relief for victims of human trafficking. 
Seven states—all of which have legalized or decriminalized marijuana—authorized record relief for certain marijuana offenses, including two automated measures.
Thirteen states streamlined and/or made more effective procedures for obtaining relief.
•
On
diversion
,
17
states enacted 25
laws creating, expanding, reorganizing, or otherwise supporting diversionary and deferred dispositions
•
On
occupational licensing
and
employment
, 26 states and the federal government enacted 42 laws limiting consideration of criminal record in either employment or occupational licensing, or both (30 laws cover licensing and 14 address employment).  
•
On
immigration
,
four
states enabled non-citizens charged with offenses to avoid deportation based on sentence or guilty plea and two states regulated the questioning of criminal defendants or detained individuals about their immigration status
.
•
Other
relief measures addressed jury service, public office, firearms, driver's license suspension, housing, pardon procedure, sex offender registration, and access to adoption.
These various criminal record reforms and the trends they embody are described in greater detail in CCRC's report.  
The reform trajectory established in 2019 makes us optimistic that 2020 will be an even more productive year in the progress toward reintegration of people with a criminal record.

*Note: this press release and the report were updated on March 24, 2020 to include a negligent hiring law enacted by Iowa in 2019.
For more information, please contact Margaret Love at 202-547-0453, margaretlove@pardonlaw.com.
The Collateral Consequences Resource Center is a non-profit organization established in 2014 to promote public engagement on the myriad issues raised by the collateral consequences of arrest or conviction.  Collateral consequences are the legal restrictions and societal stigma that burden people with a criminal record long after their criminal case is closed.  The Center provides news and commentary about this dynamic area of the law, and a variety of research and practice materials aimed at legal and policy advocates, courts, scholars, lawmakers, and those most directly affected by criminal justice involvement. The Center has drafted reports on new legislative developments and participated in court cases challenging specific collateral consequences. www.ccresourcecenter.org