Yesterday we announced the forthcoming publication of a national report surveying various legal mechanisms for restoring rights and opportunities following arrest or conviction, a revision and updating of our 2020 report "The Many Roads to Reintegration." The first post in the series ("Expungement, Sealing & Set-Aside of Convictions") gives some additional background about the report. This second post in this "preview" series deals with how the law regulates consideration of criminal history in employment and occupational licensing. We expect to publish the whole report, plus our Reintegration Report Card for 2022, early next week.
Introduction
There is perhaps no more critical aspect of a reintegration agenda than removing the many unjustified and unjustifiable barriers faced by people with a criminal record in the workplace.[1] In an era of near-universal background checking and search engines, the "Mark of Cain" these individuals bear will sooner or later be known to potential employers and licensing boards even if criminal record information is not requested on an initial application.
Some barriers take the form of laws formally disqualifying people with certain types of convictions from certain types of jobs or licenses. More frequently, barriers result from informal discrimination grounded in an aversion to risk and, too frequently, racial stereotypes. Whether it is securing an entry level job, moving up to management responsibilities, or being certified in a skilled occupation, people with a criminal record are at a competitive disadvantage, if they are even allowed to compete. As between two individuals with hypothetically equal qualifications, it is easy for a risk-averse prospective employer or licensing agency to justify breaking the tie in favor of the person who has never been arrested.
Individualized record relief mechanisms like expungement or pardon are intended to improve employment opportunities, and they can be helpful on a case-by-case basis to those who are eligible and able to access them.[2] But equally important are fair employment and licensing laws that impose general standards limiting consideration of criminal record and provide for their enforcement, offering class-wide relief to all similarly situated individuals. States have enacted an impressive number of this sort of systemic "clean slate" law[3] just since 2015, some building on laws enacted in an earlier period of reform half a century ago in the 1960s and 1970s,[4] and others breaking new ground in regulating how employers and licensing agencies consider an applicant's criminal record.
In employment, one of the most striking legislative trends in the past decade is the embrace of limits on inquiry into criminal history in the early stages of the hiring pro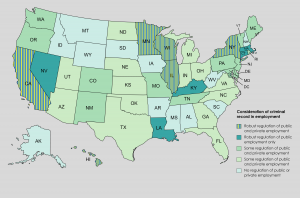 cess, particularly for public employment. The so-called "ban-the-box" campaign that began modestly more than 20 years ago in Hawaii and took off nationwide after it was adopted in California, has now produced new laws or executive orders in more than two-thirds of the states and in over one hundred cities and counties. More efficient and broadly effective than after-the-fact lawsuits, ban-the-box laws now represent the primary tool for eliminating unwarranted record-based employment discrimination on a system-wide basis. They are premised on an expectation that getting to know applicants before learning about adverse information in their background is likely to lead to a fairer and more defensible hiring decision. This should be particularly true when a records check is permitted only after a conditional offer of employment has been made, so there is little doubt about the reason in the event of a later withdrawal.[5] A few states (though still too few) have coupled ban-the-box strategies with standards for considering a person's record after inquiry is permitted.
Occupational licensing has also seen an acceleration of legislative efforts to limit the arbitrary rejection of qualified workers. Significant procedural and substantive reforms have been enacted in more than two thirds of the states in the last five years, in some cases building on reforms originally adopted in the 1970s, and in others following models recently proposed by policy advocacy organizations from across the political spectrum whose model laws aim to make licensing authorities newly accountable for their actions and individuals newly able to obtain and practice a skill with enhanced career prospects. Following these models, states have
substituted objective standards related to the specific occupation for vague "good moral character" criteria;
afforded individuals a preliminary decision about whether their record will be disqualifying before they invest in education or training;
prohibited consideration of certain records considered unrelated to job performance, including based on their minor or dated nature;
required licensing agencies to justify negative decisions, frequently in terms of public safety, and to afford disappointed applicants an opportunity to appeal;
imposed legislative oversight requirements to hold licensing agencies accountable for their performance.
As shown in the following discussion and in the "Report Card" maps that follow the section, almost every state now has at least some law aimed at limiting record-based discrimination in employment or licensure, and most have both. Enforcement of these new laws may in many cases depend on education and persuasion rather than on lawsuits and executive orders, but this may make systemic change come sooner and have a more lasting effect. The very exercise of repeatedly having to decide the relevance of an individual's past conduct through a transparent and accountable process is likely to result in more reliable decision-making, and a better understanding of those relatively few instances when denial of opportunity is justifiable. We discuss the state of the law in greater detail in the following sections.