Legislative Report Card: "The Reintegration Agenda During Pandemic"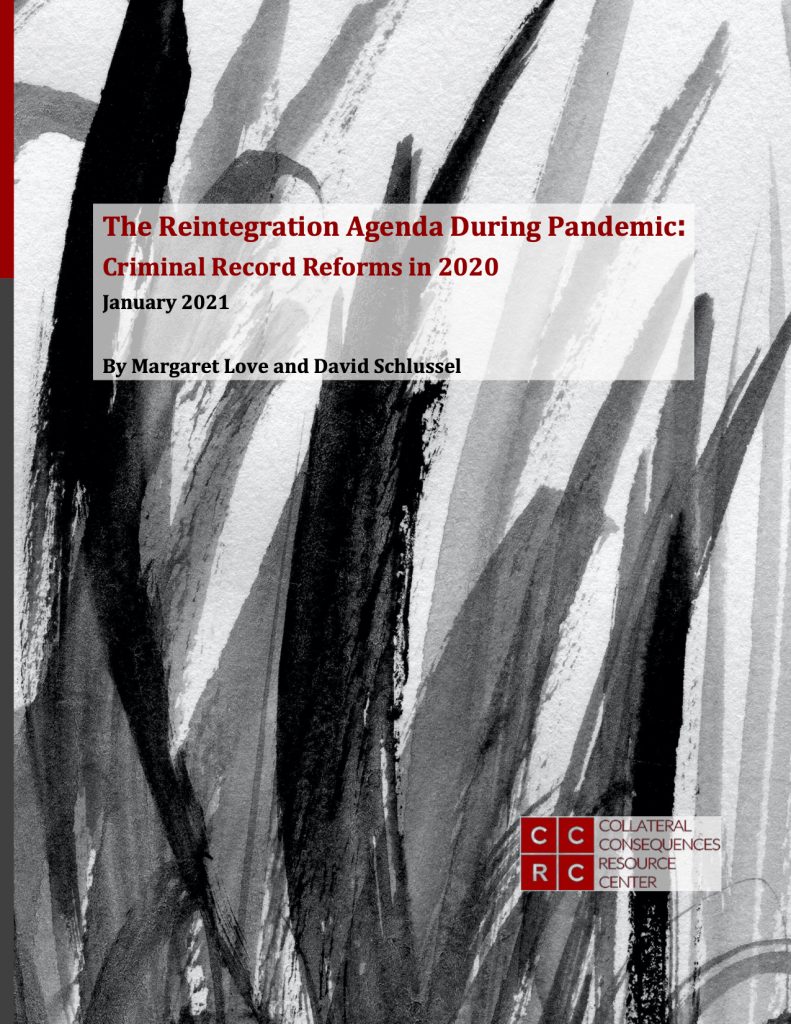 CCRC's new report documents legislative efforts in 2020 to reduce the barriers faced by people with a criminal record in the workplace, at the ballot box, and in many other areas of daily life. In total, 32 states, D.C., and the federal government enacted 106 bills, approved 5 ballot initiatives, and issued 4 executive orders to restore rights and opportunities to people with a record.
Our Legislative Report Card recognizes the most (and least) productive state legislatures last year. Hands down, Michigan was the Reintegration Champion of 2020 with 26 new record reform laws, while Utah was runner-up, and seven other states were commended for their work.
LEGISLATIVE REPORT CARD
This year Michigan gets the top mark as our Reintegration Champion for the most consequential legislative record of any state in 2020, enacting a remarkable 26 bills addressing record relief, diversion, occupational licensing, driver's license suspension, sex offense registration, and public benefits.
Most notably, Michigan's new "clean slate" record relief scheme is even more ambitious than the reform that earned New Jersey the title of Reintegration Champion in 2019. Like New Jersey, Michigan substantially expanded the number of convictions eligible for petition-based sealing and directed the development of an automated sealing system applicable retroactively to a wide range of misdemeanor and felony convictions going back decades. Unlike New Jersey's automation program, which has no timetable for coming online, the Michigan scheme by law must be made operational within two years. Michigan also significantly expanded record relief for juvenile records and marijuana offenses. In other relevant reforms, Michigan limited the kinds of criminal records that can be considered by occupational licensing agencies, barred suspension of driver's licenses for a range of legal violations unrelated to dangerous driving, repealed bans on federal food and family assistance due to felony drug convictions, and revised its sex offender registration scheme.
Utah is runner-up for our Reintegration Champion award, based on a prolific legislative record that addressed issues as various as diversion, occupational licensing, and record-sealing in a total of seven separate laws. Utah's productive 2020 followed an equally productive 2019, when its legislature authorized automated expungement of many misdemeanor convictions and non-conviction records and took major steps toward regulating occupational licensing agencies.
Honorable mention for a productive legislative season goes to seven states. California, Louisiana, and Virginia each enacted a number of new authorities intended to promote reintegration, and California restored the vote to parolees by a ballot measure amending the state's constitution. Virginia's legislature deserves special recognition for having enacted 10 separate laws after many years of producing little or nothing related to restoration of rights. Idaho, Iowa, Missouri, and Rhode Island all passed impressive schemes to regulate consideration of criminal record in occupational licensure for the first time.
Low marks go to four of the states that enacted no record reform laws at all in 2020. While there are many states in this category this year, likely because of the distractions and burdens of the pandemic, the legislatures of Alaska, Kansas, Massachusetts, and Wisconsin earn their place at the bottom of the heap for having been equally unproductive in 2019, a year when almost every other state passed at least some law limiting access to and use of criminal records.
We conclude by noting that many of 2020's new laws were enacted after state legislatures were virtually shut down by the pandemic. (Indeed, several provisions of the most recent federal pandemic stimulus bill qualify for inclusion in this report.) This seems to us evidence that criminal record reform is now regarded as central to the Nation's legislative agenda. We anticipate that in the coming year Congress and states that have been comparatively cautious in their recent law-making will be inspired to take larger steps to limit discrimination based on criminal record, as they see what more ambitious jurisdictions have already been able to accomplish.
—
The full report is available here.
A more comprehensive 50-state grading system is incorporated into our national report The Many Roads to Reintegration and accompanying Reintegration Report Card.