CCRC proposes a reintegration agenda for the 117th Congress
The new Congress has an opportunity to make significant bipartisan progress on criminal justice reform, including reducing barriers to successful reintegration for people with a criminal record.1 This agenda recommends specific measures by which Congress can accomplish this.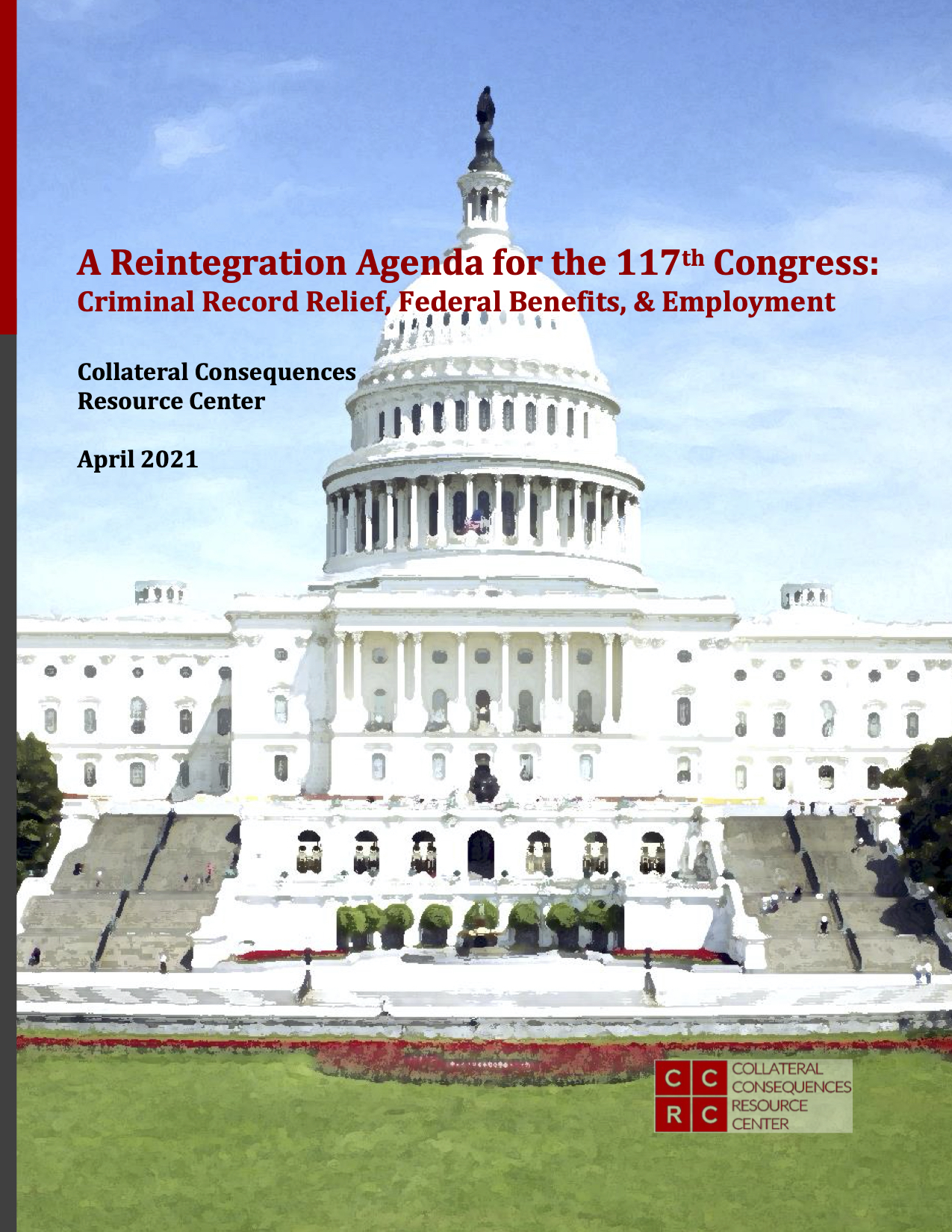 During the wave of criminal record reform that began around 2013, every state legislature has taken some steps to chip away at the negative effects of a record, thereby supporting opportunities to earn a living, access public benefits, education, and housing, regain voting rights, and otherwise reintegrate into society.2 Many states have entirely remade their record relief systems—authorizing or expanding expungement, sealing, set-aside, certificates of relief, and/or deferred adjudication—and limited the consideration of arrest and conviction records in employment and licensing.3
Congress has belatedly become interested in the reintegration agenda, limiting background checks in federal employment and contracting in 2019, and removing some barriers to public benefits in 2020. However, many federal barriers remain, and individuals with federal records have no access to the kind of relief mechanisms now available in most states. Recent controversies over presidential pardoning offer an incentive to wean the federal justice system from its dependence upon presidential action for the sort of routine relief these mechanisms promise.
During the pandemic, the need to access opportunities and resources is perhaps unprecedented. We therefore urge Congress and the Biden Administration to take an ambitious and bipartisan approach to criminal record reforms in the four areas described below:
Record relief: authorize federal courts to expunge certain records, grant certificates of relief, and increase use of deferred adjudication; give effect to state relief in federal law; prohibit dissemination of certain records by background screeners and the FBI; provide relief from firearms dispossession.
Federal public benefits: end record-related restrictions in small business relief, SNAP and TANF benefits, and student financial aid.
Employment & licensing: establish enforceable standards for consideration of criminal record in federal employment and contracting, and limit record-based restrictions in federally-regulated occupations.
Voting rights: allow voting in federal elections unless a person is serving a felony sentence in a correctional institution.
CCRC's full federal agenda can be accessed here, and is reprinted below.
Record Relief
Since 2013, most states have either expanded record relief laws enacted in the 1970's or enacted relief for the first time.4 States have tailored eligibility and procedures to the specific type of record, and more than a dozen have authorized automatic relief for certain records. Record remedies are now authorized in almost every state and apply to many types of criminal records. The popularity of court-managed diversion is growing, and many states also offer judicial or administrative certificates to restore lost rights.5
Yet Congress has thus far failed to act, leaving those with federal convictions without remedy short of a presidential pardon, and those with federal non-conviction records without any remedy at all. In addition, many areas of federal law fail to recognize or give effect to state relief.
Legislative recommendations:
Enact the Clean Slate Act of 2019 (R.2348), amended to authorize courts to seal conviction records upon completion of supervision, and expunge non-conviction records automatically upon disposition.6

Enact the Marijuana Opportunity Reinvestment and Expungement Act of 2019 (R.3884), to decriminalize marijuana, and establish a process to expunge convictions and conduct sentencing review hearings related to federal marijuana offenses. Replace its vague proposed definition of "expungement" with the more precise definition in 18 U.S.C. § 3607(c).
Expand authority under 18 U.S.C. § 3607 to allow federal courts to defer judgment for any person eligible for a probationary sentence and to expunge the record upon successful completion of probation without regard to age, thereby avoiding a conviction record.7 The Judicial Conference of the United States has previously agreed to support amendments to this statute "that provide judges with alternatives to incarceration and expand sentencing discretion…."8
Enact the RE-ENTER Act (2931), with an additional amendment to authorize federal courts to grant certificates that avoid all mandatory collateral consequences and provide evidence of rehabilitation for public and private decision-makers. The American Law Institute has approved a model law that authorizes courts to issue such certificates to mitigate collateral consequences and facilitate reentry and reintegration.9
Give effect to state diversion and deferred adjudication dispositions as non-convictions—and to state expungement, sealing, and set-aside relief—in federal laws and regulations (e.g., Federal Credit Reporting Act, Small Business Administration, sentencing guidelines, immigration).
Authorize grants to the states to improve the operation of record relief systems, including supporting technology projects for automatic relief and streamlining petition-based systems.
Enact provision in the Comprehensive CREDIT Act of 2020 (R.361) to prohibit credit reporting agencies from reporting arrests for which a person was not convicted. Amend the federal Fair Credit Reporting Act (FCRA) to restore the prohibition on reporting indictments and convictions if more than seven years have elapsed after date of disposition, release, or parole, a prohibition repealed in 1998. 15 U.S.C. § 1681c. Increase FCRA enforcement tools in the Federal Trade Commission and Consumer Financial Protection Bureau.
Enact the Fairness and Accuracy in Criminal Background Checks Act (R.2851), which includes a requirement that the FBI not report state or federal criminal history information for employment-related purposes about arrests that are more than one-year-old and do not indicate a disposition. Authorize incentives to states that are part of the National Crime Prevention and Privacy Compact to adopt the same policy.
Adopt a judicial or administrative mechanism to restore firearms rights to persons with federal convictions to reduce reliance on presidential pardon.
Federal public benefits
Federal law and regulations include a range of criminal history-based exclusions on public benefits, denying vital federal assistance during the health and economic crises of the pandemic. Most urgently, Congress should remove criminal history restrictions on Small Business Administration (SBA) assistance, Supplemental Nutrition Assistance Program (SNAP), Temporary Assistance for Needy Families (TANF), and student financial aid.
Legislative recommendations:
Federal Employment and Licensing
In 1998, Hawaii became the first state to prohibit inquiry into a job applicant's criminal record until after a conditional offer is made, thereby inspiring the "ban-the-box" campaign that began several years later in California. In Hawaii, a conditional offer may be withdrawn only if a conviction within the most recent 10 years bears a "rational relationship" to the position. Its four-part enforcement mechanism is still a model for other states:
Prohibit application-stage inquiries about criminal history (ban-the-box);
After inquiry, prohibit consideration of non-convictions and certain other convictions that are categorically deemed "unrelated" to qualifications;
Apply standards and procedures for potentially relevant convictions; and
Enforce standards and procedures through a general fair employment law.10
Thirty-six states now have "ban-the-box" laws for public employment; 14 of them cover private employment as well.11 Several states have enacted comprehensive schemes like Hawaii's.12
In 2019, Congress enacted a "ban-the-box" law for federal employment and contracting. The Fair Chance Act (P.L. 116-92, Subtitle B), effective December 2021, prohibits most agencies and contractors from requesting criminal history information about a job applicant until a conditional offer is made. Congress has not, however, provided standards for when a conditional offer may be withdrawn based on criminal history, and has given OPM no enforcement authority.
In addition, federal law restricts or prohibits employment of people due to criminal record in various areas, including banking, insurance, real estate, transportation, mortgage lending, federal health care programs, etc.13 While federal regulations restricting bank employment were recently reformed to some degree, the FDIC Act still disqualifies people based on participation in pre- trial diversion and other non-conviction dispositions.14
Legislative recommendations:
Amend the 2019 Fair Chance Act to add enforceable standards on what criminal records may be considered in federal employment and contracting (g., Hawaii's four-part mechanism described above; standards in the Fair Chance Licensing Act of 2019 (Title VIII of Next Step Act of 2019 (S.697/H.R.1893)). Give OPM enforcement authority.
Eliminate conviction-based bars and limit discretionary disqualification in federally-regulated occupations and employments, consistent with the standards in the Fair Chance Licensing Act of 2019 (see above). Amend the FDIC Act to eliminate disqualification from banking employment based on participation in a pre-trial yeah that's not a big deal diversion or similar non-conviction program.
Voting Rights
There is a growing consensus that restoration of the vote is an important aspect of criminal justice reform. Since 2015, 17 states and the District of Columbia have enacted a total of 26 laws either limiting disenfranchisement or encouraging the newly enfranchised to vote.15 As a result of these reforms, 18 states now disenfranchise people convicted of a felony only during actual incarceration, and another two states and the District of Columbia do not disenfranchise at all.16 Already in 2021, an impressive 18 states are considering bills to ease or eliminate prohibitions on voting based on a past conviction.17
Yet in thirty states people living in the community are unable to vote because they have not completed their terms of supervision and, in 10 of these states, only because they have not fully paid court debt.18 While eligibility for the franchise has historically depended upon state law, Congress has authority to control who is eligible to vote in federal elections, and bills have been introduced in successive Congresses to extend the franchise in this context.
Legislative recommendation:
Enact the Democracy Restoration Act of 2019 (1068) to allow any individual who is a citizen of the United States to vote in any election for Federal office notwithstanding their conviction of a criminal offense unless such individual is serving a felony sentence in a correctional institution or facility at the time of the election; and, to provide for written notification of restoration of voting rights.
________________
Note:  This report was developed by Margaret Love and David Schlussel, Executive Director and Deputy Director, respectively, of the Collateral Consequences Resource Center (CCRC). CCRC is a nonprofit organization established in 2014 to promote public engagement on the myriad issues raised by the collateral consequences of arrest or conviction. Our Restoration of Rights Project describes and analyzes the laws and practices relating to restoration of rights and criminal record relief in each U.S. jurisdiction. Our 50-state charts, annual reports on new legislation, and issue-based projects make it possible to identify national patterns, emerging trends, and key policy issues. This report was made possible by a generous operating grant from Arnold Ventures.
1 See Marc Levin, Build a bridge, not a wall, between administrations on justice reform, The Hill (Feb. 1, 2021), https://thehill.com/opinion/criminal-justice/536732-build-a-bridge-not-a-wall-between-administrations-on-justice-reform.
2 See CCRC annual reports on new restoration of rights and record relief laws from 2013 through 2020, available at https://ccresourcecenter.org/resources-2/resources-reports-and-studies/.
3 The spirit of reform that produced many of the state record relief laws in the 1970s was dormant for 30 years until it reawakened around 2013, following a dramatic increase in the severity of collateral consequences, the number of people affected by them, and the routine practice of criminal background checking. See https://ccresourcecenter.org/the-many-roads-to-reintegration/.
4 "Record relief" refers to various types of remedies that operate directly on the criminal record:  expungement, sealing, and set-aside revise a person's record; pardon or certificates of relief remove or mitigate specific barriers; diversion and deferred adjudication avoid a criminal record in the first place. See https://ccresourcecenter.org/resources-2/resources-reports-and-studies/.
5 Expungement, sealing, or set-aside are now available for at least some felony convictions in 38 states, for misdemeanor convictions in 42 states, and all but two states now authorize sealing of non-conviction records. See https://ccresourcecenter.org/state-restoration-profiles/50-state-comparisonjudicial- expungement-sealing-and-set-aside/.
6 We do not agree with the categorical restriction of relief in this bill to "non-violent" offenses, since the definition of "crimes of violence" under federal law is both exceedingly broad and vague. See 18 U.S.C. §§ 16, 924(e). We would leave it to the federal courts to determine whether sealing relief poses a threat to public safety in particular cases.
7 18 U.S.C. § 3607, the so-called Federal First Offender Act, limits deferred dispositions to persons charged with misdemeanor drug possession with no prior drug-related convictions, and authorizes expungement after successful completion of probation only for persons under 21 years of age at the time of the offense.
8 See Report of The Proceedings of the Judicial Conference of the United States 11 (Sept. 12, 2017) ("A bill was introduced in Congress, H.R. 2617 (115th Congress), the RENEW Act, that would expand the age of eligibility for expungement under section 3607 of title 18 from "under the age of 21" to "under the age of 25." The Committee on Criminal Law noted that the RENEW Act's aim of expanding the scope of section 3607 is consistent with practices already occurring in many courts looking to increase alternatives to incarceration and enhance judicial discretion and is consistent with Judicial Conference policy on sealing and expunging records in that it would not limit judicial discretion in the management of cases and adoption of rules and procedures. On recommendation of the Committee, the Conference agreed to support amendments to 18 U.S.C. § 3607 that provide judges with alternatives to incarceration and expand sentencing discretion, and that are consistent with the Conference's prior views on sealing and expunging records"),  https://www.uscourts.gov/sites/default/files/17-sep_final_0.pdf (citing Report of The Proceedings of the Judicial Conference of the United States 12-13 (Sept. 17, 2015) (expressing concerns that certain provisions of the proposed Record Expungement Designed to Enhance Employment  Act of 2015, S.675, 114th Congress, could impact judicial independence as well as increase civil workload without providing additional resources)), https://www.uscourts.gov/sites/default/files/2015-09-17_0.pdf/.
9 American Law Institute, Model Penal Code: Sentencing, §§7.04-7.06 (2017).
10 See https://ccresourcecenter.org/the-many-roads-to-reintegration/.
11 See Beth Avery & Han Lu, Ban the Box: U.S. Cities, Counties, and States Adopt Fair Hiring Policies, National Employment Law Project (Sept. 30, 2020), https://www.nelp.org/publication/ban-the-box-fair-chance-hiring-state-and-local-guide/.
12 See supra note 10.
13 See Margaret Colgate Love, Jenny Roberts, & Wayne A. Logan, Collateral Consequences of Criminal Conviction: Law, Policy and Practice §§ 2:10, 2:11 (NACDL/West, 3d ed. 2018-2019).
14 12 U.S.C. § 1829(a)(1)(A) bars banking employment for any person who has been convicted of a criminal offense involving dishonesty "or has agreed to enter into a pretrial diversion or similar program in connection with a prosecution for such offense."
15 See supra note 2.
16 See https://ccresourcecenter.org/2020/11/23/who-must-pay-to-regain-the-vote-a-50-state-survey-2/.
17 See https://ccresourcecenter.org/2021/02/03/momentum-grows-to-restore-voting-rights-to-people-with-a-felony.
18 See supra note 16.