A pardon celebrates the life of a public defender
One of the 12 pardons granted by President Obama on December 17 went to Albert Stork of Delta, Colorado, long-time advocate for indigent criminal defendants on the rural Western Slope.  Al Stork pled guilty in 1987 to filing a false tax return, and served six months in federal prison. While his conviction came about in an unusual way, what makes Al's case so special is what he did with his life afterwards.
Al Stork's conviction arose out of his family circumstances. In the early 1980s, one of his two older brothers was an elected prosecutor in Colorado's Sixteenth Judicial District; the other was a fugitive from Colorado authorities, having spent most of his life (as Al put it) "either in jail or on the lam." Al himself, then in his early 20s, was leading what his defense lawyer described years later as "an unexceptional and unmotivated middle class life," working construction and selling a little marijuana on the side.
The four-year federal investigation that resulted in Al's 1987 tax conviction was focused on an effort to identify his fugitive brother Wayne's assets. Al's downfall was his inability to help in this effort, coupled with his failure to report as income the small amount of money Wayne had given him over the years. (Al recounted in his pardon application that his DA brother was "embarrassed at having to testify in the grand jury that some of the down payment for his house had come from his fugitive brother.")  During the course of the investigation Al and his wife lost all of their assets, including the house he had built, and were forced to move into one room in a neighbor's basement. After Al pled guilty and was sentenced to a short prison term, he and his wife separated. He described the period as one in which his life was "crumbling."
Twenty-five years later, his defense lawyer Hal Haddon described what happened next in a letter supporting his former client's request for a pardon:
Mr. Stork . . . emerged from federal prison with a passion to assist the indigent prisoners with whom he had lived — a disadvantaged segment of the community he had never previously known or understood. In pursuit of that commitment, Mr. Stork attended law school, successfully graduated and was admitted to the Colorado Bar after persuading the Bar Admissions Committee of the Colorado Supreme Court that he had learned a huge lesson and was a mentally and morally fit to join the legal profession.
Al's path to law school was not quite as smooth as Mr. Haddon's letter might suggest, since he left prison with no college education and no source of support. Undaunted, he borrowed money to attend community college and later graduated from the University of Denver, though it took him another three years to find a law school that would admit him. He and his wife Carol had by then reconciled, and he supported himself by waiting tables. In his pardon application he credited his prosecutor brother as a role model: "His encouragement and my observations of him prosecuting cases but at the same time having compassion for those he was prosecuting provided me the impetus to pursue my law career." (His prosecutor brother is now an elected judge, while Wayne Stork is serving a federal prison sentence for drug trafficking, with state gigs for parole violations to follow.)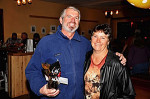 After graduating from law school in 1999, Al went to work for the Colorado State Public Defender's office. Eight years later, he opened his own law office and began taking cases through the State Office of Alternate Defense Counsel, becoming the principal court-appointed attorney for indigent defendants in several rural Colorado counties. He kept a low profile but was obviously held in high esteem by his colleagues, judging by the many letters they wrote in support of his pardon application. They described him as a modest and generous colleague, a skilled and thorough advocate, and an empathetic counselor who saw his clients as individuals and did not "judge them or categorize them." One described how he "consistently encourages his clients to be better than they think they are, and certainly better than those who are about to judge them think they are." Another described how diplomatic Al had been when a county judicial selection committee tried to recruit him to run for a judgeship, not knowing about his conviction.
In his pardon application Al described how his own experience with the criminal justice system informed his work as a defense lawyer:
I felt I had already received somewhat of an education in criminal law, though I was a reluctant student. I understood choices that one makes that can place them on the other side of the law, the power of the legal hammer when such choices are made, and the consequences thereof. I also understood the anxiety, the fear, and the unknowns that gnaw at a person every moment of every day when you are under scrutiny by law enforcement for those bad choices. I carried that knowledge when I pursued my legal education, and continue to carry that knowledge with me as a practicing attorney. I take the title counselor seriously in the sense that my job is not just to get the best result for my client legally but also to empower each individual I represent to help them realize they too can rise above their past. . . .
My belief that I carry over into my representation of indigent clients comes from a belief that we all have a spark of light within us even in the darkest of times. That is not abstract for me — it comes from my own experience.
By way of apology for not being able to report more varied community service in his pardon application, Al noted how he had cared for his seriously-ill mother throughout his early years as a public defender, until her death.
In explaining his reasons for seeking a pardon, Al mentioned how much his brother had loved serving as a judge, and how he himself might like to run for local office but was afraid his conviction would prove "distracting" in a campaign unless he could "give public assurance" that he had put his past behind him and been "officially forgiven."
* * * * * * * * * * * *
Al Stork was one of my favorite pardon clients. It was therefore particularly sad for me when his wife Carol called me last spring, when Al's application had been pending for about three years, to report that Al had been suddenly and catastrophically struck by irreversible and inoperable brain cancer. By the time the pardon came seven months later, Al was no longer able to appreciate that he had won the prize he sought, an affirmation of a life well-lived from the highest levels of government.
Still, the pardon means a great deal to Carol Stork, and to Al's friends and colleagues who were inspired by his perseverance in the face of adversity and by his dedication to defending the poor against the power of the state. It means a great deal to me, who was honored to have been able to help him present his case for forgiveness. That said, while Al's case is exceptional, it is not unique. There are many other applicants for pardon whose stories can tell good news about the justice system through recognition of redemption by the government that once condemned them. I hope that in days to come the president will want to use his benign power to even greater public advantage.
Postscript:  Al Stork died of brain cancer on January 2, 2015.  He is mourned by his family and friends, and by the many people who never met him but were inspired by his story.