"One Strike and You're Out:" Center for American Progress reports on criminal records policy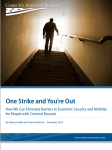 Earlier this week, the Center for American Progress published a new report on the effect of the proliferation of criminal records in a nation of mass incarceration and criminalization. The report ("One Strike and You're Out: How We Can Eliminate Barriers to Economic Security and Mobility for People with Criminal Records") explores the debilitating effect that a criminal record – including records for relatively minor offenses and for arrests that did not result in a conviction – can have on an individual's access to housing, public assistance, education, family stability, and, in turn, their prospects for economic stability. The report's authors are Rebecca Vallas of the Center for American Progress's Poverty and Prosperity Program, and Sharon Dietrich of Community Legal Services of Philadelphia (and of our own CCRC Board).
The report makes the point that the proliferation of criminal records, and the ease with which they can be accessed, harms not only individuals but society as a whole. The collateral consequences of a criminal record result in employment losses of $65 billion a year in GDP according to one study cited. Another study estimates that the national poverty rate would have dropped by 20 percent between 1980 and 2004 if not for mass incarceration and the accompanying criminal record crisis. The report notes that the war on drugs and the "criminalization of poverty" has resulted in a disproportionately high incidence of justice system contact in communities of color. Criminal records are thus both a cause of poverty and a consequence of poverty.
"Failure to address the barriers associated with having a record as part of a larger antipoverty strategy risks missing a huge piece of the puzzle," Vallas told me shortly after the report's publication. "On the flip side, enacting policies to remove those barriers and provide a second chance has the potential to make a huge dent in our nation's poverty rate." To this end, the report recommends broadening access to expungement and record sealing, expanding fair employment and housing protections, and requiring accuracy in criminal background checks. Some of the recommendations target specific collateral consequences like the felony drug ban for federal nutrition assistance, and for federal financial aid for those with drug convictions. The report also gives examples of laws and policies already on the books that can serve as models for reform.
I also asked Vallas about the prospects for meaningful reform in the current political climate. This is what she had to say:
Bipartisan momentum in support of criminal justice reform — including second-chance policies — has been growing for the past several years. We seem to have moved past the "tough-on-crime" era and into a new "smart-on-crime" era with increased support for criminal justice policies that avoid needless incarceration. This shift appears to have happened in part because of the enormous costs of incarceration — the U.S. spends more than $80 billion per year on locking people up, and more than $270 billion per year if you count the costs of law enforcement, policing, etc. — and because of increased interest in evidence-based policies that support reentry, reduce recidivism, and increase public safety and spend law enforcement resources more effectively. There's also a strong faith-based argument, that we're a society that practices and values redemption. Additionally, the impact on the national economy has begun to get people's attention. A study by the Center for Economic and Policy Research, or CEPR, which we cite in the report, finds that the cost of employment losses from people with records being shut out of the labor market is as high as $65 billion per year in GDP terms. That's a big hit to our nation's bottom line.

In researching the report, I pulled together a bunch of quotes from prominent elected officials and thought leaders across the political spectrum, calling for criminal justice reform and second-chance policies—and I realized that when you take away the names of who said them, it's nearly impossible to tell whether each came from a Democrat or a Republican. It's extremely encouraging, especially at a time when the word "bipartisan" doesn't apply to too many issues. There's a lot of hope and optimism that we'll see real progress on these issues in the next Congress, as well as continued positive steps at the state and local levels.
Editor's note: We think it is particularly hopeful that the Center for American Progress, generally considered the think tank of the Democratic Party, is now taking an interest in issues that for many years have been considered a third rail by progressive candidates for office. Perhaps a constructive practical approach to criminal justice issues will replace fear-mongering and stereotypes in the 2016 election cycle. Perhaps we can finally abandon the unfortunate phrase "soft on crime" without needing to be reassured that we are being smart about it.  —