We are pleased to publish our annual report on criminal record reforms enacted during the past calendar year.  This is the fourth in a series of reports since 2016 on new laws aimed at avoiding or mitigating the collateral consequences of arrest and conviction.  This year we have included for the first time a Report Card grading the progress of the most (and least) productive state legislatures in 2019.  The press release accompanying the report is reprinted below:
Report finds record-breaking number of criminal record reforms enacted in 2019
February 17, 2020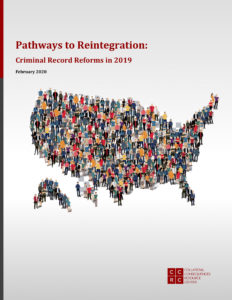 Washington, D.C. — The Collateral Consequences Resource Center (CCRC) has released a new report documenting the astonishing number of laws passed in 2019 aimed at promoting reintegration for individuals with a criminal record.  Last year, 43 states, the District of Columbia, and the federal government enacted an extraordinary 153 laws to provide criminal record relief or to alleviate the collateral consequences of arrest and conviction, consequences that may otherwise last a lifetime and frequently have little or no public safety rationale. 
The year 2019 was the most productive legislative year since a wave of "fair chance" reforms began in 2013, a period CCRC has documented in a series of legislative reports (2013-2016, 2017, and 2018). 
CCRC's 2019 report, titled "Pathways to Reintegration: Criminal Record Reforms in 2019," is available here.
"This report is our first to include a Report Card on how state legislatures performed during the year in advancing the goals of reintegration," said CCRC Executive Director Margaret Love. "We wanted to recognize New Jersey as Reintegration Champion for having the most consequential legislative record in 2019, including three important new laws authorizing 'clean slate' record relief, restoring voting rights, and curbing driver's license suspensions."