CCRC's First Newsletter
Dear Subscribers,
We write with an update on our continued work to promote public discussion of restoration of rights and opportunities for people with a record. Highlights from this year's work are summarized below, including roundups of new legislation, case studies on barriers to expungement, policy recommendations, and a new "fair chance lending" project to reduce criminal history barriers to government-supported loans to small businesses. We thank you for your interest and invite your comments as our work progresses.
Fair Chance Lending

Starting a small business is increasingly recognized as a pathway to opportunity for individuals with an arrest or conviction history—particularly given the disadvantages they face in the labor market. Yet many structural barriers remain to these individuals, including from a series of little-known federal regulations and policies that impose broad criminal history restrictions on access to government-sponsored business loans, notably by the U.S. Small Business Administration (SBA). To illuminate and help reduce these barriers, our organization recently launched a new "Fair Chance Lending" project. We hope to show that—rather than broadly exclude individuals with a criminal history—officials should draw record-based restrictions as narrowly as feasible, facilitate access to resources, and celebrate entrepreneurial efforts, consistent with growing national support for reintegration and fair chances in civil society.
The SBA's record-related lending policies came into focus in the spring of 2020 when the agency imposed remarkably broad criminal history restrictions on hundreds of billions in financial relief for small businesses and nonprofits authorized through the CARES Act in response to COVID-19. We researched the issues in detail and joined a large bipartisan group of organizations calling on the SBA to revise its restrictions. This project is a continuation of that work, with an expanded look at small business loan programs more generally.
Reintegration Reform Returns to Pre-Pandemic Levels in First Half of 2021
CCRC staff in July completed a roundup of record relief legislation in the first half of 2021. Thirty states enacted 101 pieces of legislation to mitigate collateral consequences. The legislation includes work in restoring access to voting rights, record relief, limiting the influence of criminal records in issues of employment and licensure, housing, and many other areas. Much of this new legislation was quite significant. For example, Alabama, Arizona, and Virginia joined the 38 other states that now allow sealing or expungement of at least some misdemeanor and felony convictions. Arizona also became the thirteenth state to authorize its courts to issue judicial certificates of relief. Connecticut enacted an automatic record clearing law and limited ineligibility for voting and jury service to the period of actual incarceration for a felony. New Jersey enacted the most comprehensive fair chance housing legislation to date. Arnold Ventures highlighted our roundup of new state legislation in this article.
While much of the action came from state governments, the Biden Administration took some steps to mitigate collateral consequences. However, Congress has continued a decade long trend of little activity in this area. Given the health and economic harms of the pandemic, there is a particular need for state and federal lawmakers to adopt the policies recommended by CCRC to support opportunities for people with a record (see Reintegration Agenda below).
Marijuana Expungement and Legalization in Early 2021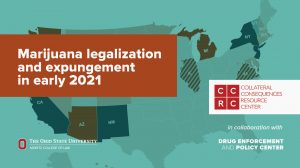 CCRC in the Spring partnered with the Drug Enforcement and Policy Center at The Ohio State University Moritz College of Law to document and produce maps and graphics about recent state marijuana legalization and criminal record expungement policies. The report covers four states (New Jersey, New Mexico, New York, and Virginia) who legalized recreational marijuana in 2021 and included automatic expungement provisions into their legislation. Further, all four states also included legislation to promote social equity, primarily through directing tax revenue and legal marijuana business opportunities into communities most affected by criminal law enforcement.
Access Barriers to Felony Expungement by Petition
CCRC has started to take a closer look at state-by-state barriers to expungement, partnering with Beth Johnson and the Rights and Restoration Law Group (RRLG) to create a survey of barriers to expungement. The survey covers barriers in four primary areas: resources and knowledge, eligibility, process, and effectiveness.  We expect that detailed case studies across multiple states will expand understanding of these barriers and help drive policy change.  When these case studies reveal the daunting barriers to petition-based felony expungement that, as a practical matter, limit relief to a small percentage of those eligible — barriers that may be difficult and costly to overcome — it may encourage adoption of automated relief systems.
1. The Case of Illinois
In February RRLG produced a case study of Illinois, using this survey. While Illinois legal aid resources are well-funded and standardized application forms are used statewide, most courts do not inform defendants about the availability of sealing as required by law. In addition, complete and accurate criminal history records are hard for individuals to obtain because the Illinois courts are decentralized.
While eligibility for felony sealing is very broad, and waiting periods are brief and uniform for all eligible offenses.  However, the waiting period begins anew with any new conviction, including even misdemeanor driving offenses.  As to process barriers, the study found that many specific aspects vary from jurisdiction to jurisdiction, and frequently impose unnecessary burdens on petitioners.  Finally, on effectiveness, the study found that while most public and private employers and licensing agencies are prohibited from considering sealed records by the state human rights law, regulated employers that are required to do background checks are broadly exempted and there is no single source of information to identify those exempted employers. In addition, courts that sell their records in bulk to background screeners do not monitor purchasers to ensure that sealed records are removed. There is no private right of action for unlawful disclosure of sealed records.
2. The Case of Utah 
CCRC partnered with Noella Sudbury in July to continue our series of case studies. Noella also used the survey tool to analyze Utah's expungement law and policy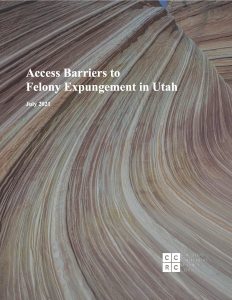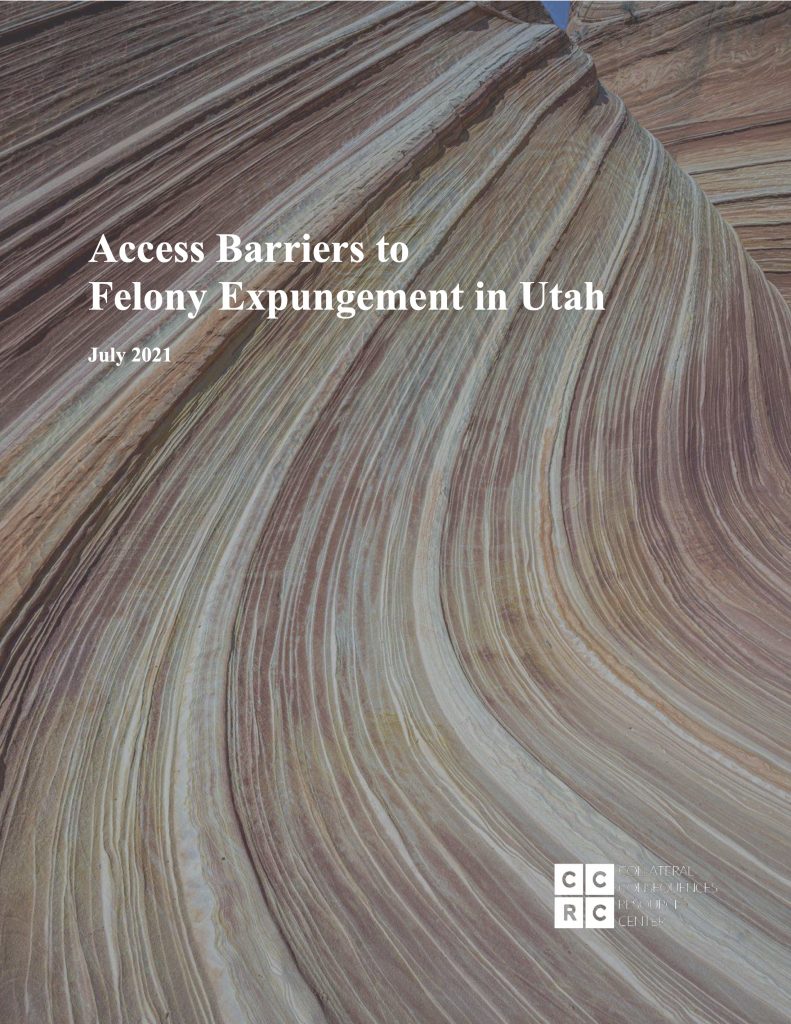 in terms of four categories: resource and knowledge, eligibility, process, and effectiveness. As Utah moves to implement automatic expungement for non-conviction and misdemeanor conviction records, the time seems ripe for tackling barriers to the petition-based process for felony expungement in Utah.  Access to legal aid for expungement services is extremely limited, particularly in rural areas, and eligibility criteria are extremely complex and confusing.  Before filing a petition for expungement in court, individuals must first apply for and obtain a certificate of eligibility from Utah's Department of Public Safety for each offense sought to be expunged, a process that is costly, burdensome, and time-consuming.  Certain state agencies continue to have access to expunged records, and Utah's courts, like many others, sell their records in bulk to third parties, including background check companies, and there is no private right of action for unlawful disclosure of expunged records.
CCRC currently has a team of practitioners studying the expungement process in Tennessee, and we hope to have a report on that state before the end of the year.
A Reintegration Agenda for the 117th Congress: Criminal Record Relief, Federal Benefits, and Employment
As national and political support grows for more beneficial policies in reintegration, and states continue to implement a diverse array of policies, Congress must follow their lead.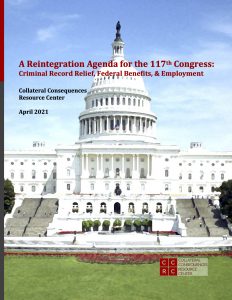 Federal records continue to hinder people with previous convictions who do not have access to relief mechanisms present in most states. CCRC recommends in this report that the Biden administration and Congress pursue an ambitious agenda in four primary categories; record relief, access to federal public benefits, employment and licensing, and voting rights.
The Reintegration Agenda During the Pandemic; Criminal Record Reforms in 2020 and 2021
CCRC's annual legislative reports have documented enactments authorizing record relief and mitigating collateral consequences. In 2020, 32 states, the District of Columbia, and the federal government enacted 106 legislative bills, approved 5 ballot initiatives, and issued 4 executive orders to restore rights and opportunities to people with a criminal record. While these measures represent a slight reduction in legislation as compared to the last two years, given the challenges of the pandemic, they still demonstrate a growing public commitment towards restoration of rights after arrest or conviction. This report offers a comprehensive overview of each state's legislative efforts, which in conjunction with report cards also published by CCRC, demonstrates which states are making significant progress and which states are lagging in supporting reintegration for people with a record.
An interim report for the first half of 2021 showed a return to pre-pandemic legislating, with 30 states and the District of Columbia enacting an extraordinary 101 new laws to mitigate collateral consequences. Six more bills awaited a governor's signature.  It appears that legislative momentum in support of facilitating reintegration has returned to the pre-pandemic pace of 2019. Overall, at mid-year 2021 we could report that the 30 months between January 1, 2019, and July 1, 2021, produced an astonishing total of 361 laws aimed at neutralizing the adverse effect of a criminal record, plus more than a dozen additional executive actions and ballot initiatives.
Restoration of Rights Project

As always, CCRC continuously updates its Restoration of Rights Project project with the most recent law and policy changes for each state around the country. The materials cover loss and restoration of civil and firearms rights; pardon, expungement and other record relief; and consideration of criminal records in employment, licensing, and housing. Our state-by-state guides and 50-state comparisons help individuals, practitioners, policymakers, scholars, and journalists understand the current landscape and advocate for change.
The rest of 2021 offers a fantastic opportunity to continue efforts towards reform, and we hope that you will continue to engage with CCRC moving forward.
This work has been made possible by the generosity of Arnold Ventures and we thank them for their support.
Best wishes,
Collateral Consequences Resource Center
Margaret Love, Executive Director
David Schlussel, Deputy Director
Jack Keating, Intern