Access Barriers to Felony Expungement: The Case of Illinois
Currently, 33 states authorize the expungement or sealing of at least some felony convictions.i However, recent research has shown that only a small percentage of eligible individuals actually complete the court petition process required to obtain this relief in most jurisdictions.ii In the fall of 2020, as an outgrowth of its work surveying record relief laws in the 50 states, the Collateral Consequences Resource Center (CCRC) decided to take a closer look at barriers that prevent people with felony convictions from accessing relief intended to benefit them.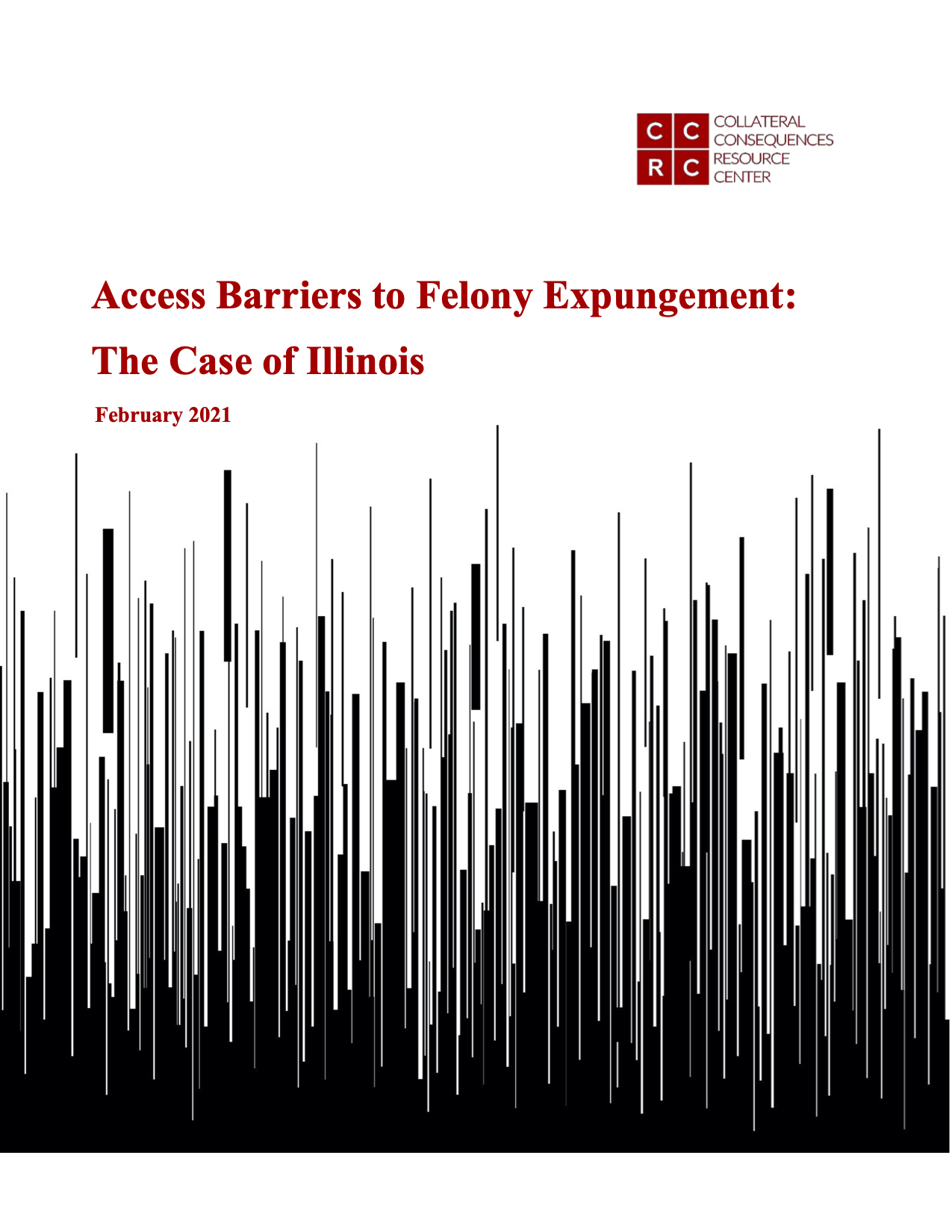 Ideally, the most efficient way to overcome access barriers would be to make sealing automatic, dispensing with the requirement of filing individual petitions. However, the move toward automatic sealing is in its early stages,iii and we anticipate that petitions will remain the primary way to clear felony conviction records in most states for the foreseeable future. Accordingly, it is important to minimize barriers to petition-based relief at every level.
In order to minimize barriers, they must first be identified and documented. We have therefore begun work on a project to analyze barriers to petition-based sealing of felonies in a number of different states. This will hopefully encourage those states to reform their process to retain only substantive and procedural requirements that are truly necessary from a policy perspective, and to shift burdens now placed on individual applicants to the government wherever practicable. At the same time, the revealed difficulty of accessing petition-based relief on an equitable basis would be a strong incentive to consider automation, and the costs and benefits of each process could more easily be compared.
As a preliminary step toward launching this project, we collaborated with Beth Johnson and her partners in the Rights and Restoration Law Group (RRLG) to develop a survey instrument that collects information about access barriers to felony expungement across four domains: (1) resource and knowledge; (2) eligibility; (3) process; and (4) effectiveness. We tested our survey instrument with practitioners from several states. Beth and her team took the survey for their home state of Illinois and analyzed the strengths and weaknesses of the state's record-sealing system.iv
We are publishing the RRLG Illinois report that follows as a pilot for additional state-specific studies. It provides detailed descriptions of the Illinois system's strengths and weaknesses in the four areas identified above, and makes recommendations for reform. RRLG's survey responses are in the appendix.
The Illinois report is available as a PDF here, and included in this post below.
We hope to be able to broaden this project to work with practitioners from additional states to complete the survey and write up case studies, on the basis of which we could recommend state-specific reforms as well as more general best practices. In addition to this project, we have been collaborating with Jessica K. Steinberg, director of the Prisoner & Reentry Clinic at GW Law, on an initiative in which the clinic has created a survey tool and conducted data collection on pro se access barriers to felony expungement in 34 states, with a white paper planned for later this year.
In the meantime, here are links to the survey questions used for this report. We invite anyone interested to complete it, to help us gather data for this undertaking:
Part I. Resource & Knowledge Barriers: https://forms.gle/MxRYtcpvMahYybcM7
Part II. Eligibility Barriers: https://forms.gle/RHQo92DedtddqyrJ7
Part III. Process Barriers: https://forms.gle/nAjUHKwKjmbKzXMZ9
Part IV. Effectiveness Barriers: https://forms.gle/t2iNh1RPJDPLDkXm7
NOTES
i Four more states allow sealing or expungement of pardoned felony convictions; Arizona has set-aside but not sealing. See Authority for expunging, sealing, or setting aside convictions, Collateral Consequences Res. Ctr. (Updated Dec. 2020), https://ccresourcecenter.org/state-restoration-profiles/50-state-comparisonjudicial-expungement-sealing-and-set-aside/.
ii See, e.g., J.J. Prescott & Sonja B. Starr, Expungement of Criminal Convictions: An Empirical Study, 133 Harv. L. Rev. 2460 (2020); Colleen Chien, America's Paper Prisons: The Second Chance Gap, 119 Mich. L. Rev. 519 (2020).
iii See Michigan makes sealing of convictions automatic, including for some felonies, Collateral Consequences Res. Ctr. (Oct. 13, 2020) ("This legislative package makes Michigan the sixth state to enact an automatic conviction-sealing law covering a range of offenses. It also makes Michigan the third state to make relief automatic for some felony convictions…."), https://ccresourcecenter.org/2020/10/13/michigan-becomes-sixth-state-with-automatic-conviction-relief./; Kathryn Forkey & Sean Logue, New Jersey steps out as reintegration champion of 2019, Collateral Consequences Res. Ctr. (Feb. 27, 2020) ("L. 2019, c. 269] creates a new "clean slate" system that provides for expungement of all but the most serious violent offenses after ten years. It additionally sets in motion a process aiming to automate all clean slate expungements."), https://ccresourcecenter.org/2020/02/27/new-jersey-steps-out-as-reintegration-champion-of-2019/.
iv Note that Illinois styles its general record relief for convictions as "sealing" rather than "expungement," consistent with terminology used in many but by no means all other states. Illinois offers "expungement" (defined to include "physical destruction") only for non-conviction records and convictions that have been pardoned. The final section of the Illinois report discusses the effect of "sealing."
****************************************************************
Access Barriers to Sealing of Felony Convictions in Illinois:
A Close Look at Law and Practice
By Beth Johnson, Courtney Kelledes & Nikki Donnelly
Summary of Strengths and Weaknesses
RESOURCE & KNOWLEDGE BARRIERS 
What resources are available and what systems are in place to ensure that people know about and can access the process for obtaining record relief? While Illinois legal aid resources are well-funded and standardized application forms are used statewide, most courts do not inform defendants about the availability of sealing as required by law. In addition, complete and accurate criminal history records are hard for individuals to obtain because the Illinois courts are decentralized.
ELIGIBILITY BARRIERS 
What policies and practices prevent people from qualifying for sealing or expungement relief? Eligibility for felony sealing is very broad, though some offenses are categorically excluded. Waiting periods are brief and uniform for all eligible offenses, but they begin anew with any new conviction, including even misdemeanor driving offenses.
PROCESS
BARRIERS 
What procedural requirements discourage eligible individuals from following through with the process? Courts are generally responsible under statewide rules for most notice and service requirements, but many specific aspects of the petition process vary from jurisdiction to jurisdiction, and frequently impose unnecessary burdens on petitioners.
EFFECTIVENESS BARRIERS 
What limitations on the effect of sealing or expungement diminish the potential benefits of this type of record relief? Most public and private employers and licensing agencies are prohibited from considering sealed records by the state human rights law, but regulated employers that are required to do background checks are broadly exempted and there is no single source of information to identify those exempted employers. In addition, courts that sell their records in bulk to background screeners do not monitor purchasers to ensure that sealed records are removed. There is no private right of action for unlawful disclosure of sealed records.
Discussion
In its report on national restoration of rights and record relief mechanisms, CCRC ranked Illinois first in the nation for its record relief laws and practices.1 Of note, Illinois currently has the most expansive sealing law in the country, extending eligibility to almost all felony convictions, including many violent and other serious offenses. In addition to the breadth of eligibility, CCRC gave high marks to the state's access to, and effectiveness of, relief. The state also scored well on its laws and regulations limiting record-based barriers to employment and occupational licensing.
Despite the state's overall high ranking, individuals seeking to seal felony records in Illinois still face numerous obstacles. In the discussion that follows, we organize these obstacles into the four barrier domains described above, noting their strengths and weaknesses, and making suggestions for improvement in each domain. This analysis focuses on Illinois' legal remedy for sealing felony convictions through the circuit court of conviction as authorized by the Criminal Identification Act (20 ILCS 2630/5.2). We provide the detailed survey questions and responses in the appendix.
RESOURCE & KNOWLEDGE BARRIERS
STRENGTHS of Resources & Knowledge in Illinois
Illinois does not provide a right to counsel for sealing relief but does have a significant number of resources dedicated to helping individuals access this remedy. Since 2004, per the Criminal Identification Act, the Office of the State Appellate Defender (OSAD) has been directed to "establish, maintain, and carry out a sealing and expungement program to provide information to persons eligible to have their arrest or criminal history records expunged or sealed." 20 ILCS 2630/11. OSAD recently added resources to this work, including hiring a Director of the Expungement Program in 2020. The core of this program is a dedicated statewide legal hotline for legal information regarding criminal record relief, including sealing rights and procedures.
Additionally, in 2012, the Illinois courts established institutional resources dedicated to improving access to justice. That same year the Illinois Supreme Court adopted a rule calling for standardized forms in areas of law and practice with a high volume of self-represented litigants. This rule produced plain language forms for expungement and sealing for use in all circuit courts throughout Illinois' 102 counties. The forms are available online at the Illinois Supreme Court's Access to Justice initiative site, and nearly all 102 county clerks link to the forms on their websites.
The Illinois legal aid community has also significantly increased its work in criminal record relief over the past decade. Through both state appropriations and private foundations, legal aid organizations provide expungement and sealing services in all 102 Illinois counties. Local expungement and sealing summits are regularly held across the state, as collaborations between these legal aid organizations, courts, elected officials, and other community stakeholders. For individuals not otherwise able to obtain direct services, the statewide legal resource provider, Illinois Legal Aid Online, offers free tools utilizing technology to provide information, as well as automated document preparation programs, for sealing and expungement petitions.
Finally, with the legalization of adult-use recreational cannabis in Illinois, revenue generated from sales tax and fees was in part used to create the Cannabis Expungement Fund. A large portion of this funding was used to create a statewide network of legal aid organizations to provide legal assistance to expunge eligible cannabis convictions. It created an online registration system and telephone number for any individual seeking to determinate their eligibility for relief. Eligible individuals are referred directly to a network partner or to pro se resources. Those ineligible for cannabis expungement relief are directed to the statewide resources discussed above for general sealing assistance.
WEAKNESSES of Resources & Knowledge in Illinois
While Illinois has what may be the most expansive sealing law in the country, those who would benefit from it frequently do not know about it. In addition to widely held misconceptions about records retention and relief, the available resources and updates to the law are not effectively communicated to those impacted by the criminal justice system.
This is driven in large part by the courts' failure to inform defendants of sealing eligibility and procedural requirements, although they are required to do so by the Criminal Identification Act. 20 ILCS 2630/5.2(c)(5). (Cases handled in one of the special pre- or post-disposition specialty courts or diversion programs within the criminal system are an exception, in that they do typically provide this information.) There is no mechanism for holding courts accountable for their failure to provide this information. While stakeholders in the criminal system such as prisons, jails, and probation departments could be another means of providing this information, there is no requirement that they do so and no consistent practice. All too often, individuals only find out about the availability of sealing after being met with a denial of employment, housing, education, occupational license, or other life opportunity.
Despite the increase in dedicated resources, the most significant barrier for individuals seeking record relief is finding out exactly what their record is. It is notoriously difficult for would-be petitioners in Illinois to ascertain accurate, specific, and complete information regarding their background because the state does not have a unified court system (or unified court record system), so individuals must research their records in the separate court databases maintained by each county.
In theory, Illinois State Police (ISP) records could be a good source statewide criminal history information, but arresting agencies, state's attorneys' offices, and circuit clerks frequently do not submit criminal history information to the ISP, and there are no review or enforcement mechanisms to ensure accurate reporting.2 As a result, ISP records are frequently inaccurate and incomplete, making it necessary for individuals to consult each county's court system for complete information.
Key Improvements to Mitigate Resource and Knowledge Barriers
Raise awareness of sealing relief by enforcing the Criminal Identification Act's notice requirements through: (1) education of officers of the courts; and (2) development of accountability measures for failure to provide notice.
Improve the Criminal Identification Act's notice requirements by requiring courts to inform defendants, prior to an entry of guilt, about sealing eligibility, wait periods, and other process requirements.
Require probation departments, county jails, and state prisons to provide general information about sealing eligibility and procedures to individuals.
Improve the accuracy of statewide criminal history reports by adopting review and enforcement mechanisms for the submission of criminal history information to the Illinois State Police.
Increase dedicated state-funding for record relief work, expanding upon the cannabis legalization funded statewide network, central intake, and coordinated referral system to cover all types of record relief.
Encourage state and local bar associations to provide opportunities and training for the private bar to undertake record relief representation to increase access for people who are ineligible for legal aid. Law school clinics could also be engaged in this work.
STRENGTHS of Sealing Eligibility in Illinois
With the enactment of a comprehensive sealing scheme by the 2017 amendments to the Criminal Identification Act, piecemeal determinations of eligibility became a thing of the past in Illinois. Prior "add them in" piecemeal reforms had led to uncertainly and discrepancies respecting which crimes were eligible and which were not. Today, one of the greatest strengths of Illinois record relief law is that a majority of felony convictions are eligible to be sealed, without regard to their grade. There is also no limit on the number of offenses that may be sealed—except that felony convictions occurring subsequent to a sealing are ineligible (though subsequent misdemeanor convictions are eligible).
The categories of conviction that are ineligible include sex offenses, domestic violence offenses, DUI and reckless driving, and dog fighting and violations of the Humane Care for Animals Act. See 20 ILCS 2630/5.2(a)(3). However, a record of ineligible convictions does not disqualify a person from seeking relief for eligible convictions.
Another strength of Illinois' sealing eligibility is the brief and uniform waiting period of three years from completion of the last sentence. Additionally, the court has discretion to waive the three-year wait if a petitioner completes an educational degree or career/vocational certification while serving their last sentence.
When eligibility expanded in 2017, it was unclear whether unpaid legal financial obligations barred relief. In 2019, this issue was settled by an amendment to the law providing that sealing eligibility is not affected by unpaid court debt (although unpaid restitution may be grounds for discretionary denial).
WEAKNESSES of Sealing Eligibility in Illinois
While hundreds of felony convictions are eligible for sealing, there are still several categories of offenses that are not eligible for relief, as discussed above, regardless of the individualized facts and circumstances of the offense, or the person's life since conviction.
It is a strength of Illinois' sealing eligibility that waiting periods are uniform and brief, but the fact that the waiting period starts again with each conviction can be a weakness. Thus, for example, if a petitioner's "last sentence" is a minor offense such as a Class A or B misdemeanor traffic or ordinance violation, the person must wait for the three-year period to run on the misdemeanor violation before becoming eligible to seal a felony that may have occurred decades before.
Key Improvements to Mitigate ELIGIBILITY Barriers
Make all conviction records eligible for relief. Because courts have discretion in granting or denying any sealing request, categorical exclusions are overbroad.
Change the cumulative nature of the waiting period to allow sealing of a felony record after three years, even if there have been subsequent misdemeanor convictions. (A person would be able to come back to court to seal the subsequent misdemeanor convictions, since only subsequent felony convictions are ineligible.) At a minimum, a conviction for Driving on a Suspended License should not delay eligibility for sealing other offenses.
STRENGTHS of the Sealing Process in Illinois
The 2011 revision of the Criminal Identification Act provided definitions and codified procedural improvements for sealing petitions, notably shifting notice and service requirements from the petitioner to the court. The circuit clerks are now required to provide notice to required agencies upon filing the petition and must serve the order granting relief on those same agencies. Shifting this responsibility not only eliminated burdens on pro se petitioners that might deter them from applying, it also limited opportunities for clerical and administrative errors that previously frustrated applicants. Shifting notice and service requirements to the clerks also ensures the process is completed, because the clerks send notice to agencies after the order is entered.
The Illinois Supreme Court's statewide forms (described above in the Resource Barriers section) have removed prevalent barriers in inconsistent policies from jurisdiction to jurisdiction:
The statewide forms allow for an unlimited number of cases to be included on the same petition. This has stopped practices in certain jurisdictions that previously required a separate petition—and therefore a separate filing fee—for each case;
The statewide forms do not require notarization; and
The Administrative Office of the Illinois Courts is quick to respond to complaints about clerk's offices that do not accept the statewide form or seek to modify it.
Illinois Supreme Court Rule 298 was amended in 2019 to omit a provision limiting fee waivers to persons at or below 150% of the federal poverty level (FPL). Courts may now reduce fees proportionally up to 400% of the FPL, in accordance with the standards set forth in 735 ILCS 5/5-105.
WEAKNESSES of the Sealing Process in Illinois
In addition to the difficulty of accessing complete statewide criminal history information discussed above in the Resource Barrier section, petitioners must also file a separate petition in each jurisdiction where a conviction occurred, requiring some petitioners to file in multiple counties. The burden of filing in and traveling to multiple jurisdictions is compounded by the lack of uniformity throughout Illinois' 102 counties regarding the following procedural requirements:
Petition Copies: Jurisdictions vary in how many copies a person must file, and in the specific documents within the statewide forms they must file (some require only a petition, others require a notice, petition, and order). Not all counties have an e-filing system though it is required by the Illinois Supreme Court.
Notice: Notice and service is handled by the circuit clerk, but it is the responsibility of petitioners to identify and provide accurate mailing addresses for the agencies and entities required to receive notice, including the appropriate State's Attorney's Office, arresting agency, and the "chief legal officer" of the municipality where the arresting agency is located. Information on the chief legal officer is particularly difficult to ascertain, as there is no statewide list that includes this information for each of the 1,298 municipalities in Illinois.
Costs: While filing fees can be waived, they vary greatly throughout the state for those who do not qualify for waiver. Base filing fees range from around $100 to upwards of $500.
Timing: Waiting times from point of filing to point of decision also vary greatly. State law requires agencies to object to sealing petitions within 60 days, but some courts set dates for disposition well beyond that period whether or not an agency has objected.
Hearings: Jurisdictions vary as to when a hearing occurs. While the law requires a hearing only if there is an objection; some counties set a hearing date immediately upon filing, while others set a hearing date only after an objection is filed. In the latter case, a petition could remain pending for a period much longer than the 60 days agencies have to respond.
Status: It is often difficult, if not impossible, to check on the status of petitions if no hearing date is set upon filing, as petitions can linger for months and months.
Post-Ruling: Clerks offices vary in the amount of time it takes to notify agencies of a decision, which in turn creates long periods between the time the order is granted and the time the record is actually sealed. While the statute dictates how long the agencies have to comply upon receipt of the court order, there is no similar time frame for when the court must serve the order.
These jurisdiction-specific procedural variations make it difficult for practitioners to provide legal advice, and even more difficult for pro se petitioners to navigate the system. Many of these variations are such that their elimination would not require statutory amendment, but only a new rule by the Illinois Supreme Court.
Key Improvements to Mitigate PROCESS Barriers
Make filing procedures and document requirements consistent from county jurisdiction to jurisdiction, and as undemanding as possible.
Mandate that every jurisdiction accept, but not require, e-filing.
Eliminate the blanket requirement that the petition list the chief legal officer of the local municipality; in cases where the petition includes eligible ordinance violations prosecuted by that municipality, require the clerk's office to provide this information.
Require court dates to be set upon filing or within a reasonable period afterward, thereby removing uncertainty about when the petition will be considered and allowing petitioners to check on the status of their petitions.
Require the courts to notify agencies promptly when a decision has been reached, with no delay longer than 30 days.
STRENGTHS of Sealing Effectiveness in Illinois
Illinois' expansive sealing eligibility is complemented by laws that provide successful petitioners with protections after a sealing order has been issued. Under the Criminal Identification Act, circuit clerks and law enforcement agencies must update records after a sealing order to read "no record," thereby leaving no indication that a person had a record sealed. Under the Illinois Human Rights Act, public and private employers and landlords may not inquire about or consider a sealed conviction in a housing or employment decision. A person has recourse under the Act to file a charge with the Department of Human Rights, as well as a private right of action for violations. In addition to the state statue, similar protections exist under various county ordinances.
An occupational licensing reform law enacted in 2017 explicitly prohibits the Illinois Department of Financial and Professional Regulation from considering sealed (or expunged) records in licensing decisions. The sweeping legislation also covered ten other professional licenses issued by other state agencies. Similarly, the Illinois Department of Public Health, which regulates unlicensed healthcare workers and administers the health care waiver process under the Healthcare Worker Background Check Act, does not disqualify based on a sealed conviction.
WEAKNESSES of Sealing Effectiveness in Illinois
Notably, sealed felony convictions must still be released by the Illinois State Police to agencies required under state or federal law to conduct a fingerprint-based background check.3 Among these agencies are schools, park districts, and childcare services. While most public and private employers are prohibited by the Illinois Human Rights Act from considering sealed records, that same protection does not extend to these regulated fields of employment. Further, there is no single, identifiable list of all agencies that have this statutory access, leaving petitioners uncertain which employment opportunities will still be hampered by a sealed felony conviction record.
In Illinois, an order to seal does not extend to any third party that has otherwise obtained the criminal history information, which is particularly problematic where web-based sources like "mug shot" libraries and newspaper articles are concerned. There also is no state private right of action against unlawful disclosure after a sealing order has been entered. While individuals have certain rights under the federal Fair Credit Reporting Act, that law is infrequently enforced by the responsible federal agency and individual enforcement is expensive and time-consuming.
Another weakness is the fact that courts sell their records to private background screeners, and evidently then do not monitor their compliance in removing sealed records. Illinois does not have a centralized court record system that would allow it to emulate Pennsylvania's "lifecycle file" system that allows monitoring of background check companies, and county courts have not implemented similar models with their contracts to sell publicly accessible criminal record data.
Key Improvements to Mitigate EFFECTIVENESS Barriers
State law should limit release of sealed felony conviction records, by courts or the state police, to situations involving a specific prohibition on employment for a particular offense, instead of broadly to any agency required under state or federal law to conduct a fingerprint-based background check.
Provide incentives for employers who can access sealed felony convictions to offer employment, including through enacting negligent hiring protections.
Require the Illinois State Police to maintain a public database that lists which employers/agencies have access to sealed felony conviction records.
Require the Illinois State Police to provide more detailed statistics about sealing orders entered in the State. While the Criminal Identification Act requires publishing annual statistics on the number of petitions filed, it does not break down that information by county, which is important to understand where sealing relief is being accessed. Additionally, an audit of this data should be required.
Sealing orders should direct any private background check company that has purchased or contracted with the circuit clerk to receive bulk court data to remove the sealed records from their files. The court should also be responsible for providing notice to any such private entity upon entry of a sealing order. While counties cannot be expected to know who accesses online public databases, they do know who pays them to access bulk records.
State law should authorize a private right of action against third parties that unlawfully release sealed record information, and the Illinois Attorney General's Office should be authorized to enforce these rights on behalf of private parties.
Require a one-page legal rights document (approved by the Access to Justice Division of the Illinois Supreme Court) be sent to petitioners along with every sealing order, outlining their rights and how to enforce them after a record is sealed.
Appendix (Illinois Felony Expungement Access Barriers Survey, RRLG responses)
See PDF.
NOTES
1 Margaret Love & David Schlussel, The Many Roads to Reintegration: A 50-State Report on Laws Restoring Rights and Opportunities after Arrest or Conviction, Collateral Consequences Res. Ctr. (2020), https://ccresourcecenter.org/the-many-roads-to-reintegration/.
2 According to an analysis of the ISP criminal history record information, almost half (44%) of the 3.3 million living people arrested or convicted between 1979 and mid-2019 had records that reflected no disposition. See Never Fully Free: The Scale and Impact of Permanent Punishments on People with Criminal Records in Illinois, pp. 12-14, Heartland Alliance (June 2020), https://www.heartlandalliance.org/heartland-alliance-2020-poverty-report/.
3 Sealed records may be disseminated by the state police only to law enforcement, or (for felony convictions only) "as otherwise specifically required or authorized by a federal or State law, rule, or regulation that requires inquiry into and release of criminal records . . . ." 20 Ill. Comp. Stat. 2630/13(a). This includes hospitals, schools, and other agencies dealing with vulnerable populations, and many other licensing entities. See also the Illinois Human Rights Act, which "does not prohibit" use of sealed felony records obtained under federal or state laws "that require criminal background checks in evaluating the qualifications and character of an employee or a prospective employee." 775 Ill. Comp. Stat. Ann. 5/2-103(A).