How much must a law school applicant disclose about his criminal record?
The New York Court of Appeals is considering how candid a person must be about his prior criminal record when applying to law school.  During oral argument on February 12 in Matter of Powers v. St.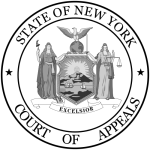 John's University School of Law, several judges raised public policy concerns over the law school's summary rescission of David Powers' admission midway through his second year, based on how he had described his criminal record on his original application.  Powers had disclosed a past conviction for drug possession, but did not also report that he had initially faced more serious charges of drug-dealing.  These underlying charges came to light mid-way through Powers' second year, when he sought clarification from the New York courts as to whether his criminal record would preclude his admission to the bar.
According to an account of the argument in the New York Law Journal, "[Powers] involvement with drugs seemed to concern state Court of Appeals judges less than St. John's University's decision to rescind his admission to law school."
The St. John's law school application form asks whether the applicant has ever been "charged with, pleaded guilty to, or been found guilty of any crime, offense or violation" except for minor traffic violations. The school's lawyer argued that Powers caused his own problems by not being truthful when he applied for admission — though he conceded that if Powers had disclosed the more serious distribution charges "he would have been denied from the outset."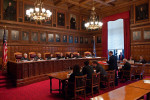 The judges expressed concern that people like Powers should have to face the ramifications of youthful criminal conduct later in life despite managing subsequently to lead law-abiding lives.  Powers' record was expunged under New Jersey law shortly after his admission to law school.
Chief Judge Lippman thought St. John's should have taken into account the subsequent expungement in deciding what if any action to take against Powers after the fact:
We think about young people whose lives are ruined because of a single mistake at one point in their life and where policy makers say, "Not right. One offense, so many years ago, whatever age, whatever the statute is. We want to make sure that the young person's life is not ruined. Expunge the record."
(Note that New York law does not authorize courts to expunge adult convictions, though New Jersey does.)  Judge Eugene Pigott Jr. wanted to know why Powers was not given a hearing before the school took action against him:
I would have thought there should have been a hearing somewhere where these people would have come in and said, "Yeah, this the worst guy we ever saw and thank God St. John's was able to catch him before he went to the Second Department and got admitted as an attorney."
Powers' attorney, Roland Acevedo, called his client a "poster child" for rehabilitation, a claim that several of the judges appeared to agree with.  Acevedo himself had a past conviction for armed robbery when he was admitted to the bar in 1997, and he often represents lawyers and others who seek to practice their professions despite a criminal record.
When people make efforts to change behavior, such as Powers, such as I did by getting treatment and then getting educated, that should amount to something in people's eyes," said Acevedo, a graduate of Fordham University School of Law. "Everybody is entitled to a second chance, but when people show they are entitled to it by doing something that is not easy in any arena, that should be worth something, especially in the case of Mr. Powers."
In 2013, a 3-1 Appellate Division, Second Department, panel upheld the law school's actions.   See 110 AD3d 888.  While the majority said it did not consider the penalty imposed to be "shocking to one's sense of fairness," the dissent thought it excessive.  At the least, Powers should have been dismissed so that he could transfer with the credits earned in his first three semesters.
In an amicus curiae brief filed in support of Powers, several New York legal services groups told the court that Powers had truthfully disclosed his criminal record to St. John's, arguing that the question on the application form was ambiguous. They urged the judges to prevent him from being penalized because of the message it would send to their clients who have faced criminal charges in the past.
"If an institution of higher education, or by extension an employer or housing agency, can require applicants to answer ambiguous questions about their criminal conviction histories and then, at any time after granting appeal, penalize them based on the institutions' misinterpretation of their responses, our clients have no defense against arbitrary and discrminatory action," the groups said in a brief prepared by Community Service Society attorneys Judith Whiting, Kimberly Westcott and Paul Keefe.

Other groups joining the brief were the Bronx Defenders, Education from the Inside Out Coalition, the Legal Action Center, the Legal Aid Society, Legal Services NYC, MFY Legal Services, the Osborne Association and Youth Represent.
The court is expected to hand down a ruling in March.