"The Evolution of a Prison Reformer"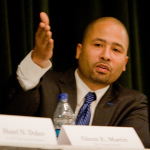 On November 10, The Crime Report posted a profile of CCRC Board member Glenn Martin and the organization he founded, Just Leadership USA.  Just Leadership is dedicated to cutting the US prison population in half by 2030 and to training formerly incarcerated individuals to become leaders in promoting criminal justice reform.  Martin himself spent six years in the New York prison system, and later served for more than a decade in key positions at The Fortune Society and Legal Action Center.
The profile describes Martin's participation last October in an unprecedented meeting between Obama Administration officials and leaders of the community of formerly incarcerated individuals, organized by the Attorney General Office's Interagency Reentry Council.  The meeting focused on sentencing reform, but it presented an unusual opportunity to challenge some stereotypes about who should be at the table when reform is discussed.
At its core, Martin said, Just Leadership challenges some people's broad assumption that formerly incarcerated people "can't read or write" or smartly weigh in on the socially and emotionally tangled issues of crime, courts and corrections.
For the most part, the individuals leading that discussion tend not to have been imprisoned. Although many of them play significant roles in the courts, corrections and policing, some harbor ideals and opinions that are not always grounded in fact, Martin argues.
"You don't achieve a moral argument for reform if you do what [so-called] progressives have been doing for years, serving up the 'perfect prisoner' who is the first-time, non-violent drug offender . . . .  That person . . . actually doesn't go to prison. I've never met him. That's the person who went home from the courthouse. By the time [most] people end up in prison, they have multiple convictions."
Just Leadership, whose partners include the Columbia University Center for Institutional and Social Change, will host its first 10-month-long training in early 2015, and is inviting applications from former prisoners interested in playing a part in the national debate over crime, courts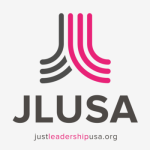 and corrections policy and reform.  The training will focus on organizational development, fundraising, marketing, public relations and other skills that will help them make their voices heard in Just Leadership's campaign to halve the nation's prison population by 2030.
Martin contends that hoped-for reduction is not as far-fetched as it may seem, considering that New York State has cut its prison population by about 25 percent over the last 15 years.
But Just Leadership's core goal is to "shift the paradigm" of the criminal justice debate by appealing to the compassion and common sense of Americans, Martin said. Once ordinary citizens hear the real stories of individuals who have been incarcerated, and about the multilayered impact of mass imprisonment on society, "we're going to get the system to tip," Martin predicts.
. . . . While serving time in prison, Martin said he realized that Americans were being "bamboozled" by standard explanations about who goes to prison and what happens to them once they get there.
While "the concept of rehabilitation has deteriorated into rhetoric without substance," Martin said, those inside were far from totally demoralized.
"The people I shared cells with maintained hope, dreams and aspirations, just like any other American," he recalls. "Many of them also had a keen understanding of the policies and practices that led to mass incarceration and, more importantly, what we can do differently."