Below is another excerpt from the second edition of Love, Roberts & Klingele, Collateral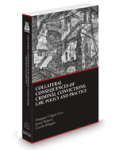 Consequences of Criminal Conviction: Law, Policy & Practice (West/NACDL, 2d ed. 2015)(forthcoming), this one about challenges to firearms-related collateral consequences based on the constitutional right to bear arms.  Criminal defense lawyers representing clients on felon-in-possession charges, and anyone seeking restoration of firearms rights after conviction, will be interested to know that the government has appealed the district court's decision in Binderup v. Holder cited in note 8, discussed here a few weeks ago.
Binderup is a civil rights action in which the federal court in the Eastern District of Pennsylvania held that the federal felon-in-possession statute could not constitutionally be applied to an individual convicted of a non-violent sex offense in 1998 and sentenced to probation.  This case, the first in which a federal court invalidated a federal statute on Second Amendment grounds, is likely to provide an early opportunity for the court of appeals to consider an issue that most commentators and some courts believe was left unresolved by the Supreme Court in D.C. v. Heller.