Last week we announced the forthcoming publication of a national report surveying various legal mechanisms for restoring rights and opportunities following arrest or conviction, a revision and updating of our 2020 report "The Many Roads to Reintegration." The first post in the series ("Expungement, Sealing & Set-Aside of Convictions"), published on February 25, gives some additional background about the report. The second post in this "preview" series ("Fair Chance Employment & Occupational Licensure") was published on February 26.  The third part ("Executive Pardon") was published on February 28.
Today's post concerns the role that court-managed diversionary dispositions play in reducing convictions and avoiding collateral consequences.  Since our first national report was published in 2018, many states have expanded the availability of these non-conviction dispositions, including for any defendant potentially eligible for a probationary sentence, and made record clearing more generally available.
We expect to publish the whole national report, plus our Reintegration Report Card for 2022, later this week.
Judicial Diversion and Deferred Adjudication: A National Survey
An increasingly desirable strategy for facilitating reintegration through avoiding collateral consequences is to divert individuals away from a conviction at the front end of a criminal case. Diversion in its various forms offers a less adversarial means of resolving an investigation or prosecution through compliance with agreed-upon community-based conditions leading to dismissal of charges and termination of the matter without conviction. Diversionary dispositions are described in the Model Penal Code: Sentencing as a way to "hold the individual accountable for criminal conduct when justice and public safety do not require that the individual be subjected to the stigma and collateral consequences associated with conviction."[1] In this understanding, diversion functions as a mechanism for ensuring accountability and facilitating rehabilitation, rather than as retribution for its own sake.[2] The effectiveness of diversionary dispositions in furthering these goals has not been studied in depth, and the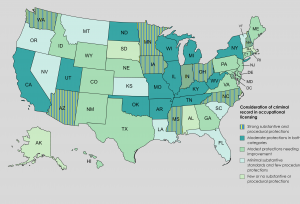 y are not without their controversial aspects, but existing research suggests their promise.[3] Diversion may allow for a mutually-acceptable outcome for the prosecutor and defendant in cases where the extent of culpability is not clear, where a treatment intervention seems appropriate, or where the defendant otherwise fits within some category considered deserving of leniency (e.g., human trafficking victims, veterans, "youthful offenders").