Executive Pardon: A National Survey
Last week we announced the forthcoming publication of a national report surveying various legal mechanisms for restoring rights and opportunities following arrest or conviction, a revision and updating of our 2020 report "The Many Roads to Reintegration." The first post in the series ("Expungement, Sealing & Set-Aside of Convictions"), published on February 25, gives some additional background about the report. The second post in this "preview" series ("Fair Chance Employment & Occupational Licensure") was published on February 26.
Today's post concerns the role that executive pardon plays in supplementing and in some cases providing the only record relief following conviction. We expect to publish the whole national report, plus our Reintegration Report Card for 2022, later this week.
*******
Executive Pardon: A National Survey
Pardon has been described as the patriarch of restoration mechanisms, whose roots in America are directly traceable to the power of the English crown. Just as a power to pardon was assigned to the president in Article II of the U.S. Constitution, the constitution of every state save two provides for an executive pardoning power.[1]  Both in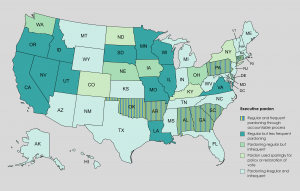 theory and practice, pardon is the ultimate expression of forgiveness and reconciliation from the sovereign that secured the conviction.
For almost two centuries, executive pardon played a routine operational role in criminal justice systems throughout the United States, dispensing with or mitigating court-imposed punishments and, after a sentence had been served, restoring rights and status after conviction.
Nowadays, in many U.S. jurisdictions pardon is a shadow of its once-robust self, particularly in those where it is exercised without institutional restraint or encouragement. Since the 1980s, governors and presidents alike have been wary of exposing themselves to public criticism from an ill-advised grant.  In many jurisdictions pardoning has stopped being thought of as part of the chief executive's job — though being labeled "soft on crime" seems thankfully no longer a political kiss of death. Still, it is not surprising that reformers tend to regard pardon with suspicion, dubious about its legitimate operational role in the modern justice system.
Yet pardon fills significant gaps in record relief schemes across the country, supplementing judicial record relief mechanisms like sealing and expungement. For example, in 20 states pardon offers the only way to regain firearms rights lost because of conviction, including California, Colorado, Florida, Georgia, Nebraska, Oklahoma, and Wyoming. In 11 states ineligibility for jury service is permanent without a pardon, including Arkansas, Delaware, Oklahoma, Pennsylvania, South Carolina, and Texas. (By comparison, expungement restores firearms rights in only five states, and jury rights in only two.[2]) A pardon may be necessary to enable a person to stand for elected office, or to demonstrate the requisite good character to secure a professional or business license.
Perhaps most important for a substantial number of non-citizens, a pardon is the only state relief mechanism recognized by federal immigration law, providing the only way for a non-citizen convicted of an aggravated felony to avoid mandatory deportation and remove the conviction-related bar to citizenship.[3] Sometimes pardon is sought simply as a sign of official forgiveness, not a small matter to some people.
Of greater moment, pardon represents the only potential source of record relief in the 16 U.S. jurisdictions whose courts have no authority to expunge or seal any felony convictions, and in six of those 16 states a pardon is the essential predicate for record clearing.[4] Of the states that do extend record clearing relief to felonies, 14 limit it to a single felony, and almost all categorically exclude violent or sexual offenses. Given pardon's role in almost every state as an important auxiliary record relief mechanism, its vitality is or ought to be of considerable public concern.
The good news is that the pardon power is neither dead nor fatally compromised in most U.S. jurisdictions. In fact, in a significant number of states (18) the practice of pardoning has continued to thrive over the years as an integral part of the justice system even when it has been severely curtailed in others.[5] In most of these 18 states, pardoning is either shielded from politics by institutional design or sanctioned by custom. Ordinary people who can demonstrate their rehabilitation have a good chance of official forgiveness, obtaining relief from legal disabilities and certification of their rehabilitation and good character. In more than half of these 18 states, pardon now leads to expungement of the record. In three or four additional states, the pardon power appears to be in the early stages of a revival.[6]
Not surprisingly, in most of these 18 states, the governor either has little or no involvement in pardoning or is required to seek (and in some cases required to follow) the advice of other executive officials.[7] In six of the 18 states (Alabama, Connecticut, Georgia, Idaho, South Carolina, Utah) the pardon power is exercised in most or all cases by an independent board of appointed officials. In five of those six states, the power derives from the state constitution. (In Connecticut, the power to pardon has since colonial times remained within the legislature's control, so that pardoning is both authorized and limited by statute.) In all six of these independent board states, standards are clear, pardoning is frequent and regular, administered through a transparent public process. Procedures are regular and relatively accessible, and a high percentage of applications are granted. In Alabama, Connecticut, Georgia, and South Carolina, hundreds of pardons are granted each year to people convicted of garden variety crimes who are seeking to mitigate the harsh lingering consequences of conviction. For example, in 2019 the Alabama board granted 889 pardons, or 80% of eligible applications, and the Connecticut board granted 593, also 80% of applications considered. Idaho gets fewer applications but grants a high percentage of them. Utah for many years preferred to rely on a broad expungement remedy, but a recent tightening of the expungement process has produced a demand for reinforcement from the state pardon board.
In another eight of the 18 states where pardons are frequent, the governor sits on a board with other high-level officials (Minnesota, Nebraska,[8] Nevada), or shares power with an appointed "gatekeeper" board whose affirmative recommendation is necessary before the governor may act (Delaware, Louisiana, Oklahoma, Pennsylvania, South Dakota). In these states pardon remains a viable form of record relief, and pardoning occurs at regular intervals through a public process: Delaware and Pennsylvania are the stars of this category, but the governors of Oklahoma and South Dakota have traditionally also pardoned generously, and Louisiana's current governor has revived pardoning in that state. The three boards that include the governor as a member hold regular public hearings and grant a substantial percentage of the applications they hear.[9]
In the final four of the 18 states, the governors are less constrained by regulation, but they have authorized advice available to them. The governors of Illinois and Arkansas have customarily relied on the recommendations of an administrative board produced by a formal process, though they are not required to do so. The governors of California and Virginia have also pardoned generously in recent years, though without the same degree of structure and transparency in their advisory system. But since the constitutions of both states require the governors to make a formal annual report to the legislature on their pardons, there is at least at least a post-hoc system of accountability in place.[10]
A regular process facilitates regular pardoning, but it does not guarantee it. For example, interest in pardoning in California, Florida, Illinois, Louisiana, Maryland, Ohio, and Wisconsin has waxed and waned depending upon the predilections of the incumbent governor. The current governors of California, Illinois and Louisiana have been enthusiastic pardoners, but the power is still in a waning phase in Florida, Maryland, and Ohio. Texas and Arizona, both of which have a well-regulated process and "gatekeeper boards" that control who the governors may pardon, have in recent years seen, respectively, very few pardons and no pardons at all.
Beyond the 18 states that pardon on a frequent and regular basis, there are another three states where recent efforts to revive the process are promising. Wisconsin's governor Tony Evers has re-established that state's pardon advisory board and began issuing grants in the fall of 2019 after a 9-year hiatus during which his processor expressed disdain for pardons and granted none at all.[11] Missouri's governor Mike Parson granted more than 200 pardons in 2021 in an effort to reduce a backlog of petitions that had accumulated under his immediate predecessors.[12] Oregon's governor Kate Brown has also pardoned more generously than her predecessors.[13] All three of these states received relatively high marks for their recent pardoning. Ohio's Governor Mike DeWine has taken steps to reinvigorate their state's pardon process, but to date it has produced few grants.[14] In the other 28 states, the District of Columbia, and the federal system pardoning takes place, if at all, in an ad hoc and unreliable fashion.[15]
Until relatively recently, the relief offered by a pardon in most states added an executive certification of rehabilitation and good conduct to a person's record, but it did not seal or expunge it. In this way, pardon functioned to supplement a person's record, not to revise it like sealing or set-aside. But in a growing number of states, a full pardon now entitles the recipient to judicial expungement (either upon application or automatically, depending on the state). Indeed, in 11 of the 18 "frequent and regular" states (Alabama, Arkansas, Connecticut, Delaware, Georgia, Louisiana, Nebraska, Oklahoma, Pennsylvania, South Dakota, and Utah) a pardoned conviction is either automatically sealed or is presumptively eligible for sealing. In two additional states, Illinois and Ohio, the governor may specifically authorize this additional judicial relief. Pardon is uniquely valuable to people with felony records in five of these 13 states (Alabama, Georgia, Nebraska, Pennsylvania, and South Dakota), because they otherwise offer no judicial record clearing for felony-level convictions.[16]
Sealing or expunging the record of a pardoned conviction is authorized in another nine states: Indiana, Kentucky, Maryland (non-violent first offenses), Massachusetts, New Jersey, Oregon, Tennessee, Texas, and West Virginia (one year after pardon and at least five years after discharge, with certain exceptions for violent crimes). In Washington, pardons result in automatic vacatur and nondisclosure of administrative records, but petitions to seal court records are subject to a balancing test. Maine treats pardoned convictions like non-conviction records subject to non-disclosure rules. In most of these nine states record clearing relief for felony convictions is otherwise limited or nonexistent.[17]
In addition to providing record relief to individuals, the pardon power has in recent years been enlisted to advance criminal justice reforms on a broader basis in a number of states. The governors in Iowa, Kentucky, New York, and Virginia have used their power to limit felony disenfranchisement on a class-wide basis (and in the two last-mentioned states statutory or constitutional reforms have followed.) In addition, the governors of several states, including Colorado, North Dakota, and Washington, have used their pardon power to deliver record relief to people convicted of marijuana possession before its decriminalization, and the Colorado legislature even passed a law authorizing class-wide pardon relief.[18] The Nevada Board of Pardons Commissioners passed a resolution at the request of that state's governor automatically pardoning approximately 15,000 people convicted of possessing one ounce or less of marijuana between 1986 and 2017.[19] The legislature in Illinois also gave the governor's pardon power a part to play in Illinois' marijuana sealing effort,[20] and also authorized the governor to restore civil rights to people convicted of federal offenses.[21]
It seems unfortunate that in more than half the states and in the federal system pardoning has been sporadic or rare since the 1980's. Many of these states have no formal statutory advisory process in place, so the governor has no institutional encouragement to engage in what may still seem a politically risky activity. In two of the states in this category (Mississippi and Kentucky) the pardon power was notoriously abused when out-going governors made hundreds of controversial grants, confirming popular suspicions about the corruptibility of the pardon power.[22] In a few others, notably Rhode Island and New Hampshire, the constitutional limits on the governor's power almost guarantee few pardon grants. But successive governors of Alaska, Kansas, Massachusetts, and North Carolina, who have issued almost no pardons since the mid-1990s, do not have the same excuse. They are not among the handful of states whose governors have no authority from the legislature to seek official assistance in their pardoning (Maine, Oregon, and Wisconsin).  The governor of Maine is joined only by the president of the United States in having no statutory support for his pardoning and no obligation to account for it.
Pardoning in the federal system has become less frequent and regular since the 1970's, occasionally punctuated by episodes of excessive and controversial grants (Clinton in 2000-01, Trump in 2020-21).  Yet, for all its professed support for second chances and reintegration, Congress has resisted adopting any sort of statutory relief mechanism for those with federal convictions. The federal pardon process housed in the Department of Justice has steadily declined in productivity and reputation over the past thirty years.[23] It was ignored almost entirely by President Trump.  Overall, the number of presidential pardons granted in the past twenty years is small considering the volume of applications filed each year, and there has been only one presidential pardon granted for a D.C. Code conviction during this period.[24]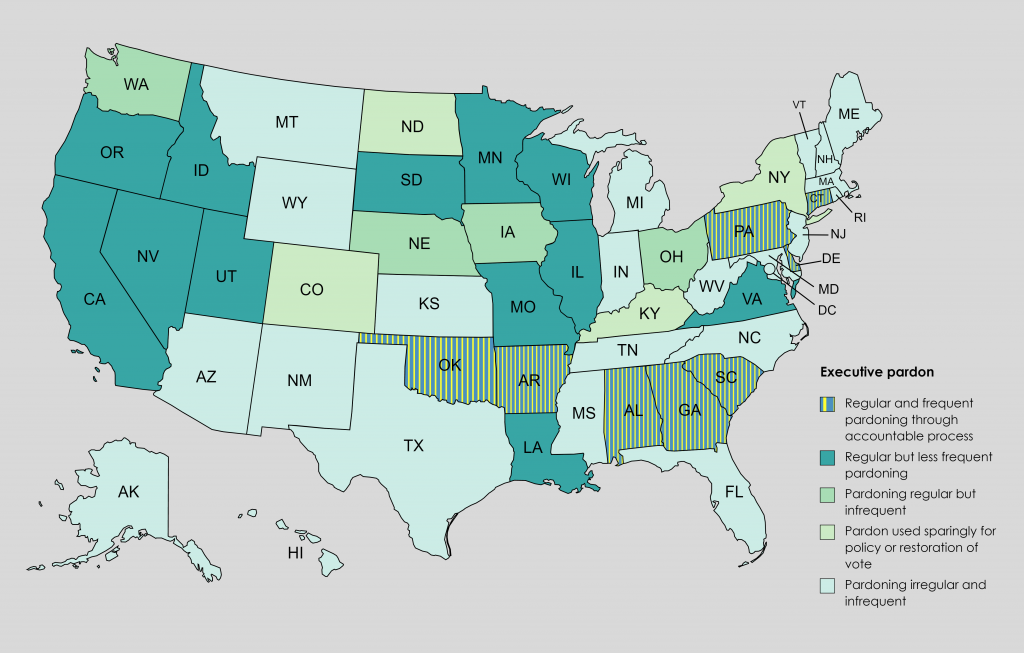 In summary, in 18 states a person may file a pardon application with a reasonable expectation of success, and there are signs that pardoning may revive in another three states. Hope springs eternal that governors in other states will want to employ this uniquely personal power to help their constituents and advance the cause of criminal justice reform, but for present purposes it seems functional and reliable pardon program. So, there are 32 states in which pardon cannot be counted on to provide record relief for ordinary people.
To be sure, in 24 of these 32 states there is some alternative individualized judicial record relief for felony-level offenses: ten of the 32 offer sealing or expungement for many felonies,[25] another 12 offer relief for a single felony (usually a first felony offense),[26] and New York and New Jersey also restore rights though judicial and administrative certificates. But still and all, that means that there are 10 U.S. jurisdictions – eight states, the District of Columbia, and the federal system – in which neither executive nor judicial record relief is reliably available to people convicted of a felony.[27]
Report Card: Pardon
The following report card grades each state, D.C., and the federal government on their pardon policy and practice during the past several years. The highest mark of "A" goes to jurisdictions whose pardon process is regular and accessible, that has a degree of independence from politics, and produces favorable decisions in a high percentage of applications. In addition to four states with independent boards (Alabama, Connecticut, Georgia, and South Carolina), three states with "gatekeeper" boards (Delaware, Oklahoma, and Pennsylvania) and one state with a tradition of productive and accountable pardoning (Arkansas) earned that grade. Generally, states that received a "B" have a regular process that produces a substantial number (or percentage) of grants, though three states with regular processes (Nebraska, Ohio, and Washington) earned lower marks for the slow recent pace of grants. The governors in three other states (Wisconsin, Missouri, Oregon) earned a "B" grade for their enthusiastic recent revival of pardoning in their states, though in two of those states there is no statutory advisory process to encourage regular pardoning. States where pardoning is irregular or is used primarily to restore voting rights received a "D", while states where the pardon power is rarely used received an "F."
State grades
| | |
| --- | --- |
| AL | A |
| AK | F |
| AZ | F |
| AR | A |
| CA | B |
| CO | D |
| CT | A |
| DE | A |
| DC | F |
| FL | F |
| GA | A |
| HI | F |
| ID | B |
| IL | B |
| IN | F |
| IA | D |
| KS | F |
| KY | D |
| LA | B |
| ME | F |
| MD | F |
| MA | F |
| MI | F |
| MN | B |
| MS | F |
| MO | B |
| MT | F |
| NE | C |
| NV | B |
| NH | F |
| NJ | F |
| NM | F |
| NY | D |
| NC | F |
| ND | D |
| OH | C |
| OK | A |
| OR | B |
| PA | A |
| RI | F |
| SC | A |
| SD | B |
| TN | F |
| TX | F |
| UT | B |
| VT | F |
| VA | B |
| WA | C |
| WV | F |
| WI | B |
| WY | F |
| Fed | F |
End Notes
[1] In both Alabama and Connecticut, the power to pardon is regulated by the legislature. Ala. Const. amend. 38 (amending art. V § 124) (since 1939, power to pardon in all but capital cases in administrative board appointed by governor); Conn. Gen. Stat. § 54-124a(f) (since colonial times, pardoning regulated by the legislature). For an overview of pardoning in the United States, and additional citations, see generally Love et al., Collateral Consequences of Criminal Conviction, supra note 6 at § 7:6 ("Executive Pardon: Generally"); Margaret Colgate Love, Reinvigorating the Federal Pardon Process: What the President Can Learn from the States, 9 St. Thomas L. Rev. 730 (2013).
[2] See 50-state chart, "Authority for Expunging or Sealing Convictions," Restoration of Rights Project, https://ccresourcecenter.org/state-restoration-profiles/50-state-comparisonjudicial-expungement-sealing-and-set-aside/
[3] See 8 U.S.C. § 1227(a)(2)(A)(vi).; see also Thompson v. Barr, 959 F.3d 476, 484 (1st Cir. 2020)("A pardon waiver has the effect of automatically canceling removal").  Cases and executive opinions are collected in Love et al., Collateral Consequences of Criminal Conviction, supra note 6 at § 2:61("Immigration Consequences – Pardon Waiver").
[4] See 50-state chart, "Authority for Expunging or Sealing Convictions," supra note 65. The six states that authorize sealing of a felony only if it has been pardoned are Alabama, Georgia, Nebraska, Pennsylvania, South Dakota, and Texas. The other 10 jurisdictions where pardon is the only form of record relief for a felony conviction are Alaska, Florida, Hawaii, Iowa, Maine, Montana, South Carolina, Wisconsin, the District of Columbia, and the Federal system. As will as be noted later in this section, pardons are frequently and regularly granted in all but Texas in the first group of six, but in only two of the last-mentioned group of 10 (South Carolina and Wisconsin).
[5] The 18 states are Alabama, Arkansas, California, Connecticut, Delaware, Georgia, Idaho, Illinois, Louisiana, Minnesota, Nebraska, Nevada, Oklahoma, Pennsylvania, South Carolina, South Dakota, Utah, and Virginia.
[6] Missouri, Oregon, Wisconsin, and perhaps Ohio. See commentary on Oregon and Wisconsin pardoning on the Collateral Consequences Resource Center.
[7] For more detail about the organization and authority of the pardoning authorities in these 18 states, consult the individual state profiles and 50-state material on "Pardon Policy & Practice" from the Restoration of Rights Project, https://ccresourcecenter.org/state-restoration-profiles/50-state-comparisoncharacteristics-of-pardon-authorities-2/.
[8] Nebraska's pardon board has in past years been among the most prolific in the country but staffing changes in 2019 led to a reduced hearing schedule and a sharp reduction in the number of grants that year. In early 2020 the legislature considered passing a statute that would require the board to meet more regularly and was told that the board would shortly return to a more regular schedule. See Paul Hammel, Nebraska Pardons Board met only twice last year, denying people 'a fresh start,' senators told, Omaha World Herald (Jan. 27, 2020), https://www.omaha.com/news/state_and_regional/nebraska-pardons-board-met-only-twice-last-year-denying-people/article_1c1e0fbe-fc5a-579a-81d0-af4a65f7bb02.html. At the time of this report, only a handful of pardons had been issued by the Nebraska board in 2020 and 2021.
[9] For additional detail, see the authorities cited in note 70, supra.
[10] See id. A full thirty states (including most of the states where pardon is regular and frequent) require the pardoning authority to report annually to the legislature on its grants, frequently with reasons.
[11] See Jack Keating, Tony Evers revives pardoning in Wisconsin, Collateral Consequences Res. Ctr., Oct. 19, 2021, https://ccresourcecenter.org/2021/10/19/evers-revives-pardoning-in-wisconsin/.
[12] In December 2020, shortly after his reelection, Governor Mike Parson began a regular practice of pardoning, responding to an increase in applications and calls in the press for greater use of the power. Between December 2020 and the end of 2021, he issued 219 pardons and 16 commutations, making grants of clemency a regular monthly occurrence. On September 30 the governor's office issued a summary of his pardoning to that date, noting that he intended to keep pardoning to reduce the backlog of 3500 applications that existed when he took office. Until these grants, pardoning in Missouri had been irregular and sparing in recent years, despite a dramatic increase in applications as a result of heightened employment restrictions since 9/11 and extension of firearms restrictions to long guns in 2008.
[13] See Jack Keating, Oregon ramps up its clemency, record relief, and resentencing programs,  https://ccresourcecenter.org/2022/01/11/oregon-ramps-up-its-clemency-record-relief-and-resentencing-programs/.
[14] In December 2019, Ohio Governor Mike DeWine announced the Expedited Pardon Project, a collaboration between the Governor's Office and the Drug Enforcement Policy Center at Ohio State University and the Reentry Clinic at The University of Akron School of Law, to supplement the existing process through the state parole board required by law. In 2021 additional law schools were added to this effort. This project aspires to expedite the process by which people apply for a pardon under Ohio's laws but judging from the few grants issued to date it (only 16 in two years) it seems to have only complicated it and delayed decision-making. See Governor DeWine's news release dated November 9, 2021, https://governor.ohio.gov/wps/portal/gov/governor/media/news-and-media/governor-dewine-expands-expedited-pardon-project-to-include-law-partners-in-cleveland-dayton-and-cincinnati-11092021.
[15] See, e.g., Margaret Colgate Love, After Trump: Restoring Legitimacy to the Pardon Power, 33 Fed. Sent'g Rep. 285 (2021).
[16] See 50-state chart, "Authority for Expunging or Sealing Convictions," supra note 65. Texas also authorizes sealing for pardoned convictions, but they have been rare in recent years.
[17] Id.
[18] See Colo. Rev. Stat. § 16-17-102(2).
[19] The form issued by the Board for grantees to apply for documentation evidencing the pardon is at http://pardons.nv.gov/uploadedFiles/pardonsnvgov/draft%20marijuana.pdf.
[20] Illinois established a tiered procedure to deal with marijuana arrests and convictions, with non-conviction records sealed automatically by the State Police, "minor cannabis offenses" made eligible for expungement through a streamlined pardon process, and more serious marijuana offenses required to petition for relief from the court. See Ill. Comp. Stat. Ann. 2630/5.2(i)(2). For further detail see the Illinois profile from the Restoration of Rights Project.
[21] See SB 825, amending 10 Ill Cons. Stat. 5/1-1.
[22] Between his defeat at the polls and his final days in office in December 2019, Kentucky Governor Matt Bevin issued more than 400 pardons and commutations, many of which were controversial. See AP, Bevin Pardons Include Man Whose Brother Held Fundraiser,  https://www.nytimes.com/aponline/2019/12/12/us/ap-us-kentucky-governor-pardons.html.  Mississippi Governor Haley Barbour granted no more than a handful of pardons until the very end of his tenure in 2012, when he issued 215 clemency grants, many of which were challenged as having failed to comply with constitutionally-mandated procedures. In See In re Hooker, 87 So. 3d 401 (Miss. 2012).
[23] See generally Margaret Colgate Love, Obama's Clemency Legacy: An Assessment, 29 Fed. Sent'g Rep. 271 (2017). The Justice Department's pardon process was bypassed by President Trump, and to date the Biden Administration has shown little interest in reviving its role in advising the president in clemency matters. See Love, After Trump, supra note 78.
[24] In 2018 the D.C. City Council authorized an independent pardon advisory process for those convicted of D.C. Code offenses, in an apparent effort to avoid an advisory process at the Justice Department that historically has been unfriendly to D.C. Code petitioners, but nothing appears to have come of it. See D.C. Code § 24-481.01 et seq.
[25] Colorado, Indiana, Kansas, Maryland, Massachusetts, New Mexico, North Dakota, Oregon, and New Hampshire. See the first column of ch. 1 in the 50-state chart, "Authority for Expunging or Sealing Convictions," supra note 65.
[26] See id., second column (all listed states except Delaware and Utah).
[27] The eight states are Alaska, Florida, Hawaii, Iowa, Maine, Montana, Texas, and Wisconsin. The state profiles from the Restoration of Rights Project indicates that a few of these states provide for specialized record relief for, e.g., youthful first drug offenses, prostitution convictions by victims of human trafficking, and juvenile adjudications.