Updated: "Who Must Pay to Regain the Vote? A 50-State Survey"
We are pleased to publish an update of our 50-state report on how unpaid court debt blocks restoration of voting rights lost as a result of a felony conviction: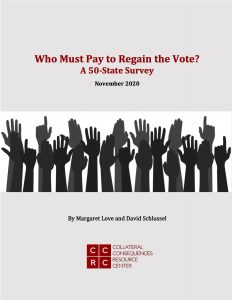 Who Must Pay to Regain the Vote? A 50-State Survey
This report examines the extent to which state reenfranchisement laws consider payment of legal financial obligations (LFOs), including fines, fees, and restitution, in determining whether and when to restore voting rights to people disenfranchised due to a felony conviction. (Our national survey discusses and ranks each state's general approach to loss and restoration of voting rights based on conviction.)
We first published this research in July 2020 during litigation over Florida's 2018 voting rights ballot initiative, which many expected would restore voting rights to more than a million people disenfranchised because of a felony conviction. However, the initiative was interpreted by Florida's legislature and supreme court to condition reenfranchisement on payment of all outstanding fines, fees, costs, and restitution, which drastically limited its anticipated reach. A federal district court found this system unconstitutional, but the U.S. Court of Appeals for the Eleventh Circuit reversed that conclusion in a 6-4 decision.
During the appeal, an amicus brief by the State of Texas, joined by seven other states, asserted that "States across the country have similar rules [to Florida] for felon voting" and that the district court's holding "called into question the widespread practice" of permanently disenfranchising people who are not able to "pay their debts to society."  As we demonstrated in our original report and amicus brief, the assertions in the Texas brief were not well-founded: few states have laws like Florida's that indefinitely deny reenfranchisement based on any unpaid debt related to a disqualifying conviction.
This updated report documents whether and to what extent unpaid LFOs restrict voting rights in each state, and reflects developments in California, where voters early this month passed a constitutional amendment to restore voting rights to those on parole; and in Iowa, where the governor in August issued an executive order to restore voting rights after completion of incarceration and supervision, regardless of payment of LFOs.
As of this writing, in nearly half the states (21 states), LFOs have no bearing on reenfranchisement.  In a number of others (15 states), regaining the vote is tied to completion of supervision, which may give courts and supervision officials some discretion to delay reenfranchisement if LFOs have not been paid, but not to deny it permanently. Moreover, officials in many of these "delay" states must consider ability to pay in determining whether to extend supervision, and officials may consider ability to pay in others.
In total, 10 states deny the vote to at least some people who have otherwise completed all aspects of their sentence, but still owe LFOs. Of these 10, only 3 states including Florida have laws mandating indefinite denial of the vote to any person with any unpaid LFOs from a disqualifying conviction, even if the person has completed all non-financial requirements of the sentence, and regardless of ability to pay.  The other 7 states indefinitely deny reenfranchisement because of unpaid LFOs, but only in certain cases.  An impressive new report prepared for the Sentencing Project estimates that 5.2 million Americans remain disenfranchised due to a felony conviction, including an estimated 900,000 Floridians who have otherwise completed their felony sentences, but still owe LFOs; the authors of that report have not been able to provide firm estimates on the number of people adversely affected by the LFO policies in the 9 other states, but note that they "serve as an additional driver of disenfranchisement."[1]
Four states handle reenfranchisement exclusively through a discretionary exercise of constitutional clemency.  The governors of 3 of these states currently exercise their clemency power on a broad basis to reenfranchise most individuals who have completed incarceration and supervision time, without regard to payment of LFOs.
Our report, which includes legal citations, is available at this link.
[1] Chris Uggen, Ryan Larson, Sarah Shannon, and Arleth Pulido-Nava, Locked Out 2020: Estimates of People Denied Voting Rights Due to a Felony Conviction, Sentencing Project (Oct. 30, 2020), https://www.sentencingproject.org/publications/locked-out-2020-estimates-of-people-denied-voting-rights-due-to-a-felony-conviction/.