Who Must Pay to Regain the Vote? A 50-State Survey
We are pleased to publish a new 50-state report on how unpaid court debt blocks restoration of voting rights lost as a result of conviction: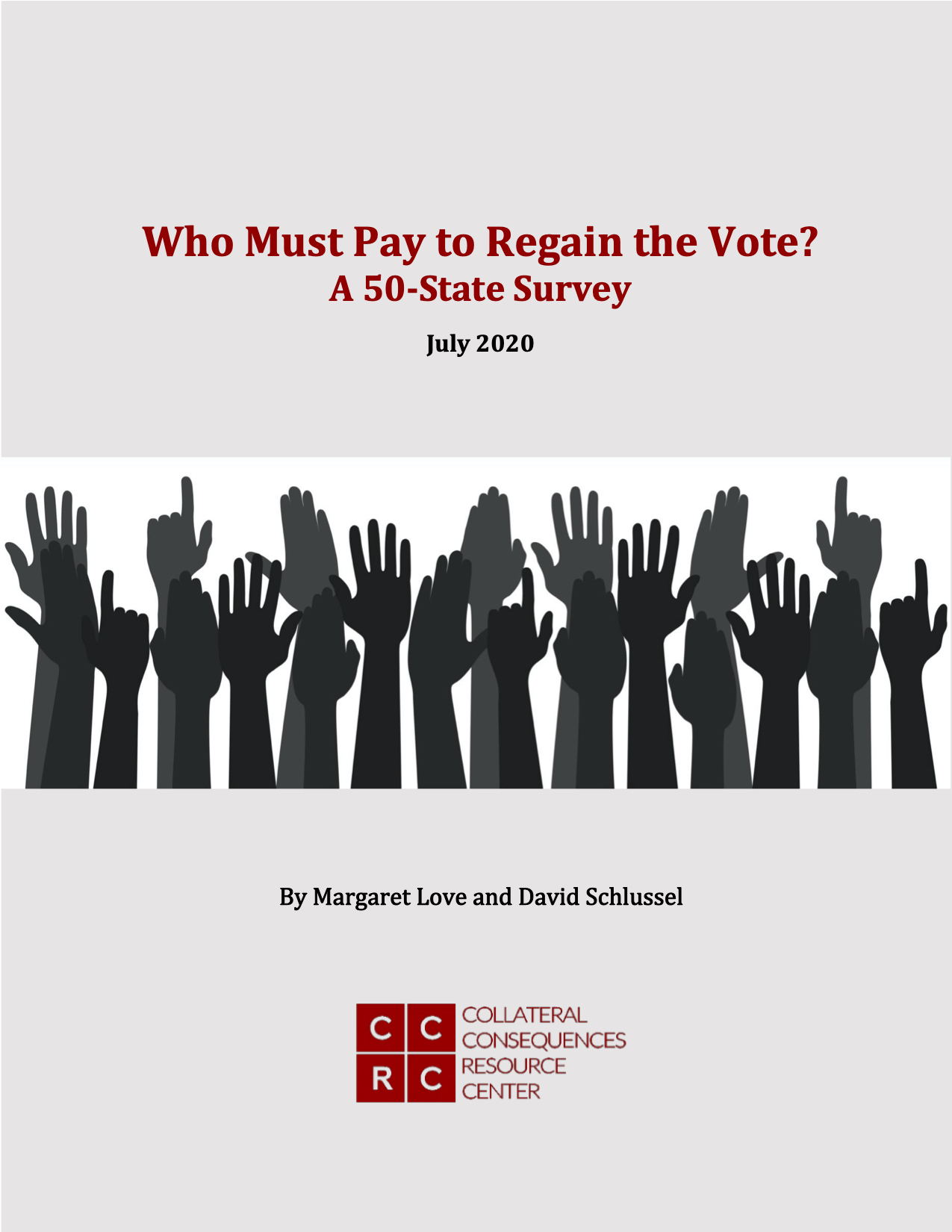 Who Must Pay to Regain the Vote? A 50-State Survey
This report examines the extent to which state reenfranchisement laws consider payment of legal financial obligations (LFOs), including fines, fees, and restitution, in determining whether and when to restore voting rights to people disenfranchised due to a felony conviction.
This issue has come to the fore as a result of the high-stakes federal litigation in Florida over that state's 2018 ballot initiative, which many expected would restore voting rights to more than a million people disenfranchised because of their criminal record, in some cases for crimes that occurred decades ago. However, the initiative has been interpreted by Florida's legislature and supreme court to condition reenfranchisement on payment of all outstanding fines, fees, costs, and restitution, which threatens to drastically limit its anticipated reach.
After a group of voters and organizations sued, a federal judge found this "pay-to-vote" system unconstitutional. The case is currently on appeal in the U.S. Court of Appeals for the Eleventh Circuit. CCRC expects to file an amicus brief next week that will include an abbreviated version of this report. Our brief will address the claim that many states have reenfranchisement schemes like Florida's, and that the trial court's decision would therefore cast doubt on a widespread national practice. But our research finds that very few states have laws like Florida's that indefinitely deny reenfranchisement based on any unpaid debt related to a disqualifying conviction. In fact, only two other states, Alabama and Arkansas, share the specifics of Florida's approach.
The issues in the Florida case and the findings of our report are detailed below.
The federal judge in the Florida litigation held that Florida's scheme is unconstitutional under the Equal Protection Clause of the Fourteenth Amendment as applied to people who are unable to pay, a large percentage of the disenfranchised population. The judge also held that conditioning voting rights on payment of fees and costs is unconstitutional under the Twenty-Fourth Amendment's prohibition on "any poll tax or other tax."
The court found a further Catch-22 that makes Florida's system particularly hard to justify: the State has been unable to identify, for persons otherwise qualified for reenfranchisement, the precise amount of their LFO obligation, making it literally impossible for them to satisfy the law's requirement even if they are financially able to. The State's witness at trial testified that after months officials had been unable to determine this information even for the 17 named plaintiffs in the lawsuit, and estimated that it would not be able to provide this information about 85,000 pending registrations until 2026 at the earliest.
The court ordered a process to allow people to register and vote unless the state can show precisely what each person owes and make a credible assertion that they have the ability to pay the amount. However, the Eleventh Circuit stayed this order pending appeal and the Supreme Court declined to lift the stay, with three justices dissenting in a written opinion. The case is scheduled for argument before the full en banc Eleventh Circuit on August 18, ironically the day of the Florida primary.
An amicus brief filed by the State of Texas, joined by seven other states, asserts that "States across the country have similar rules [to Florida] for felon voting" and that the district court's holding "called into question the widespread practice" of permanently disenfranchising people who are not able to "pay their debts to society." As we will argue in our brief and show in the appended report, that is a considerable exaggeration and it should not influence the Court's decision. A decision invalidating Florida's unusual regime would not, even if applied nationally, directly impact more than a handful of states' reenfranchisement laws. Our brief also highlights the consistent and accelerating national legislative trend toward expanding the franchise for people with felony convictions (a topic we reviewed at length in a recent post).
The research in our report shows that in nearly half the states (20 states), LFOs have no bearing at all on reenfranchisement.  In most of the others (16 states), regaining the vote is tied to completion of supervision, which may give courts and supervision officials some discretion to delay reenfranchisement temporarily if LFOs have not been paid, but not to deny it permanently. Moreover, officials in many of these "delay" states already must consider ability to pay in determining whether to extend supervision, and officials may consider it in others. In other words, these 16 states generally have a safety valve that allows people who are unable to pay to obtain relief.
Only 3 states including Florida have laws mandating indefinite denial of the vote to any person with any unpaid LFOs from a disqualifying conviction, even if the person has completed all non-financial requirements of the sentence, and regardless of ability to pay. An additional 7 states also indefinitely deny reenfranchisement because of LFOs, but only in certain cases.
Four states handle reenfranchisement exclusively through a discretionary exercise of constitutional clemency, which presents different issues than systematic reenfranchisement schemes.
Our report, which includes legal citations, is available at this link.