New 2019 laws on diversion and other non-conviction dispositions
This comment on new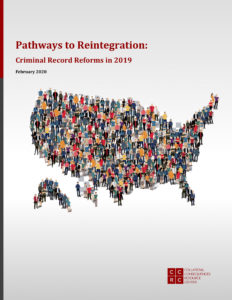 laws authorizing non-conviction dispositions is the fourth in a series of comments describing some of the 153 laws passed in 2019 restoring rights or delivering record relief.  The full report on 2019 laws is available here.
Diversionary and other non-conviction dispositions
In 2019, 18 states enacted 26 laws creating, expanding, reorganizing, or otherwise supporting diversionary and deferred dispositions, to enable individuals charged with criminal offenses to avoid a conviction record.  The 2019 enactments on diversionary dispositions reflect the clear trend across the country toward increasing opportunities to steer certain categories of individuals out of the system, through informal diversions, specialized treatment or intervention courts, or completing a deferred adjudication and probation period.  Laws enacted in 2019 extended this favorable treatment to juveniles, military service personnel and veterans, persons with mental illness, drug and alcohol users, human trafficking victims, caregivers of children, and even certain persons charged with sex offenses.
Of particular note, Colorado enacted a major revision of its juvenile records scheme, the second in three years, making almost all juvenile offenses eligible for diversion, and expungement automatic upon successful completion of diversion "without the need fora court order," as long as the prosecutor or victim do not object.  Colorado also authorized funding for mental health diversion courts. Tennessee and Vermont also significantly expanded their programs of juvenile diversion, while Mississippi reorganized its system of specialized courts as "intervention courts."  Oregon modified diversion to avoid deportation consequences of a guilty plea.  California enacted perhaps the most novel (and promising) diversion program we've seen in several years, authorizing the creation of pretrial diversion for primary caregivers of children,who are charged with a misdemeanor or non-serious felony offenses, except for offenses against the cared-after child.  These and other diversion laws are described briefly below:
In more incremental extensions of diversion: