Second chance employment bill approved in West Virginia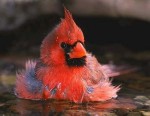 High drama on the final day of the West Virginia legislative session produced a last minute compromise between House and Senate over SB76, the WV Second Chance for Employment Act.  If the governor signs the bill into law, individuals convicted of non-violent felonies will be able to return to court after 10 years to have their convictions reduced to misdemeanors. [NOTE: The bill was signed into law on April 25.]
For several years the WV legislature has been considering how to improve employment opportunities for people with non-violent convictions, but the House and Senate had different ideas about how to do it.  The Senate approach would have expanded the state's expungement law, which now applies only to youthful misdemeanors, while the House preferred reducing nonviolent felonies to misdemeanors.   As the seconds ticked toward midnight on April 8, the Senate agreed to accept the "forgiving" approach favored by the House, creating a new category of "reduced misdemeanor" that need not be reported on employment applications but will be reflected in background investigations.
An account in the local press of feverish efforts to agree on a single bill in the final minutes of the legislative session makes entertaining reading.  But even the excitement of racing against the clock doesn't obscure the encouraging general consensus about the need for some relief, or the equally encouraging collegiality of legislators working quickly to reconcile differing views about what form relief should take.  It also shows another conservative state adopting a progressive approach to restoration of rights, a trend showcased in an April 7 forum put on by the Center for American Progress, and documented in CCRC's recent report on state reforms enacted between 2013 and 2016. See Four Years of Second Chance Reforms, 2013-2014.
We will be reporting in detail on the specific terms of the West Virginia legislation, and hope the governor acts on it quickly.  For now, we would simply note that this appears to be the first time that a state legislature has openly debated the relative merits of forgiving and forgetting, and chosen the former over the latter.  As we have noted on several previous occasions, we think lawmakers are likely to find more transparent forms of relief easier to sell to constituents (including employers) when dealing with more serious offenses.