Pardon Attorney says clock is ticking on Obama clemency initiative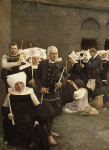 The Justice Department is urging lawyers for federal prisoners to move quickly to file clemency petitions for their clients, lest the clock run out before the end of the President's term.   U.S. Pardon Attorney Deborah Leff told volunteer lawyers in a video seminar last week that petitions not submitted until Obama's final year may not be considered, at least by him.  As reported by Greg Korte of USA Today, Leff suggested that lawyers might be spending too much time briefing cases, and she encouraged them to file even if they have not been able to obtain all documents.
"While I greatly admire your legal skills, this is not the time to prepare a treatise of hundreds of pages," she told the lawyers.
James Felman, a Tampa lawyer who represents the American Bar Association on the Steering Committee of Clemency Project 2014, told the volunteers they ought to disclose both the strengths and weaknesses of a client's case: "Aggressive lawyering is not necessarily going to pay off."
I think that there is a traditional sense that when you represent a client, your job is to make the best argument for relief you can possibly make no matter what.  Understand that here, this is not a court case; clemency is a grace.  And there is an utmost need for candor.   They're not going to grant clemency to someone who does not meet the criteria.  So you may make the best argument you could make, but please understand that, from our perspective, time spent making a weak argument for an undeserving client is time that we can't get you to spend making a good argument for a deserving client.  And we have many many clients that we have not yet assigned.
Other members of the Clemency Project 2014 Steering Committee also emphasized the need for speed and full disclosure.  Norman Reimer, Executive Director of the National Association of Criminal Defense Lawyers, told lawyers that "The clock is ticking," and that "Only you volunteers can help us beat the clock."  Mary Price, General Counsel of Families Against Mandatory Minimums, advised that lawyers must be candid in briefing the project about their client's case: "We have to know if we have bad facts."
Margaret Love, a Washington attorney who had Leff's job in the Clinton administration, said she worries that an emphasis on the volume and speed of cases could compromise the ability of attorneys to make the best argument for their clients.

"What I heard was hurry up, hurry up, deliver as many cases as quickly as you possibly can," she said. "If it's true that there were only 31 cases submitted by the project by the end of May, that's surprising given the number of lawyers they have working on them."
While Obama's 43 commutations put him ahead of the pace of presidents since Richard Nixon as far as sentence reductions are concerned, he has still acted favorably in only a small percentage of cases filed with the Justice Department: