Another court invalidates federal felon-in-possession statute on Second Amendment grounds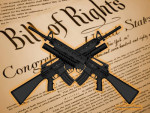 A second federal court in Pennsylvania has held that the federal felon-in possession statute cannot constitutionally be applied to an individual convicted many years ago of a minor non-violent offense. In Suarez v. Holder, the district court for the Middle District of Pennsylvania held that a man convicted in 1990 of misdemeanor possession of an unregistered handgun and sentenced to probation was "no more dangerous than a typical law-abiding citizen," and therefore entitled to claim the protection of the Second Amendment.  The Suarez court followed the reasoning of the court in Binderup v. Holder, decided in Pennsylvania's Eastern District in September.  The government has appealed the Binderup decision, and the government's brief is due this month.
As in Binderup, the court evaluated the constitutionality of 18 U.S.C. § 922(g)(1) under a strict scrutiny standard, and found that it could not constitutionally be applied to someone whose "conviction is decades-old" and who "poses no continuing threat to society."  In reaching its conclusion that Julio Suarez could not be barred from possessing firearms, the court described his background and circumstances as follows:
(1) he has been married for twenty years and is successfully raising three children; (2) he is an elder in his church; (3) he has had no history of violence; (4) a firearm disability imposed under Pennsylvania law was removed by a Pennsylvania Court of Common Pleas; and (5) he maintains "Secret" security clearance in connection with his employment for a government contractor.
The court made no attempt to set forth standards for evaluating whether someone is "no more dangerous than a typical law-abiding citizen" beyond the "know it when I see it" picture of a solid citizen it found in Mr. Suarez.   The government may be expected to point this out in its brief to the Third Circuit.
The Suarez court suggested that it may be harder for a criminal defendant to claim Second Amendment protection than it is for a law-abiding individual suing civilly.  Addressing the government's argument that Suarez's situation was similar to that of the losing challenger in the leading Third Circuit case, U.S. v. Barton, the court pointed out that Barton presented no facts showing that his circumstances placed him outside the scope of the felon-in-possession statute, "[n]or was he capable of doing so, since he had just been indicted for selling firearms with obliterated serial numbers."
On the way to its constitutional holding, the court denied Mr. Suarez's argument that because he was convicted of a misdemeanor rather than a felony he was not barred from gun possession by § 922(g)(1).  But the definition of a triggering offense in 18 U.S.C. § 921(a)(20) includes any misdemeanor that is "punishable by" a prison sentence exceeding two years, a standard plainly satisfied by the Maryland law under which Mr. Suarez was convicted.
As soon as the government files its appeals brief in Binderup we will post it here with comments.  Perhaps by then we will have persuaded Alan Gura, who represents both Mr. Binderup and Mr. Suarez, to take time out from his busy litigation schedule to bring us up to date on the national picture of constitutional challenges to a collateral consequence that is more important than any other to many Americans.