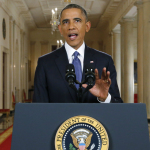 The President's decision to take unilateral executive action to insulate certain undocumented immigrants from the immediate threat of deportation has provoked outrage in some quarters and profound relief in others.   The legal issues raised by this decision are important and debatable, some of its line-drawing is problematic, and its success stands or falls on the uncertain terrain of bureaucratic discretion.  No doubt its political implications are yet to be revealed.
But amid all the uncertainty, one thing is clear.  In his speech announcing the initiative the President said, repeatedly and definitively, that no one with a criminal record would benefit from his reprieve.   Thus, he emphasized that enforcement resources would remain focused on "actual threats to our security," by which he meant "Felons, not families. Criminals, not children."   Again, it is possible to benefit from the law if you can "pass a criminal background check" (whatever that means), but "[i]f you're a criminal, you'll be deported."   Even people convicted of misdemeanors will not be spared under the new DHS enforcement priorities.
Entirely apart from the wisdom or fairness of the immigration policy choice involved in this broad blanket exclusion (and there are good reasons to be critical of it), it was disheartening to hear the President present it in such unfortunate language.  The ugly labels of "felon" and "criminal" do, after all, at least technically describe a status shared by 25% of adult Americans.  Labels like these serve only to demonize and exclude, and they are fundamentally at odds with our national policy of encouraging rehabilitation to reduce crime.  There were other ways the President could have justified continuing his policy of deporting based on criminal record than by using words that do more to stir up fear of "the other" than to describe relevant functional attributes.
The President's words suggest that people who have been convicted of a crime are evermore to be regarded as "felons" and "criminals," categorically threatening to our safety and security, and uniformly deserving to be segregated and sent away.  But he himself pardoned such a person less than two years ago, precisely to keep her from being deported. And he is surely aware of the bipartisan conversation now underway about the need to curb over-criminalization, one of the few matters on which Republicans and Democrats can agree.   It is tempting to take linguistic shortcuts when politically expedient, but it is a temptation he might have resisted without jeopardizing his larger objective.
It is time we stopped using negative stereotypes and labels to describe people who at some point in their past have committed a crime, in the immigration context or otherwise.  It is no longer acceptable to describe undocumented immigrants as "illegal aliens."  Our language needs a similar makeover where past convictions are concerned.