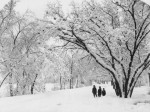 Beginning January 1st, 2015, many Minnesotans will have a meaningful shot at a second chance through criminal records expungement. For decades, many individuals have relied upon (and often languished under) a court's inherent authority to expunge (or seal) criminal records, but recent Minnesota Supreme Court decisions effectively eviscerated that remedy. Without a legislative act expressly granting judicial authority to seal records held within executive branch agencies, the majority of petitioners were granted orders sealing only court records—leaving numerous publicly accessible criminal records untouched.
The new law, passed with bipartisan support and building upon momentum gained with last year's Ban the Box for private employers, changes that.   It provides new authority for expunging (sealing) both criminal and juvenile records held by executive branch agencies; requires data mining companies to observe expungements, protects employers and landlords hiring and renting to individuals with expunged records, addresses victimization and housing evictions, and clarifies a number of procedural issues.  The standard for granting expungement remains that under current law, requiring the court to balance private and public interests.
While by no means a silver bullet, this new legislation will help a significant number of Minnesotans currently locked out of employment, housing, licensure, education, and countless other of life opportunities, by providing a true opportunity for a second chance.
Here is an explanation of the new law's specific provisions.