We are pleased to publish the March 2022 revision of our national survey of laws restoring rights and opportunities after arrest or conviction, "The Many Roads from Reentry to Reintegration." Like the earlier report, this report contains a series of essays on various relief mechanisms operating in the states, including legislative restoration of voting and firearms rights, various types of criminal record relief (expungement and sealing, pardon, judicial certificates), and laws limiting consideration of criminal record in fair employment and occupational licensing.
Drawing on material from CCRC's flagship resource the Restoration of Rights Project, the report grades each state for the scope and efficacy of its laws in nine different relief categories. Based on these grades, it compiles an overall ranking of the states. As described below, most of the states identified as reform leaders in our 2020 report still rank highly, but several new states have joined them. Half a dozen other states made substantial improvements in their ranking by virtue of progressive legislation enacted in 2020 and 2021, in two cases (D.C. and Virginia) rising from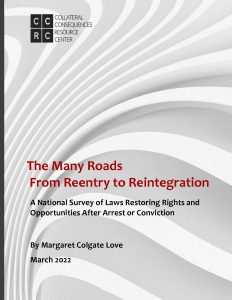 the bottom ten to the top 20.
The legal landscape has been changing rapidly in the 18 months since the first edition of this report was published in September 2020. Substantial progress has been made in a number of states, and in the Nation as a whole, toward devising and implementing an effective and functional system for relieving collateral consequences. The bipartisan public commitment to a reintegration agenda seems more than ever grounded in economic imperatives, as pandemic dislocations have brought home the need to support, train, and recruit workers, who are essential to rebuilding the small businesses that are the lifeblood of healthy communities.
The greatest headway has been made in restoring the vote and broadening workplace opportunities controlled by the state, both areas where there are national models and best practices. The area where there is least consensus, and that remains most challenging to reform advocates, is managing dissemination of criminal record information. Time will tell how the goal of a workable and effective criminal record relief system is achieved in our laboratories of democracy.
One area of record relief on which there does appear to be an emerging bipartisan consensus is that non-conviction records should be automatically sealed or expunged on case disposition. We are particularly pleased to see how many states have enacted laws limiting access to the record of cases disposed in favor of the defendant just since publication of our Model Law on Non-Conviction Records in 2019.