When is a sex offender not a sex offender in Ohio?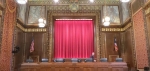 The Ohio Supreme Court is considering whether a young man whose conviction requires him to register as a sex offender should be excused from this collateral consequence on grounds that it violates the state constitution's prohibition on cruel and unusual punishment.  The transcript of the March 10 oral argument in Blankenship v. State of Ohio, Case no. 2014-0363, suggests that the Ohio high court may be poised to invalidate the mandatory sex offender classifications in Ohio law as applied to a 21-year-old who had a consensual sexual relationship with a 15-year-old.  In 2011 the court ruled in State v. Williams that the state's registration scheme is punitive and thus may not constitutionally be applied retroactively, so it would be a short step for the court to find that the mandatory registration requirement constitutes cruel and unusual punishment in this case.
According to his merits brief, Tyler Blankenship was working part-time at a department store and a few hours away from receiving his associate's degree at Clark State Community College in Springfield when he had an affair with a 15-year-old girl. But the relationship did not remain secret, he was arrested, and later pled guilty to one count of unlawful sexual conduct with a minor, a fourth-degree felony.  As part of the pre-sentence investigation, a psychologist evaluated Blankenship and opined that he was "not a sex offender" despite having committed a sexual offense, and that his risk of re-offending was "not high." Blankenship was sentenced to five years of community control with conditions, including a six-month jail sentence, which was suspended after approximately ten days.  He objected to being classified as a sex offender and argued that this violated the Eighth Amendment's prohibition against cruel and unusual punishment. The trial court noted the objection, and told his counsel, "[y]ou can see if you can get the Court of Appeals to change the requirements of my job."
Blankenship is appealing a 2-1 decision by the Second District Ohio Court of Appeals that upheld his classification, which before 2007 required a hearing and allowed judges to determine whether registration should be required.  Judge Mary Donovan dissented, commenting that "He was punished with a scarlet letter of 25 years duration … grossly disproportionate to the crime committed. This classification carries significant restraints on Blankenship's liberty and a social stigma that interferes with employability, travel and housing."
Under Ohio's Adam Walsh law, Blankenship must register his work, school, and employment with the sheriff in the county he lives, and is subject to verification every six months for twenty-five years.  Blankenship's public defender argued to the high court, based on the psychologist's pre-sentencing evaluation, that while her client committed a "sexually oriented offense," he was "not a sex offender" and posed no threat to the community. Under the circumstances, 25 years of registration is "grossly disproportionate" and tantamount to cruel and unusual punishment under the Ohio Constitution if not the Eighth Amendment.
The transcript shows that the justices are plainly unwilling to back off the court's 2011 holding that the registration scheme is punitive, and seemed prepared, like the dissenting judge below, to invalidate the mandatory nature of the penalty in cases like Blankenship's.   At the same time, perhaps because the justices were advised by counsel that Ohio is the only state to have held mandatory sex offender registration punitive (not entirely accurate, as prior posts on this website show), the court may proceed cautiously in setting aside the legislature's judgments about which categories of crimes are appropriate for mandatory long-term registration.  In the end, the justices' expressions of frustration with what several of them described as  "cookie-cutter, one-size-fits-all" collateral penalties suggest that they will rule in Blankenship's favor — though on state not federal constitutional grounds.