President promises a more "open" pardon process, more pardon grants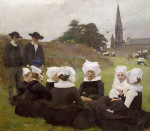 During a Town Hall in South Carolina on March 6, President Obama spoke for the second time in recent weeks about his intention to use his pardon power more generously in the final two years of his term.
Responding to a criminal defense attorney who asked what she could do to "increase the number of federal pardons," the President explained that he was taking a "new approach" to pardons after receiving surprisingly few favorable recommendations from the Justice Department during his first term.  He said he had asked the Attorney General to "open up" the pardon process, and to work with advocacy groups and public defenders to make people more aware of the availability of this relief:
[W]hen I came into office, for the first couple of years I noticed that I wasn't really getting a lot of recommendations for pardons that — at least not as many as I would expect. And many of them were from older folks. A lot of them were people just looking for a pardon so they could restore their gun rights. But sort of the more typical cases that I would have expected weren't coming up.

So I asked Attorney General Holder to work with me to set up a new office, or at least a new approach, inside the Justice Department. Because historically, what happened was the President would get a big stack of recommendations and then he could sign off on them — because obviously, I don't have time to go through each request. And so what we've done now is open it up so that people are more aware of the process.  And what you can do is contact the Justice Department. But essentially, we're now working with the NAACP, we're working with various public defenders offices and community organizations just to make people aware that this is a process that you can go through.
The President advised that "typically we have a pretty strict set of criteria for whether we would even consider you for a pardon or commutation," and directed the inquirer to the Justice Department website where he said those criteria can be found.
So my first suggestion would be to go to the Justice Department website.  If the person doesn't qualify because they may have served time but there were problems when they served time, or if it was a particularly violent crime, or they may just not fit the criteria where we would consider it — a lot of what we're focused on is non-violent drug offenses where somebody might have gotten 25 years, and she was the girlfriend of somebody and somehow got caught up, and since then has led an exemplary life, but now really wants to be able to start a new career or something like that.  That's the kind of person, typically, that would get through the process.
So, a couple of things about the President's comments.  As in his BuzzFeed interview ten days ago, and as reported by Greg Korte in USA TODAY, the President seems genuinely willing to consider requests for full pardon from people who have completed their sentences and "led an exemplary life, but now really want[] to be able to start a new career." This is good news. President Obama has taken a commendable interest in prisoner requests for sentence commutation, but his record of granting full pardons to date has been disappointing: Available statistics indicate that he has granted fewer full pardons than any full-term president since John Adams.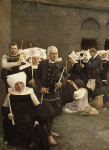 On the other hand, the President's "new approach" to handling clemency requests, and his promise of a more "open" pardon process seems so far not to have materialized.  In fact, the Justice Department's pardon process appears to be more opaque and overburdened than ever before. This is largely because of the "clemency initiative" announced by the Attorney General in April of last year, which invited federal prisoners serving long prison terms to apply for commutation of sentence.
Not surprisingly, many have accepted this invitation. The Washington Post reported on February 29 that "more than 35,000 inmates — about 16 percent of the federal prison population — have applied to have their sentences shortened under the Justice Department-led initiative," either directly with the Office of the Pardon Attorney (OPA), or with the consortium of private organizations known as Clemency Project 2014.  Most of the applications are being processed through this private screening process.  The Post reports that "a complicated review process" has "slowed" the processing of this "massive influx of applications."  After a full year, no grants have yet been made to applicants vetted by Clemency Project 2014, and according to the Post article it has to date submitted only 14 petitions to be considered for clemency.
In addition to the thousands of prisoner petitions, more than 800 applications for full pardon have been filed with OPA, some of which have been fully investigated and awaiting disposition for some time.  While it is true (as the President said) that many pardon petitioners are interested in restoration of their firearms rights (there is no other way), or are simply seeking official recognition that they have paid their debt to society, many others are badly in need of relief from the harsh consequences of conviction in the workplace and in the community.   With DOJ resources and attention focused on commutation requests, pardon cases appear to have been put on the back burner, and the newly appointed Pardon Attorney has so far declined requests to meet or speak about this neglected aspect of her office's workload.
Never before in our history has the pardon power played a more important role in the justice system, and never before has the official pardon process seemed so dysfunctional.  It is understandable that the President would be reluctant to use an extraordinary constitutional power to address systemic problems with the legal system, but then one might expect to see him encourage legislative substitutes for pardon, such as the judicial certificates whose enactment in Illinois he himself secured a decade ago, or even the federal expungement proposal sponsored by Senators Cory Booker and Rand Paul.  The Justice Department has available to it statutory authority for seeking sentence reduction from the courts, but it has been unwilling to use it except for prisoners who are dying or completely disabled.
President Obama's comments expressing impatience with the output of the Justice Department's pardon process are eerily reminiscent of President Bill Clinton's comments expressing frustration with the pardon process shortly before the end of his term:
I have done–I haven't seen the final numbers, but before the last batch at least, I had done fewer than any President in almost 30 years. And part of that, frankly, is the way the system works, something I'm not entirely satisfied with.
The consequences of President Clinton's dissatisfaction with the official pardon process at the end of his term are well known.  President Bush experienced a similar disappointment in the official process, and attempted to warn his successor.  George W. Bush, Decision Points 105 (2010)(""On the ride up Pennsylvania Avenue on Inauguration Day, I told Barack Obama about my frustrations with the pardon system. I gave him a suggestion: announce a pardon policy early on, and stick to it.")
Let us hope that there is still time before the end of his term for President Obama to get what he wants from the Justice Department's pardon process, something Presidents Clinton and Bush were not able to do, or to put in place a substitute for it.  If past is prologue, this will not happen if the Justice Department is left to its own devices. Getting the Justice Department's pardon process to deliver a substantial number of favorable recommendations, whether in commutation or pardon cases, will take direct hands-on intervention from the White House, by people who have an understanding of how the process can and should work to serve the presidency as well as the American public.  Otherwise, one can predict only a token number of commutation grants and a scrum of pardon favor-seekers outside the White House Counsel's door in the final days of President Obama's term.  He can't say he wasn't warned.