Criminal history screening in college applications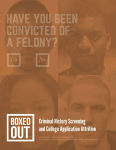 Last week the Center for Community Alternatives in cooperation with the Education from the Inside Out Coalition released Boxed Out: Criminal History Screening and College Application Attrition. With this new study and report we build upon our 2010 study, The Use of Criminal History Records in College Admissions Reconsidered. The Reconsidered study showed that a growing number of colleges and universities are asking about criminal history information during the application process: two-thirds of the colleges and universities we surveyed reported that they do so. Yet, as we discussed in the Reconsidered study, there is no empirical evidence to indicate that criminal history screening makes college campuses any safer.
This study explains how the criminal history box on college applications and the supplemental requirements and procedures that follow create barriers to higher education for otherwise qualified applicants. Our research focused on the State University of New York (SUNY). We found that almost two out of every three applicants who disclosed a felony conviction were denied access to higher education, not because of a purposeful denial of their application, but because they were driven out of the application process. We term this phenomenon "felony application attrition" which describes the reduction from the number of applicants who start an application and check the felony box "yes" to the number of applicants who, according to the admissions office, have satisfied all of the supplemental requirements and completed their applications. In this study, we explore how the stigmatizing and daunting impact of the supplemental procedures imposed on applicants who disclose a felony conviction contribute to this attrition.
This case study of SUNY has national implications. The supplemental procedures and requirements imposed by SUNY campuses are not unique. From our 2010 study we know that 55 percent of the public colleges that responded to our survey engage in criminal history screening, and a majority of those use supplemental procedures and requirements.
Federal, state and local public policy-makers are promoting reentry and reintegration efforts as a means of addressing our nation's four-decade long flawed criminal justice policies that have produced overcriminalization and mass incarceration. Such efforts, if successful, will improve society in many respects, including reducing poverty and decreasing the racial divide. At the same time, many colleges and universities are both consciously and unconsciously engaged in a practice that subverts those public policy efforts and undermines development of good citizenship, public safety, democracy, the human right to education, and expands the economic and racial divide. It is disingenuous to expect people who have served their sentence after a criminal conviction to live law-abiding and productive lives if they are continuously denied employment and educational opportunities.
Exposing this insidious and unnecessary lifetime consequence is the first step toward addressing it. We share the information from our research in the sincere hope of raising awareness of and opening up a dialogue about the dangers of college admissions policies that intentionally or inadvertently drive people with past criminal justice involvement from the college application process. We urge colleges and universities to refrain from asking about and considering criminal history information in admissions decision-making.
The CCA report is authored by:
Alan Rosenthal. Esq., Advisor on Special Projects and Counsel
Emily NaPier, M.A., Senior Research Associate
Patricia Warth, Esq., Director of Justice Strategies
Marsha Weissman, Ph.D., Executive Director