Wisconsin attorneys volunteer to help students facing expulsion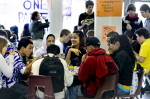 Expulsion or suspension from school, not surprisingly, does not bode well for academic success.  Students are much less likely to graduate when they miss significant time in school or have to change schools because they have been suspended or expelled.
Incidents at school can have other serious and lasting consequences.  In Wisconsin, because 17-year-olds are considered adults when charged with criminal violations, high school students can face probation, jail, or prison, as well as all the adverse collateral consequences associated with a criminal record.  One serious consequence unique to students is that alleged misconduct in school can also result in a suspension or expulsion from school.
Like many other indigent defense providers, the Wisconsin State Public Defender (WSPD) is funded to provide representation to children in delinquency cases, but not in administrative hearings regarding school discipline.  Public defenders can appear with a student in this type of hearing only if the student is a current client in another matter arising from the same factual allegations, and this type of ancillary representation is rare.
Recognizing an opportunity to increase the services available to students in disciplinary hearings, attorney Diane Rondini-Harness of the WSPD's Milwaukee Juvenile and Mental Health Office secured a grant through the Wisconsin State Bar and organized the Student Expulsion and Prevention Project (StEPP).  StEPP builds from similar programs in New York City and San Francisco, which have achieved significant reductions in the number of students expelled.  StEPP trains volunteer private attorneys to represent juveniles in school district disciplinary hearings.
StEPP is currently focused on one school district, with the long-term goal of expanding into additional districts.  The response from the local bar has been overwhelming, with over 30 attorneys completing a one-day training program in January.
More information about this program is available through the Wisconsin State Bar here.