Uber sued over illegal background checks and employee policies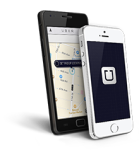 In recent months, heightened attention has been paid to the background check practices of the ride-sharing company Uber. Concerns about the safety of Uber services prompted the District Attorney's Offices of San Francisco and Los Angeles Counties to file suit last December against Uber for misleading customers about the scope of its driver background checks. As discussed in a previous post, Uber has largely resisted efforts by legislators to mandate more intensive background checks, but the pressure continues to mount.
This pressure for enhanced background checks has raised another area of concern: the manner in which Uber conducts background checks, and the impact of its employment practices on drivers and prospective drivers.  At the end of 2014, our organizations, the Lawyers' Committee for Civil Rights of the San Francisco Bay Area and the law firm Goldstein, Borgen, Dardarian & Ho, filed a putative, nationwide class action lawsuit against Uber, based in part on its violation of federal and state background check laws.
Our case, Gillette v. Uber, alleges that Uber conducted background checks without the required notice to drivers, depriving them of any chance to request a copy of the report, to which they are entitled under federal law. Based on these illegal background checks, Uber then terminated or deactivated drivers' accounts, again giving the drivers no notice or opportunity to contest the contents of the report.  These actions amount to willful violations of the federal Fair Credit Reporting Act.

The purpose of the federal Fair Credit Reporting Act is to ensure that background checks are conducted in a manner that is fair and with appropriate attention to confidentiality, accuracy, and the proper use of such information. Uber's actions show disregard for this obligation, terminating drivers without giving them a chance to even review, let alone dispute the reports. This kind of policy means that workers, like the plaintiff in this case, can find themselves out of a job with absolutely no recourse.
The lawsuit also alleges that Uber failed to provide certain employee protections to its drivers, in violation of the California Labor Code and Private Attorneys General Act. Uber wrongly classified its drivers as independent contractors, denying drivers such rights as itemized wage statements, meal and rest periods, minimum and overtime wages, reimbursement of expenses such as gas and tolls, payment of earned tips, and prompt payment of wages upon termination.
The suit was filed in the federal district court of the Northern District of California. It asks the court to declare Uber's actions unlawful under the federal Fair Credit Reporting Act, the California Labor Code, and the California Investigative Consumer Reporting Agencies Act, and to enjoin the company from continuing these practices.
---