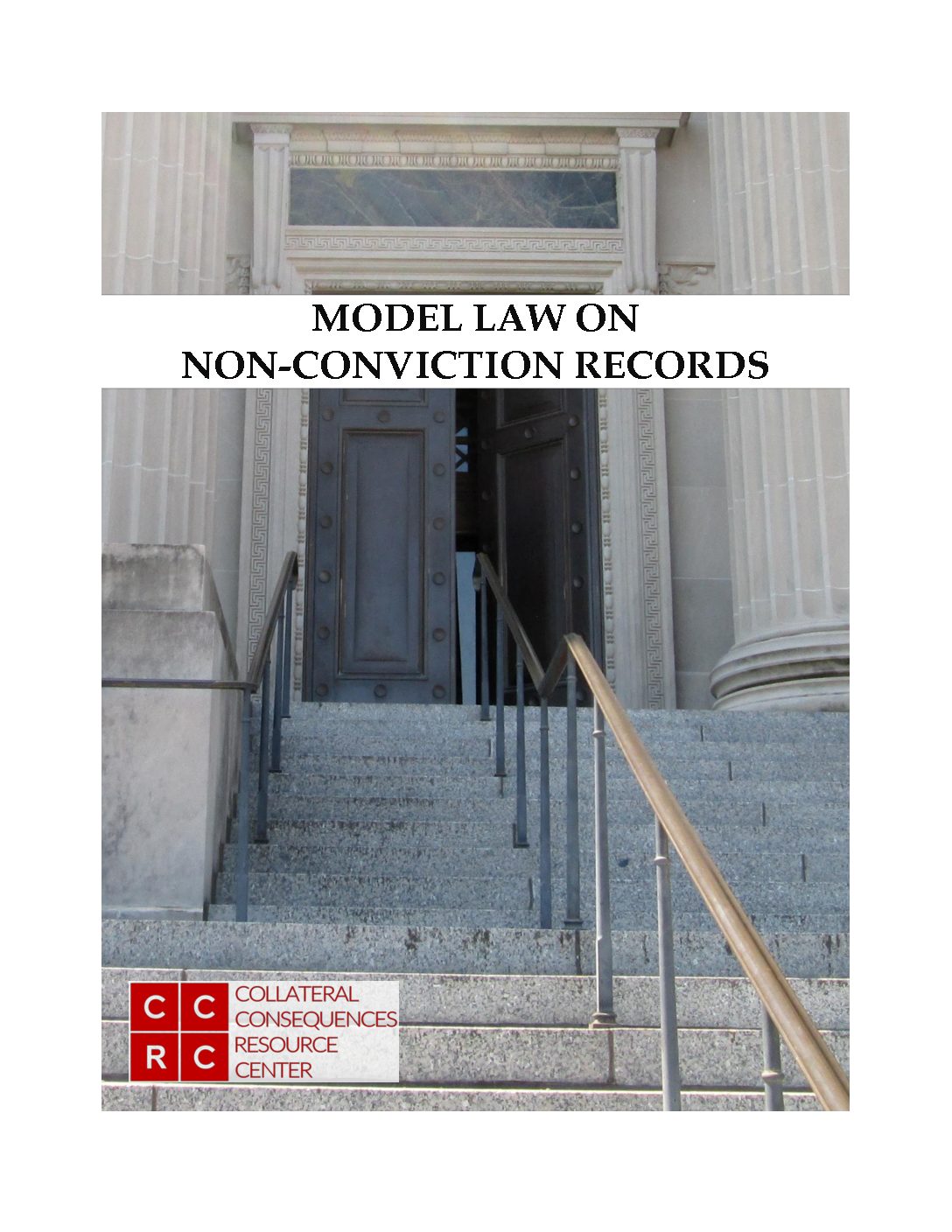 An advisory group drawn from across the criminal justice system has completed work on a model law that recommends automatic expungement of most arrests and charges that do not result in conviction.  Margaret Love and David Schlussel of the Collateral Consequences Resource Center served as reporters for the model law.  It is available in PDF and HTML formats.
"Many people may not realize how even cases that terminate in a person's favor lead to lost opportunities and discrimination," says Sharon Dietrich, Litigation Director of Community Legal Services of Philadelphia, and one of the advisors of the model law project.  "Over the years, my legal aid program has seen thousands of cases where non-convictions cost people jobs."
In proposing broad restrictions on access to and use of non-conviction records, the project aims to contribute to conversations underway in legislatures across the country about how to improve opportunities for people with a criminal record.  Already in 2019, states have enacted more than 130 new laws addressing the collateral consequences of arrest and conviction.  The group regards its model as the first step in a broader law reform initiative that will address conviction records as well.
Law enforcement officials make over 10 million arrests each year, a substantial percentage of which do not lead to charges or conviction.  Records of these arrests have become widely available as a result of digitized records systems and a new commerce in background screening and data aggregation.  These checks often turn up an "open" arrest or charges without any final disposition, which may seem to an employer or landlord more ominous than a closed case.
Very few states have taken steps to deal with the high percentage of records in repositories and court systems with no final disposition indicated.  Paul McDonnell, Deputy Counsel for New York's Office of Court Administration and a project advisor, noted: "Criminal records that include no final disposition make it appear to the untrained eye that an individual has an open, pending case, which can have serious results for that person. New York has recently made legislative progress in addressing this problem, though more can be done."
Current state and federal laws restricting access to and use of non-conviction records have limited application and are hard to enforce.  Eligibility criteria tend to be either unclear or restrictive, and petition-based procedures tend to be burdensome, expensive, and intimidating.  In recent years, lawmakers and reform advocates have expressed a growing interest in curbing the widespread dissemination and use of non-convictions, leading some states to simplify and broaden eligibility for relief, reduce procedural and financial barriers to access, and in a handful of states to make relief automatic.
Rep. Mike Weissman, a Colorado State Representative and model law project advisor, noted that Colorado has recently overhauled its laws on criminal records with broad bipartisan support.  "It is heartening to see similar reforms underway in other states, both red and blue, as well.  I commend the practitioners and researchers who helped formulate the model law for illustrating avenues for further progress in reducing collateral consequences."
The model law would take this wave of criminal record reforms to a new level.  It recommends that expungement be immediate and automatic where all charges are terminated in favor of an accused.  Uncharged arrests should also be automatically expunged after a brief waiting period, as should dismissed or acquitted charges in cases where other charges result in conviction.  Cases that indicate no final disposition should also be expunged, unless there is indication that they are in fact pending.
The model law also recommends that expunged non-conviction records should not be used against a person in a range of criminal justice decisions, including by law enforcement agencies.  It would prohibit commercial providers of criminal background checks from disseminating expunged and dated non-conviction records, and civil decision-makers from considering them.
David LaBahn, President of the national Association of Prosecuting Attorneys, indicated that organization's support for the model law, stating that the collateral consequences of non-convictions "do not serve to make the community safer," and that "the current structures in place to expunge a non-conviction record can be confusing and difficult for the layperson to navigate alone."
This model law sets the stage for jurisdictions to address record relief for convictions more generally, and its structure and principles can be brought to bear on that important work.
The Collateral Consequences Resource Center organized this model law project.  An early draft of the model law was discussed at an August 2019 Roundtable conference at the University of Michigan that was supported by the Charles Koch Foundation.  The model law report was supported by Arnold Ventures.