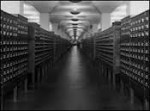 The Government Accountability Office has made public a long-awaited
report
 to Congress on the use of FBI records by state agencies and private companies for employment-related background checks.  The report addresses three questions:
1. To what extent do states conduct FBI criminal history record checks for selected employment sectors and what challenges, if any, do they face in conducting these checks?
2. To what extent have states made progress in improving the completeness of criminal history records and what challenges remain that federal agencies can help mitigate?
3. To what extent do private companies conduct record checks, what benefits do they provide, how are they regulated, and what challenges do they face?