The Frontiers of Dignity: Clean Slate and Other Criminal Record Reforms in 2022
At the beginning of each year since 2017, CCRC has issued a report on legislative enactments in the year just ended, new laws aimed at reducing the barriers faced by people with a criminal record in the workplace, at the ballot box, and in many other areas of daily life.  These annual reports document the steady progress of what our report two years ago characterized as "a full-fledged law reform movement" aimed at restoring rights and dignity to individuals who have successfully navigated the criminal law system.
In the three years between 2019 and 2021, more than 400 new criminal record reforms were enacted.  Many states enacted new laws every year, and all but two states enacted at least one significant new law during this period.
The modern record reform movement reflected in our annual reports is bipartisan, grounded in and inspired by the circumstance that almost a third of adults in the United States now have a criminal record, entangling them in a web of legal restrictions and discrimination that permanently excludes then from full participation in the community. It reflects a public recognition that the "internal exile" of such a significant portion of society is not only unsafe and unfair, but it is also profoundly inefficient.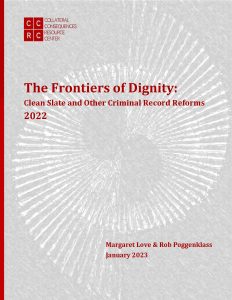 We are pleased to present our report on new laws enacted in 2022, titled The Frontiers of Dignity: Clean Slate and Other Criminal Record Reforms in 2022. While this report shows that the legislative momentum gathering since 2018 slowed somewhat in the past year, there has still been progress, with more new laws enacted this year than in 2018 when the current reform movement took off in earnest.
The title of this report is borrowed from the Basic Law adopted by the Federal Republic of Germany after World War II, which declared that "Human dignity shall be inviolable. To respect and protect it shall be the duty of state authority." Most European countries incorporate this foundational premise, as well as a concern for individual privacy, into their treatment of criminal records, by making them largely unavailable to the public and by limiting how they are used to deny rights and opportunities.
In part because American legal systems are not similarly grounded in respect for dignity and privacy, our progress toward a fair and efficient criminal records policy has been slow and uneven. Yet it has been steady, animated in recent years both by a concern for racial justice and by economic self-interest. This report, like our past annual reports, attempts to capture this steady progress toward recognizing the worth and dignity of the millions of Americans whose past includes a record of arrest or conviction.
     Report Overview
This overview highlights key developments in reintegration reforms from the past year. Following it, our fourth annual legislative Report Card recognizes the most productive legislatures in 2022, and notes that there are now only two states have enacted no record reforms since our reporting began in 2016.  The body of the report provides topical discussions of last year's reform measures, followed by an appendix documenting and summarizing the new laws by jurisdiction. More detailed analysis of each state's laws is available in the state profiles from CCRC's Restoration of Rights Project, and a national overview is presented in our 50-state comparison charts on various types of record relief.
In 2022, 33 states, the District of Columbia, and the federal government enacted 71 separate pieces of legislation, passed two ballot initiatives, and took unprecedented executive actions to restore rights and opportunities to people with an arrest or conviction history.
As in past years, more than half of the new authorities involved individual record clearing: 22 states and the federal government enacted 37 measures and took six executive actions that revise, supplement or limit public access to individual criminal records to reduce or eliminate barriers to opportunity. Because of the significant progress on this front in recent years, most of the laws enacted in 2022 represent measured changes to existing record relief schemes rather than radical new reforms. At the same time, three states significantly expanded automatic "clean slate" record relief, a handful of states continued to remove marijuana convictions from public view, and other states trimmed barriers to relief by reducing waiting periods or eliminating obstacles to relief represented by outstanding court debt (fines and fees). Executive actions also continued the momentum, particularly with actions to relieve the consequences of past marijuana convictions.
In addition, many of the new laws limited consideration of criminal record in economic settings: 20 states and the federal government enacted 24 new measures regulating employment and occupational licensing, while two more states removed barriers to restoring a driver's license. A few states made significant improvements in their occupational licensing laws by enacting binding preliminary applications for licensure, and by limiting the types of records that licensing agencies may consider.
Arizona is the only state whose legislature took steps this past year to restore civil rights to those with felony convictions, although governors in Missouri, Virginia and Wisconsin used their pardon power to restore civil rights in unprecedented ways.
As in the past, the state legislatures that have enacted the most significant reforms span the political spectrum, from California and Maryland to Oklahoma and Utah.  The report highlights the renewed interest in executive pardons by both Republican and Democratic governors, notably in Missouri (where large case backlogs invited energetic executive attention), in Wisconsin (where the pardon power had been shelved for almost a decade), and in Oregon (where 45,000 individuals benefitted from pardons in response to marijuana legalization).
Overall, while there were fewer record reforms in 2022 than in the three preceding years, it would be a mistake to see this as a flagging of the reform wave we've identified in previous reports.  In fact, the productivity of state legislatures in 2022 mirrors their performance in 2018, itself a year that broke every record.  If 2022 marked a return to pre-2019 productivity levels, several states making significant strides toward restoring rights and clearing records, and many others built on and extended reforms enacted in earlier years. This year's criminal record reforms bring the total number of separate laws enacted in the past five years to more than 500.
Looking ahead to 2023, we expect to see a continuing expansion of eligibility for record clearing, and reduction of access barriers like lengthy waiting periods, outstanding court debt and application-related costs.  We also predict efforts to improve records management to accommodate automation of record clearance.  We look for extension of state fair employment laws, and further facilitation of occupational licensing, both areas where bipartisan reforms have benefitted from helpful model laws. We are slightly less optimistic about additional progress toward dismantling the structure of felony disenfranchisement, which has become mired in faction looking toward the presidential race in 2024. Hopefully, 2023 will see some record reform action in Congress and federal agencies, including measures to extend access to government-guaranteed loans and contracting opportunities to small businesses owned or managed by people with a criminal history. We have come a long way just in the past five years, but there is still a long way to go.