Record-breaking number of new expungement laws enacted in 2019
This is the thi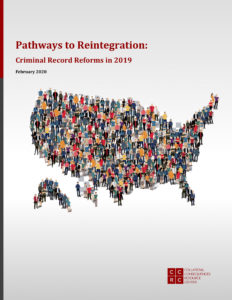 rd in a series of comments describing some of the 153 laws passed in 2019 restoring rights or delivering record relief.  The full report on 2019 laws is available here.

Criminal record relief (expungement, sealing, set aside)
As in past years, the reform measure most frequently enacted in 2019 was record relief, i.e. expungement, sealing, or other mechanism to limit access to criminal records or set aside convictions.  This past year, 31 states and D.C. enacted no fewer than 67 separate bills creating, expanding, or streamlining record relief.  This total does not include a dozen other new laws authorizing non-conviction dispositions that will be eligible for record-clearing under existing law.  A trend we observed in our 2018 report toward "a growing preference for more transparent restoration mechanisms" that limit use of a criminal record, as opposed to access, does not appear so obvious to us this year.  If anything, jurisdictions appear to be looking for new efficiencies in clearing records.
In 2019, 27 states and D.C. made certain classes of convictions newly eligible for expungement, sealing, or vacatur relief.  Five of those states enacted their first general authority for expunging or sealing convictions (North Dakota, New Mexico, West Virginia, Delaware, Iowa), making record relief available for the first time to thousands of people.   Nonetheless, most potential beneficiaries of these new relief schemes find them hard to navigate:  eligibility criteria are frequently complex and unclear, and court procedures are usually intimidating, burdensome and expensive.  These and other barriers to access have been shown to discourage the law's intended beneficiaries.
To obviate the need for individual applications, in 2019 three states followed the example set by Pennsylvania's 2018 "Clean Slate Act" by enacting automatic relief for a range of conviction and non-conviction records (Utah, California, New Jersey).  Specific provisions of these important new laws are described in the following pages, and in greater detail in the relevant state profiles in the Restoration of Rights Project.  Six additional states focused automatic relief provisions on specific offenses or dispositions (
, Illinois, New York, Virginia, Nebraska, Texas).
Also notable were bills providing relief for victims of human trafficking and for marijuana offenses.  Seven states and D.C. authorized relief for victims of human trafficking, allowing them to vacate, expunge, and seal a range of criminal records resulting from their status as a victim.   Seven other states—all of which have legalized or decriminalized marijuana—authorized record relief for certain marijuana offenses, including two automated relief measures (New York and Illinois).
In addition to these marijuana measures, which often extend to arrests and other non-conviction records, eleven states extended relief to certain non-conviction records for the first time.  Most far-reaching, new provisions in New York's annual budget bill limited access to cases in which there has been no docket entry for five years; precluded the inclusion of such undisposed cases in background check reports; and extended New York's automatic sealing of non-convictions to cases decided prior to the enactment of that relief in 1992. 
Finally, thirteen states enacted 18 laws to streamline and/or make more effective the procedures for obtaining relief under existing mechanisms.  Three states (Colorado, Washington, and New York) made particularly noteworthy and broad-based procedural reforms to their criminal records laws.
***********
To summarize the bounteous haul of record relief laws enacted in 2019, we have organized them into three categories: (1) new automatic relief schemes; (2) new petition-based relief; and (3) improved procedures and effect of existing record relief mechanisms.
New automated "clean slate" relief
In 2019, efforts to automate criminal record relief gained widespread attention as a response to what scholars have called the "uptake gap" or "second chance gap" in petition-based schemes.  The "gap" refers to the large percentage of a law's intended beneficiaries who never even apply for relief, deterred by multiple barriers to access that include unclear eligibility criteria and burdensome court procedures.  Automated schemes close the gap by requiring the government to grant relief to all individuals deemed eligible by the legislature, without requiring individuals to ask for it.
Initially inspired by the need for large-scale relief in the wake of marijuana legalization, automation entered the law reform mainstream in 2018 when Pennsylvania passed its Clean Slate Act, providing a term that is now generally understood to refer to automated schemes (though is not in  practice always so limited).  While Pennsylvania's automated sealing law did not extend relief much beyond cases that had been previously eligible (capped at the misdemeanor level), the law was unusually ambitious in its retroactive application to millions of state records accumulated over decades.
While a few states have for years made sealing mandatory for non-conviction and juvenile records, until Pennsylvania's law none had attempted to make sealing relief self-executing and retroactive.  By mid-2020, when the statutory implementation schedule is complete, more than 32 million non-conviction and misdemeanor records held by the Pennsylvania courts and state police will have been closed off to the public.  Extensive cooperation between the Commonwealth's records custodians and courts was necessary to make this law operational, and to implement a system of notifying those whose records had been sealed.  Pennsylvania's automated process, which will be completed for older cases in mid-June 2020, is described in detail in the Pennsylvania profile from the Restoration of Rights Project.
In 2019, three more states joined Pennsylvania in enacting "clean slate" automatic sealing laws of their own.
These three clean slate laws are described in greater detail in the relevant state profile from the Restoration of Rights Project.
In addition to these large-scale automation projects, five states enacted automatic relief measures focused more narrowly on marijuana offenses, pardoned offenses, non-conviction records, and juvenile records.
The Clean Slate Initiative reports that several states are considering automated "record-clearing" laws in the 2020 session.  Among the issues that must be worked out are how to simplify eligibility criteria for algorithmic treatment, and how to notify those whose records have been cleared.
New petition-based relief
The second category of record relief laws expanded the availability of petition-based relief to new classes of persons. Twenty-four states and D.C. enacted no fewer than 41 laws that authorize people to apply for relief for convictions or dispositions that were previously ineligible.
Five states made particularly dramatic changes to authorize relief for a range of non-conviction records, misdemeanor convictions, and felony convictions.
Seven states and D.C. passed laws authorizing vacatur, sealing, and/or expungement relief for victims of human trafficking:
Relatedly, Hawaii authorized vacatur of prostitution offenses (SB1039).
Five states provided for petition-based relief for marijuana offenses, over and above the two automatic marijuana sealing measures enacted by Illinois and New York, discussed above.
Additional laws authorized sealing and expungement of felony, misdemeanor, first, youthful, decriminalized, and pardoned offenses, as well as wrongful arrests.
Procedural reforms in existing relief schemes
Thirteen states enacted 18 laws to streamline and make more effective existing relief mechanisms, making them more accessible and effective.  Three states made particularly noteworthy and broad-based reforms.
Additional states reduced or eliminated waiting periods and filing fees, streamlined procedures, and expanded the effect of relief.