CCRC publishes California Compilation of Collateral Consequences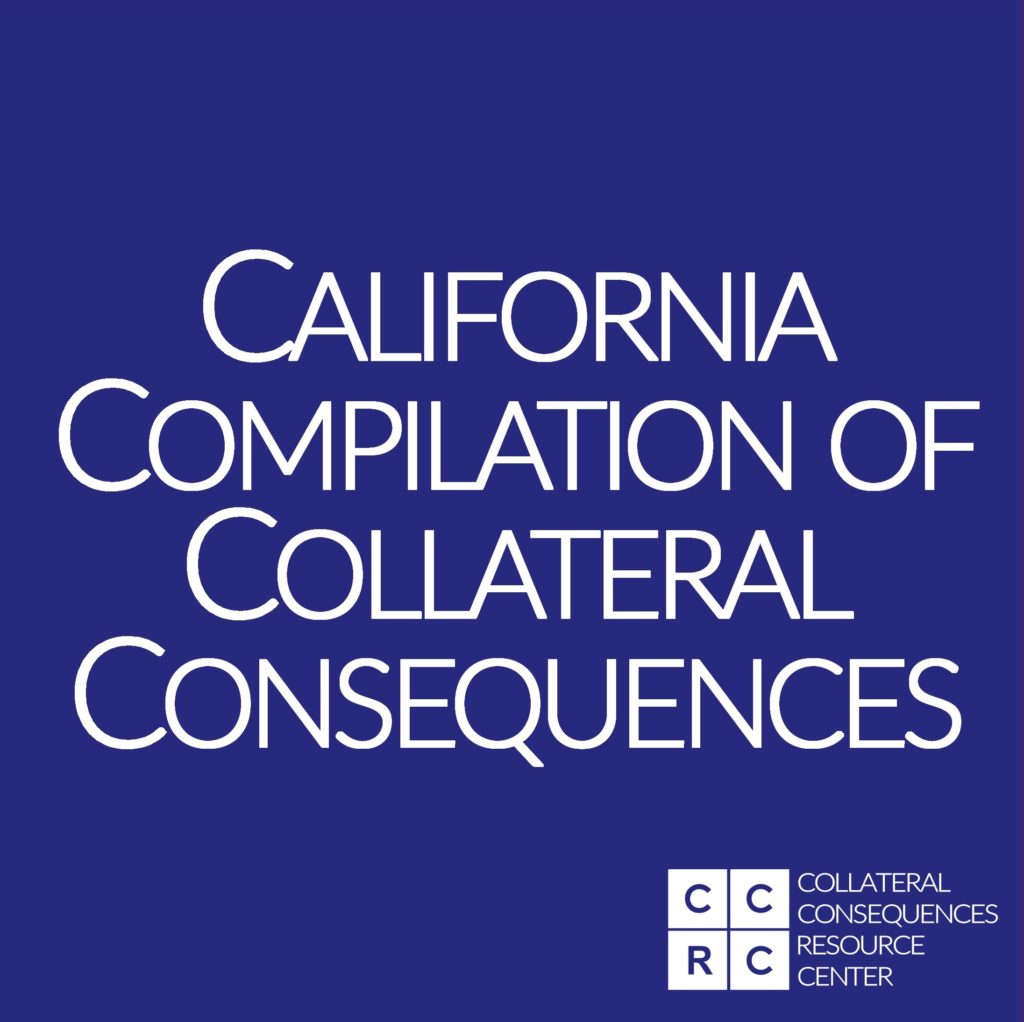 The CCRC is pleased to announce the publication of the California Compilation of Collateral Consequences (CCCC), a searchable online database of the restrictions and disqualifications imposed by California statutes and regulations because of an individual's criminal record.  Federal collateral consequences can also be searched through the CCCC database.
This new resource follows on the heels of similar compilations of collateral consequences that CCRC has developed of federal laws and rules, and of two other state systems (Wisconsin and Vermont).  The database builds on research originally published in 2014 by the American Bar Association, brought up to date and restructured to permit more precise searches of the specific activities and rights affected by various consequences.  A redesigned search function makes it easier to explore the relationship between consequences and their implementing regulations, and among different consequences in state and federal law. Users may access directly complete and current statutory and regulatory text for each consequence.
The CCCC data is derived from the National Inventory of the Collateral Consequences of Conviction (NICCC), originally compiled by the ABA under a grant from the National Institute of Justice pursuant to the Court Security Act of 2007, and now maintained by the Council of State Governments.
In developing the CCCC we streamlined and restructured the NICCC data, reorganizing it into specific categories, and combining overlapping and duplicative entries. We omitted potentially misleading interpretations and lengthy textual excerpts in favor of links to the full current version of the law or rule. At the same time, we updated the NICCC data to reflect laws enacted and rules adopted since the data was originally published.
The most important new feature of the CCCC is the addition of a comprehensive set of searchable "Keywords" that allow users to zero in on areas of interest with a high degree of precision and accuracy. In contrast, the NICCC categories are very broad, and returns for word searches may be both over- and underinclusive. For example, a search for the word "bank" may miss the many consequences identified as affecting "financial institutions."
In sum, the CCCC is a tool for practitioners and researchers that we believe will be more useful, easier to operate and understand, and more current and reliable.