Strong momentum for fair-chance hiring and occupational licensing reform in 2017
The following piece by Beth Avery was originally published on the blog of the National Employment Law Project.
---
Building upon the successes of 2016, legislatures across the country are off to a strong start this year toward adopting laws that increase fairness in hiring and employment opportunities for the one-in-three U.S. adults with arrest or conviction records.
This progress should come as no surprise—in recent years broad support has emerged from coast to coast for a number of reforms that address the criminal justice system and its disproportionate impact on people of color. Along with critical efforts to increase expungement and sealing, adopt bail and sentencing reforms, and expand voting rights for people with convictions, a powerful movement is also advancing two crucial policies that improve access to employment for people with records: "fair chance hiring" or "ban the box" laws and reforms to occupational licensing requirements.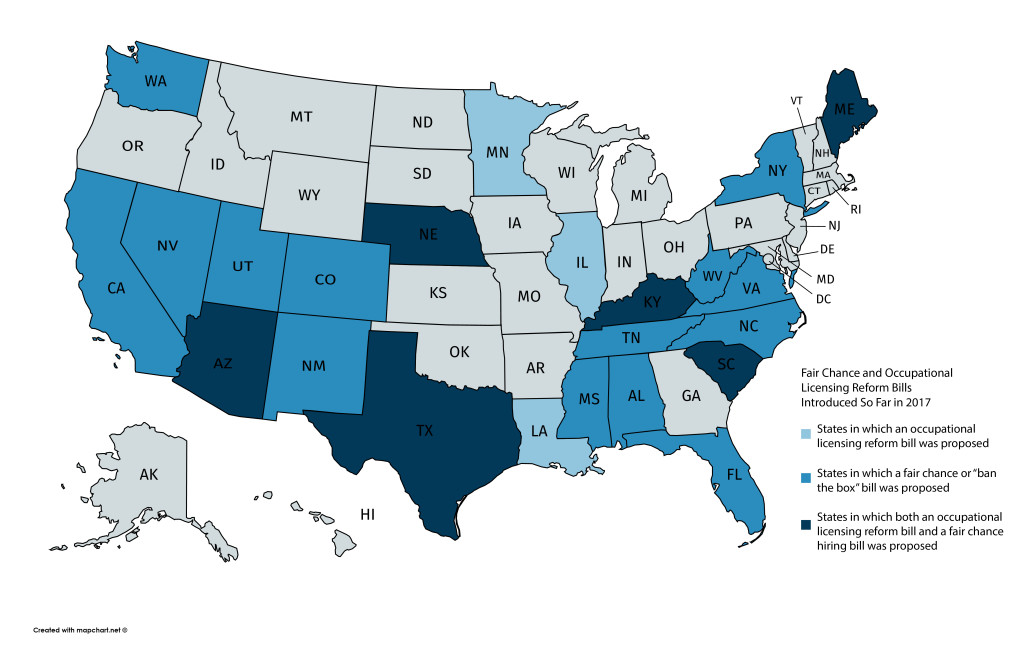 In just the first four months of 2017, "fair chance" hiring and "ban the box" bills have already been introduced in at least 19 states, which collectively represent over half of the U.S. population.1 (And bipartisan legislation has also been introduced in Congress.) While these bills vary in many respects, each emphasizes delaying employer inquiries about job applicants' records until later in the hiring process—ensuring that applicants are judged on their qualifications before the stigma of a record enters the equation.
So far this year, major successes have included Utah's fair-chance bill (HB 156), which sped through the legislature and was signed into law by Governor Gary Herbert (R) on March 22—making Utah the 26th state to ban the box for either public or private employers. And Utah wasn't even the first state to ban the box in 2017—Kentucky clinched that title on February 1 through an executive order by Governor Matt Bevin (R).2 Ban-the-box bills also passed one legislative house in Arizona, Nevada, and Virginia.3
At least 11 of the 19 states pursuing fair-chance bills this session have considered going beyond banning the box for government employees by proposing fair-chance policies also applicable to private-sector hiring. Already adopted in nine states and 15 localities, these laws expand opportunities for workers with records by requiring private-sector employers to consider a job applicant's qualifications before asking about his or her record.
Recently, New Mexico almost became the tenth state with such a law after SB 78 cleared both houses of the legislature, but a short-sighted veto by the governor earlier this month deprived New Mexicans with records of this key policy reform. Private-sector bills have also cleared at least one house in the legislatures of Colorado, New York, and Washington.4
Complementing these fair-chance hiring efforts, legislators in at least nine states have also proposed bills aimed at reducing the severe barriers to occupational licenses faced by people with records.
Nearly one-quarter of U.S. workers require a license to do their jobs—and licenses are often unfairly denied to applicants with records. Because barriers to licenses prevent or deter workers with records from pursuing employment in some of the most desirable and fastest-growing fields, numerous state legislatures are considering ways to expand access to licenses for people with records. For example, Kentucky just adopted a criminal justice reform bill (SB 120) that addresses occupational licensing.
Among other changes, the Kentucky bill removes certain broad exceptions to the requirement that an offense be directly related to an occupation in order for it to justify denial. The bill also requires licensing boards to consider time passed since the offense, and eliminates broad discretion to deny a license based on the vague, albeit common, criterion that an applicant must possess "good moral character." Legislators in other states have proposed reforms ranging from those addressing specific licenses and licensing authorities to those that more broadly reform licensing procedures throughout the state, using a variety of approaches aimed to expand access for those with records.
While not all of these bills will be signed into law this year, their introduction still serves as strong proof of the momentum that is growing across the country in support of ban the box and occupational licensing background check reforms. For many valid reasons—economic health, public safety, justice system costs, belief in the American dream—people across the political spectrum are rallying in support of these commonsense reform efforts, and it's about time government officials responded to their calls for action.