Traveling to Mexico with a criminal record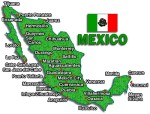 Searching for information on whether people with a criminal record may encounter problems traveling to Mexico, we found nothing relevant on the website of the Mexican Embassy in the U.S..  The State Department website contains only a very general warning:
Prior Criminal Convictions: U.S. citizens should be aware that Mexican law permits immigration authorities to deny foreigners entry into Mexico if they have been charged or convicted of a serious crime in Mexico or elsewhere.
However, the website of the Mexican Embassy in Canada explains Mexico's policy in somewhat greater detail, listing the crimes that are likely to result in a refusal of entry:
Immigration authorities may decide to refuse the request to enter the country if the applicant is subject to criminal process or has been convicted of a serious crime as defined by national laws on criminal matters or provisions in international treaties or conventions that the Mexican State is party to, or if the applicant's background in Mexico or abroad could compromise national or public security, in accordance with Article 43 of the Migration Law.

According to Article 194 of the Federal Code on Criminal Proceedings, serious crimes include all crimes that have a significant, negative effect on the fundamental values of society.

Serious crimes include, among others: manslaughter; terrorism and international terrorism; sabotage; piracy; genocide; prison break; attacks on public thoroughfares; drug-related crimes; corruption of minors; child pornography; exploitation of minors; falsifying and counterfeit of currency; rape; highway robbery; trafficking in minors; trafficking in undocumented persons; aggravated robbery; vehicular theft; extortion; crimes against the environment, committed with intent; forced disappearance of persons; bearing arms reserved for the exclusive use of the Army, Navy or Air Force; smuggling into the country firearms not reserved for the exclusive use of the Army, Navy or Air Force; smuggling and comparable crimes, and; tax fraud and comparable crimes.
Anecdotal evidence indicates that registered sex offenders will not be permitted entry to Mexico. Beyond that, we have little information on how the above policy is being administered, or on what the possibilities for relief there may be.  By comparison, Canada's rules and procedures are clear, detailed and apparently relatively flexible.