Increase in Delaware pardons "driven by getting jobs"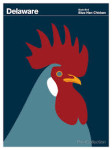 Delaware Governor Jack Markell has granted more than 1500 pardons in his six years in office, substantially more than any of his predecessors.  According  to articles by Chris Barrish and Jonathan Starkey in the Delaware News Journal, the "dramatic increase" in the number of people applying for pardon in Delaware has been "driven by getting jobs."  In defending his record of generous pardoning, Governor Markell noted that the state had adopted 50 new background check requirements for employment in the past several years, and that people with convictions need a governor's pardon to enable them to overcome the stigma of conviction to obtain employment and stay on the road to rehabilitation.  The two articles are here and here.
In Delaware the governor cannot grant a pardon unless he receives an affirmative recommendation from the Board of Pardons, a five-member body of high state officials that is chaired by the Lieutenant Governor.  (The Delaware pardon process is explained in greater detail here.)  This system both protects and encourages the governor in using his constitutional power.   In recent years the board considers about 50 cases each month, and recommends favorably in about 85% of the cases that come before it.  The governor in turn grants over 90% percent of the cases recommended to him by the board.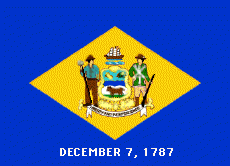 The hearings before the board in the colonial-era court house in Dover are a rare study in retail justice, likely made possible by the small size of the state, the seriousness with which the high- level board approaches its work, and the culture of pardoning that has existed in the state since colonial times.
Anyone with a criminal conviction can apply for a pardon, but the five-member Board of Pardons advises prospective applicants that it likes to see a period of good behavior of at least three years since their sentence was completed, including probation and payment of fines.

Before an application can reach the governor's desk, it has to be approved at a public meeting by three members of the board, composed of lieutenant governor, treasurer, auditor, secretary of state and Chancery Court chief judge. Monthly board hearings can include testimony from the offender, an attorney, prosecutors and victims. The board also considers requests for commutation — a sentence reduction for someone in prison.

Members give the greatest weight to the recommendation by the Attorney General's Office, which is notified of every case and reviews the person's criminal history. The prosecutor's position, said the current board chair, Secretary of State Jeffrey W. Bullock, is "the most important single factor."

Those who seek pardons for more serious offenses also must undergo a psychiatric evaluation that includes the "probability of the applicant again committing any crime."

At the Pardon Board's meeting last week in Dover, 46 people were scheduled — burglars, thieves, shoplifters and low-level drug and alcohol violators, but also a methamphetamine trafficker and a cocaine trafficker. Each hearing lasted between five and 15 minutes, with members either ruling immediately or conferring in private before announcing their decision.
The state's current Attorney General Matthew Denn, who now assists the board in staffing pardon cases, chaired the pardon board as Lieutenant Governor, and so is familiar with the types of considerations and process used in pardon cases.
Members of the Board commented for the record on the importance of pardons in helping people obtain employment:
Board of Pardons members are cognizant of the stigma of a criminal record in Delaware's tough job market.

"Without employment and the opportunity to live responsibly, recidivism might be even higher," chairman Jeffrey W. Bullock said. "It's a vicious circle for a lot of people and one that society has not found a way to deal with effectively."

Nearly eight in 10 Delaware inmates sentenced to more than a year in prison are arrested again for a serious offense within three years of their release, a 2013 state report said.

Wilmington attorney Thomas A. Foley said most applicants find themselves locked out of job opportunities by an old minor offense such as shoplifting or drug possession.

Pardons are "driven by getting jobs," Foley said. "It could make a difference with human resources if the governor has recognized they they resurrected their lives and has forgiven them."

Fred Calhoun, president of the state Fraternal Order of Police, countered that too many people claim they can't get a job because of their record. "It's not a good excuse," he said. "Don't do the crime."
In one case heard at the Board's most recent meeting, a former All-State basketball player with a 2008 cocaine trafficking conviction sought a pardon to enable him to become a high school coach.  The Board commended his progress toward rehabilitation but told him he would have to wait another two years before it would consider recommending a pardon:
Michael Smack, 38, currently has a job delivering furniture, and coaches a summer team of high school-age players.

While the board deliberated in private, Smack said that "with a felony, I ain't got a shot'' to get hired as a school coach. With a pardon it looks better on my record."

Board members told Smack they were impressed he had been crime-free for seven years, but told him to stay straight for another two years and then submit a new application.

Smack took the denial in stride. "I'm all right. I just have to come back in a couple of years," he said.
Wilmington attorney Michael W. Modica said pride is another reason people seek pardons.
"For many people, it's symbolic, official recognition that they have changed, have grown into productive members of society," he said. "A lot of my clients want it for their children, to show official recognition that this was an aberration, an isolated incident."

A man the board recommended for a pardon Thursday for a 30-year-old drug dealing conviction said he had lived crime free, kept a good job and raised a productive family, but the taint of his crime haunted him.

"It's like an invisible tattoo. No one else can see it but you," he said. "I wish I could make it go away."