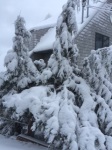 It's that time of year again.  Odds are that sometime in the next two weeks President Obama will issue some pardons and commute some prison sentences.  I have never quite reconciled myself to the unfortunate and ahistorical  association of pardoning with the silly turkey ceremony (the Obama girls were right to roll their eyes) and Christmas gift-giving, the result of decades of presidential neglect and sometime Justice Department sabotage of the power.  But now that the season for forgiveness is upon us, I can't wait to see what's underneath the tree.
It was my fondest hope during the 2008 campaign that this president would want to revive the practice of pardoning, like Jerry Brown in California and Pat Quinn in Illinois, and restore a degree of regularity and accountability to the federal pardon process.  But so far President Obama has issued only 52 full pardons, making him the least generous full-term president in our Nation's history.  And so far there is no indication that he intends to reinvigorate the federal pardon process, as Justice Anthony Kennedy urged in an iconic speech to the American Bar Association more than a decade ago, and as scholars and practitioners have regularly urged in less exalted settings ever since.  Nor has his Administration proposed any alternative procedure by which individuals with federal convictions can avoid or mitigate collateral consequences, like the set-aside authority in the Youth Corrections Act that was repealed in 1984.
But there is some reason for optimism even this late in the game.  President Obama's evident willingness to use his constitutional power to reduce long drug sentences will hopefully have a spillover effect on the other half of the clemency caseload, the applications for full pardon from people who have long since served their sentences and gone on to live productive and law-abiding lives.  There are more than 800 applications for pardon pending in the Justice Department, many from people convicted decades ago whose lives of service have been exemplary.  They deserve something more than a gambler's chance at forgiveness.