We are pleased to announce the forthcoming publication of a national survey of the various legal mechanisms that exist in each state to restore rights and opportunities after arrest or conviction. Titled "The Many Roads from Reentry to Reintegration," the report revises and updates the survey CCRC originally published in the summer of 2020.  Like that earlier report, it includes grades for each state in nine different categories of relief, and an overall ranking of the states according to the efficacy of their combined restoration measures. Those who are familiar with the rankings in our 2020 report will find that since then many states have improved their position substantially (mostly at the higher end of the ranking scale, with several impressive exceptions) and many have not (mostly at its lower end).
We hope that this report will allow us to take stock of the extraordinary things that legislatures across the country have been able to accomplish in just the past 18 months, enacting a total of more than 250 separate laws to restore the franchise, clear criminal records, and ensure fair consideration in employment and licensing.  We expect to publish the entire new "Many Roads" report next week, along with a new version of our Reintegration Report Card that showcases the states that have made the most progress and suggests how each state may improve its ranking for the next report.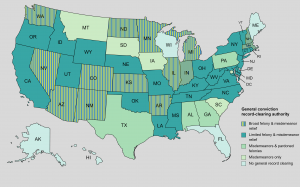 Today we are publishing an excerpt from the new "Many Roads" report on two of its nine categories: record clearing for felony and misdemeanor convictions. Each state is graded separately in the two categories, although the map that is included midway through this post combines them, as they are combined in the 50-state chart from the Restoration of Rights Project. Record clearing for non-conviction records is covered in a separate section, and will be published here in the next few days.
***********
Expungement, Sealing & Set-Aside of Convictions: A National Survey
Tens of millions of Americans have been convicted of a felony or misdemeanor.[1] This number has grown substantially in the last four decades as a result of the policies of "mass incarceration" and so-called "war on crime," with disproportionate impacts on Black and Brown people.[2] The vast network of collateral consequences that can flow from a conviction in the modern era has been described as a new form of "civil death."[3] In addition to formal consequences imposed by law and rule, widespread dissemination of criminal records online and in background checks operates as a form of continuing "digital punishment."[4]  In recent years collateral consequences of a less formal variety have extended even to mere arrest records not followed by conviction.[5] The American way of dealing with a person's criminal history is unburdened with the considerations of privacy, utility, and basic fairness that have shaped European systems.[6]