The Collateral Consequences Resource Center and its partner organizations, the National Association of Criminal Defense Lawyers, the National Legal Aid and Defender Association, and the National HIRE Network, are pleased to announce the launch of the newly expanded and fully updated Restoration of Rights Project.
The Restoration of Rights Project is an online resource that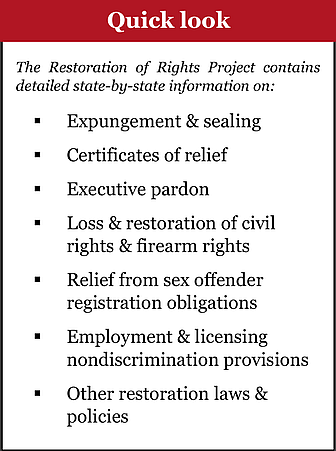 offers state-by-state analyses of the law and practice in each U.S. jurisdiction relating to restoration of rights and status following arrest or conviction.   Jurisdictional "profiles" cover areas such as loss and restoration of civil rights and firearms rights, judicial and executive mechanisms for avoiding or mitigating collateral consequences, and provisions addressing non-discrimination in employment and licensing.  Each jurisdiction's information is separately summarized for quick reference.   
In addition to the jurisdictional profiles, a set of 50-state comparison charts summarizes the law and illustrates national patterns in restoration laws and policies.   We expect to supplement these resources in weeks to come with jurisdiction-specific information about organizations that may be able to assist individuals in securing relief, and information on other third-party resources.