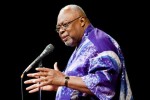 Yahoo News has published a piece by its chief investigative reporter Michael Isikoff commenting on how few pardons President Obama has granted, and how backed up the Justice Department's pardon office seems to be.  He illustrates the problem of presidential inaction with the case of Sala Udin, a Pittsburgh community activist and former City Council member, whose application for pardon of a 1970 firearms conviction has been awaiting decision for several years. Isikoff reports that while the President is likely to issue a number of sentence commutations this week, no pardons will be forthcoming. This leaves the 800 people whose pardon applications are pending in the Justice Department wondering whether there is hope for forgiveness during this president's term.
What does it take to get a pardon from President Obama?

It's a question Sala Udin, a former Pittsburgh City Council member and onetime civil rights Freedom Rider, is asking a lot this summer, more than three years after he first asked a president he deeply admires to grant him a pardon for a 44-year-old federal firearms conviction.