The shootings and beatings of unarmed black men, boys, women and girls by police officers are sickeningly repetitive.  Also repetitive are the calls in response to diversify police departments by hiring officers who better reflect the communities and neighborhoods they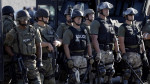 would patrol.  These issues have surfaced starkly in Ferguson, Missouri, where three out of 53 officers are black. There, efforts to diversify the police department have been non-existent. Similarly in Cleveland, where twelve-year old Tamir Rice was killed by an officer while playing in a park, black residents make up 53 percent of the population but black officers comprise only 27 percent of the police force.
In Baltimore, the racial composition of the police force more closely approximates the city's population.  Nevertheless, the city has paid $5.7 million since 2011 in court judgments and settlements of police brutality claims.   In 2013, 70 percent of Baltimore's police officers lived outside the city.   Thus, racial diversity alone is not a solution.