This week's New Yorker features an article by Ryan Lizza about potential democratic candidates.  One, James Webb, former U.S. Senator from Virginia, has a history of interest in prisons and reentry of people with convictions.  The article states: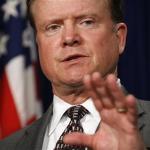 "In the Senate, he pushed for creating a national commission that would study the American prison system, and he convened hearings on the economic consequences of mass incarceration. He says he even hired three staffers who had criminal records. 'If you have been in prison, God help you if you want to really rebuild your life,' Webb told me. 'We've got seven million people somehow involved in the system right now, and they need a structured way to reënter society and be productive again.' He didn't mention it, but he is aware that the prison population in the U.S. exploded after the Clinton Administration signed tough new sentencing laws."
Of course, reentry is not necessarily a partisan issue; President George W. Bush also cared about it, calling America "the land of second chance" in his 2004 State of the Union address, and signing into law the Second Chance Act.  It will be interesting to see if prison spending and reentry become issues in the primaries or the general election.