Eliza Hersh, director of the Clean Slate Clinic at the East Bay Community Law Center and one of CCRC's contributing authors, has co-authored a most persuasive op ed in the LA Times, which we are pleased to reprint here in full.  
Should a shoplifting conviction be an indelible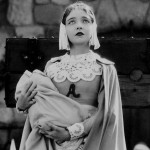 scarlet letter? Not in California
What exactly is the appropriate punishment for someone who commits a low-level, nonviolent crime? Should a conviction for minor drug possession, shoplifting or writing a bad check result in a lifetime of stigma and denied opportunities, or do people with criminal records deserve a second chance?